Kushner and Bannon Battle for the Soul of the Trump White House
The clash between two of the president's closest advisers could determine the future of the administration.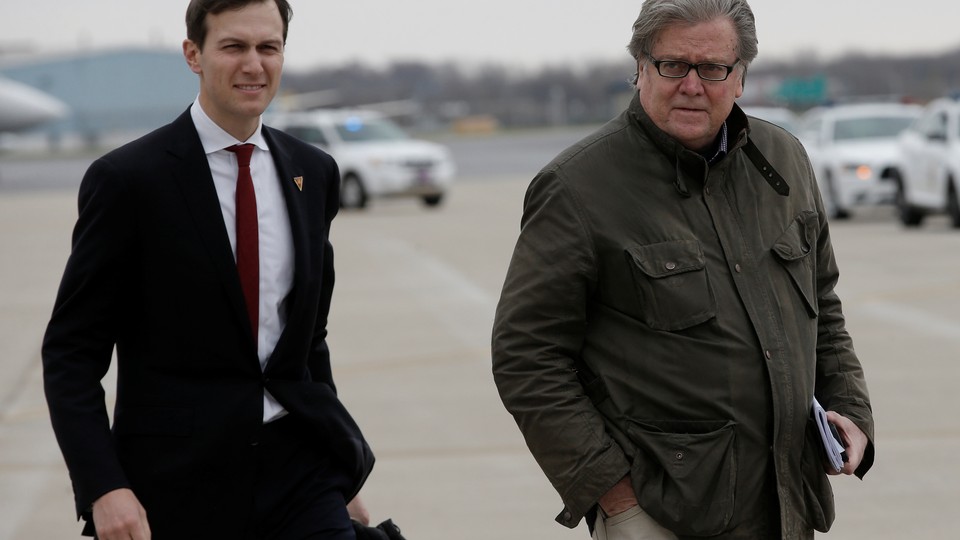 Updated at 6:46 p.m. ET
It's only been a few months, but it feels like forever ago that Steve Bannon told New York Magazine that he had "bonded" with Jared Kushner, who "really gets this grassroots, populist movement in a huge way."
Now, the two men are at odds in an escalating conflict that might seem like just the latest twist in the constant palace intrigue emanating from the White House. But this clash, which threatens Bannon's position and could further cement Kushner's increasingly broad influence, has importance beyond the sort of petty infighting that afflicts any administration. For Trump supporters, this is a battle between the populist nationalist movement on the right, for which Trump is a figurehead, and the more pragmatic, less ideological approach exhibited by Kushner and his allies. The result could determine whether the Trump White House stays, well, Trumpian, or whether it begins to morph into exactly what someone like Steve Bannon hates: a more mainstream Republican administration.
Bannon, who was removed from the National Security Council principals' committee on Wednesday, has been at odds with Kushner, who has been taking on more and more responsibility in the White House across a broad range of issues. Politico reported that Bannon threatened to quit if he was removed from the NSC. The Daily Beast reported that Bannon has called Kushner a "cuck" and a "globalist" behind his back. (A source close to Bannon insisted they had never heard Bannon use the term "cuck" in any context.) Bannon has been warning of a "gunfight," Axios reported.
According to a senior White House official, Bannon and Kushner "disagree on everything on policy."
"Jared is a liberal Democrat," the official said, accusing Kushner of trying to limit the role of some in Trump's orbit—including Bannon, policy aide Stephen Miller, White House Chief of Staff Reince Priebus, Domestic Policy Council Director Andrew Bremberg, and Vice President Mike Pence—in making policy. Kushner, the official charged, is trying to "slow-walk" executive orders on trade, for example.
In response to the official's accusations against Kushner, White House director of strategic communications Hope Hicks said "The information your source provided you is not accurate."
Bannon told me reports that he was threatening to quit were "absurd."
But it's hard to spin the reality of this White House, which is that people like Kushner and National Security Adviser H.R. McMaster, whose predecessor Michael Flynn resigned after lying about his conversations with Russian Ambassador Sergei Kislyak, are growing in influence after a turbulent first three months. During that time, Bannon and his allies like Miller have shouldered the blame for some of the administration's biggest setbacks, like the initial travel ban executive order that was quickly overturned in the federal courts. Kushner recently became charged with a new office tasked with streamlining the government, called the Office of American Innovation, and Bannon's removal from the NSC principals' committee was widely interpreted as a win for McMaster.
"The bottom line on the thing is it's real, it's absolutely real," a Bannon ally outside the White House said of the conflict between Bannon and Kushner, adding that the anti-Bannon forces include not just Kushner, but top economic adviser Gary Cohn and Deputy National Security Adviser Dina Powell as well.
"Definitely tensions, nothing resolved," said a source close to Trump, in an email. There are "attempts to clearly define roles. Potus now is engaged in resolving the issues if they can be resolved."
"Jared just doesn't think that Trump will be successful with somebody like Bannon in there," said one source close to the White House. "I know, for instance, that there have been meetings that Bannon would normally be in and he hasn't been in recently."
Bannon was conspicuously absent from Trump's joint press conference with the King of Jordan in the Rose Garden on Wednesday. Six top aides sat in on Trump's interview with The New York Times this week, including Cohn, but Bannon was not listed among them in the transcript of the interview.
"I think he is in trouble," said another source with knowledge of the internal workings of the White House. "I think Jared is moving on him."
"For whatever reason Bannon seems to be allied with Reince, and Bannon seems to be opposed by Jared," the source said.
The issue—as my colleague Conor Friedersdorf pointed out today—appears to be at least partially about image. Kushner and Ivanka Trump have carefully managed their brand in the media, and Bannon's hard-edged nationalism threatens their smooth public personae.
"I'm sure Jared and Ivanka are very embarrassed by Steve's politics," the source with inside knowledge of the White House said. "I know they're not fashionable in Manhattan but those are the politics that got Trump elected. Clearly Jared wants the president to be a more mainstream political figure."
This line is being amplified in pro-Trump media. Longtime Trump confidant Roger Stone went on conspiracy-theory network Infowars this week to accuse Kushner of leaking anti-Bannon stories to MSNBC's Joe Scarborough. Breitbart News, the right-wing nationalist outlet formerly run by Bannon, has published a string of stories critical of Kushner in the last few days, accusing him of having a "thin resume in diplomacy" and writing up Stone's accusations.
"Bannon out. Nunes out. Flynn out. Sessions recused," conservative writer Ann Coulter, a leading Trump supporter, wrote on Twitter. "We won WH & both houses! Imagine if we lost. GOP would be picking up Dems dry cleaning."
For now, the situation remains unresolved. Bannon, for example, is among the senior staff traveling with Trump on Air Force One today.
But his predicament speaks to a dynamic within this White House that has thus far proved unshakeable: You can't bet against the family. And it speaks to a truth about Washington, which is that the establishment always seems to find a way to reassert itself—even in as unusual an environment as Trump's White House.
"If the Trump administration becomes a pale copy of the Bush administration," the source with inside knowledge of the White House said, "then there was no reason for this election."