Justice Neil Gorsuch
The Senate on Friday confirmed the conservative appellate judge to the Supreme Court after a rancorous debate that saw the end of the judicial filibuster.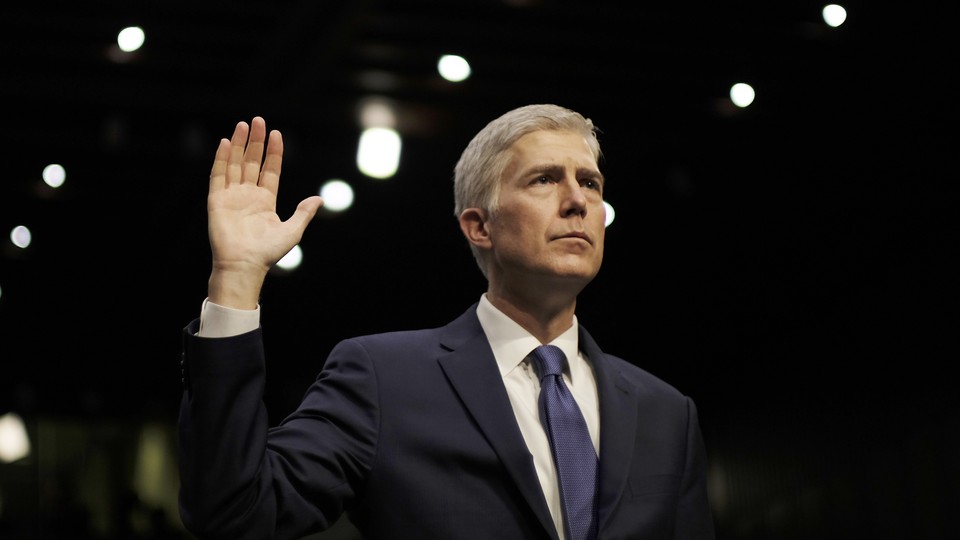 The Senate on Friday confirmed Judge Neil Gorsuch to serve on the Supreme Court, restoring a 5-4 conservative majority on the high court after a rancorous debate that resulted in the end of a long-standing Senate tradition.
The 54-45 vote became a formality after Republicans voted along party lines Thursday to change the Senate rules and defeat a Democratic filibuster of Gorsuch's nomination. Three Democrats—Senators Joe Manchin of West Virginia, Heidi Heitkamp of North Dakota, and Joe Donnelly of Indiana—ultimately joined 51 Republicans in support of the Colorado judge, in what became the most partisan confirmation of a Supreme Court justice since Clarence Thomas won the Senate's approval in 1991.
Gorsuch, 49, will be sworn in next week to fill the seat left vacant for more than a year after the death of Justice Antonin Scalia in February 2016. Following the lead of Majority Leader Mitch McConnell, Senate Republicans refused to consider former President Barack Obama's nomination of Judge Merrick Garland to replace Scalia.
Gorsuch's confirmation hands President Trump the first major victory of his young administration, and it represents the most concrete—and potentially one of the longest lasting—consequences of his surprising victory in November. In the final months of the Supreme Court's current term, Gorsuch could break a potential 4-4 deadlock on cases involving religious freedom, racial discrimination, immigration, and other issues. The court might also have to weigh in on Trump's executive order restricting travel from majority-Muslim countries. And in the next few years, the justices are expected to consider new cases involving same-sex marriage, abortion, and gun rights.
Over three days of testimony at his confirmation hearing last month, Gorsuch offered few clues about his views on those most contentious legal questions, frustrating Democrats who found him to be even more evasive than Supreme Court nominees of the recent past. He acknowledged that Roe v. Wade, the landmark abortion ruling, was a precedent of the court, and he said that after the justices' 5-4 ruling in 2015, the legality of same-sex marriage was "absolutely settled law." But he would not say whether he believed those cases to be correctly decided.
Friday's vote offers a final vindication of what at first seemed like a risky—and surely unprecedented—move by McConnell last year to hold Scalia's seat open through the election. Garland was viewed as a consensus choice by Obama, potentially closer to the political center than a nominee Hillary Clinton might have chosen had she won the presidency. But McConnell held out, withstanding a hailstorm of denunciation from Democrats and even some criticism from Republicans worried that his gambit would tarnish the party and backfire if Clinton—as many had expected—triumphed in November and nominated a more liberal jurist. "It has been a long and sometimes bumpy road, but in the end we were able to confirm a justice who I believe will serve America quite well," McConnell said after the vote on Friday.
In a statement, Trump praised Gorsuch and said his "judicial temperament, exceptional intellect, unparalleled integrity, and record of independence makes him the perfect choice to serve on the nation's highest court."
For Democrats, the bitterness over the GOP blockade was a major factor in their aggressive opposition to Gorsuch, and it is not likely to dissipate anytime soon. "Let's be perfectly clear about what just happened: Justice Gorsuch was handed a lifetime appointment to a stolen Supreme Court seat by way of a partisan overhaul of the rules of the United States Senate," said Jesse Lehrich, a spokesman for Organizing for Action, the advocacy group that grew out of Obama's former campaign apparatus.
Gorsuch won near universal praise from conservatives, who are confident he'll be a reliable vote in the mold of Scalia or Justice Samuel Alito, a George W. Bush-appointee who has become more popular with the right than Chief Justice John Roberts. Democrats found little reason to disagree: While they conceded that his legal resumé qualified him for a Supreme Court seat, the found his rulings on behalf of business interests alarming and argued that his conservative views placed him outside the judicial mainstream.
Democrats mustered 45 votes against Gorsuch, but after Republicans eliminated the filibuster of all judicial nominations on Thursday, they were not enough to stop him.