A Divided Georgia District Braces for a Runoff as Jon Ossoff Falls Short
The Democratic challenger had a strong showing in a conservative district on Tuesday, but failed to earn enough votes to prevent another contest in June against Republican Karen Handel.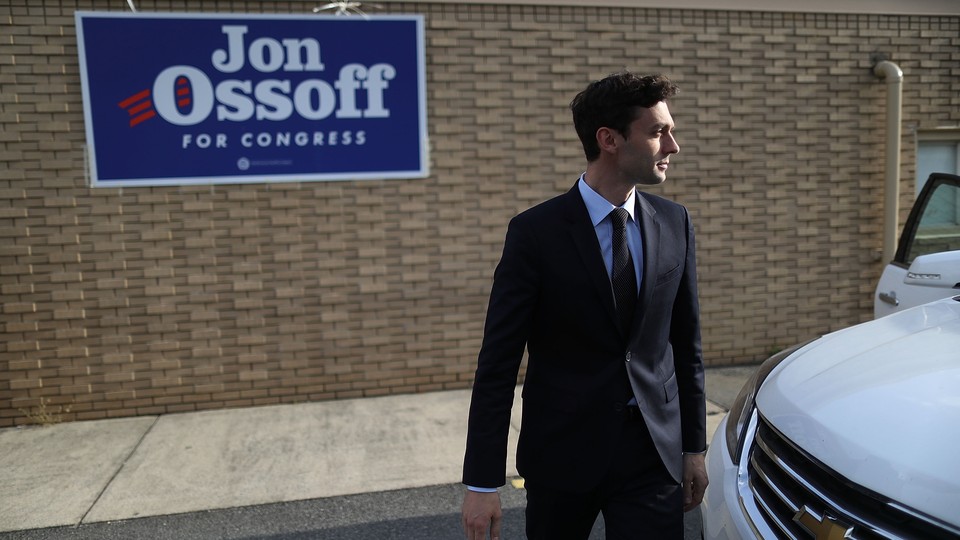 Updated on April 19, 2017 at 7:00 a.m. ET
In a blow to liberals hoping that grassroots anger at President Trump will help Democrats win back Congress, Jon Ossoff, a Democratic candidate in a Georgia special election that has drawn national attention, fell just short on Tuesday of winning outright in the race to replace former Republican Representative Tom Price.
The race isn't over yet: It will now advance to a June runoff between Ossoff and Republican Karen Handel. Though Ossoff put in a strong showing in a conservative district, winning 48 percent of the vote, his chances of defeating Handel, who won 20 percent of the vote, in a runoff are lower with the GOP field less divided. The seat was vacated by Price, who won reelection by more than 20 points in 2016, after he left to become President Trump's secretary of health and human services.
Addressing supporters before the race was officially on Wednesday, Ossoff said that his campaign had "shattered expectations." In a statement after the final vote count was in, the Democrat said he was "ready to fight on and win in June." Earlier in the night, Handel urged Republican to rally around her so that Ossoff would not be able to "steal a seat" in the district.
Whatever happens won't meaningfully change the balance of power in the Republican-controlled House of Representatives. But Democrats may need to win districts like Georgia's sixth congressional—an affluent, well-educated, suburban area that Trump only narrowly won—for the party to take control of Congress in the 2018 midterm elections. As a result, a Democratic defeat in June would come as a relief to Republicans, and prove demoralizing to Democrats, though political experts caution that the results of a single special election should not be viewed as a bellwether.
The election has drawn a flurry of national attention with media outlets billing the matchup as the first major test of whether liberal backlash to Trump will translate into votes in parts of the country that aren't safely Democratic. The Ossoff campaign raised a record $8.3 million as Democrats nationwide poured money into the race, while GOP outside groups have spent millions of their own in an effort to hang on to the seat.
Even Trump has kept tabs on the race, taking to Twitter to say that Ossoff would be "a disaster in Congress." Early Wednesday morning, the president predicted a runoff would deliver a victory for Republicans. "Glad to be of help!," he tweeted.
While Ossoff did not lock up the race on Tuesday, he nevertheless performed quite well in a district that has been held by Republicans since the 1970s. At 48 percent, his share of the vote exceeded what Hillary Clinton won in the district when she  received 46.8 percent of the vote in November.
Taken with the results of other recent special elections, that outcome indicates that Democrats are energized across the country, and motivated to get out and vote, even in conservative states and districts.
Individual special elections, like the one in Georgia, don't have a consistent track record of predicting the outcome of midterm elections on their own, but patterns can emerge across multiple races that provide insight into the current political climate.
Earlier this month, Democrats lost a special election in Kansas, which has an unpopular Republican governor, but their candidate significantly outperformed Clinton's margin in the district in November. Democratic candidates have also performed better than Clinton in several special elections for state legislative seats since the presidential election.
"If this trend continues throughout 2017 as the data accumulate, this could be suggestive of broader GOP problems and intensified Democratic enthusiasm," Kyle Kondik, an election analyst at the University of Virginia's Center for Politics, wrote in an assessment of the Georgia special election ahead of Tuesday's results.
For now, however, it's too early to know how widespread, or strong, Democratic enthusiasm may be, and how that might impact the 2018 midterms.
Brandon Finnigan, the director of the non-partisan Decision Desk HQ, told me last week, "If Ossoff wins, people will say the GOP is doomed. If he loses, people will say the Democrats are terribly disorganized, and they can't win in 2018. Neither of those things are true."
In some ways, Ossoff is an unlikely contender to emerge as a face of the self-described Democratic "resistance" to Trump. The 30-year old candidate came across in interviews as polished, but guarded, and wary of saying anything that would alienate moderate independent or Republican voters in the district.
Some of his campaign promises have a distinctly conservative flavor: Ossoff's website promises that he "will work in Congress to reduce the tax burden on small businesses." In one of his ads, he says that "both parties in Washington waste too much of your money" and promises to work with anyone "who respects your tax dollars." That element of his campaign may now come in for criticism from progressive Democrats who feel frustrated by the preliminary election result.
Even so, Ossoff has run ads that made it sound like he was trying to frame the race a referendum on Trump. "The last election was a wake up call," one ad proclaims. In another, Ossoff warns that Trump "could start an unnecessary war," and is "embarrassing us on the world stage." In the run-up to voting on Tuesday,  however, Ossoff attempted to avoid a focus on Trump, telling reporters instead that the race was "about local issues," above all else.
Republicans have tried to make the race a referendum on Washington too. GOP outside groups attempted to tie Ossoff to House Minority Leader "Nancy Pelosi's liberal agenda," in one commercial, while other attack ads painted him as an untrustworthy candidate who has exaggerated his credentials and connection to the district. The Republican National Committee pointed out that that he has received a vast amount of money from out-of-state donors, and doesn't live in the sixth district.
The way Republican candidates have positioned themselves in the race suggests that conservatives in the district aren't quite sure either how to talk about Trump either. Handel, a Republican who previously served as Georgia's Secretary of State, has expressed support for the administration. But according to the Associated Press, she is "among the Republican candidates trying to maintain some distance from Trump, rarely discussing him unless asked." Other GOP candidates went out of their way to embrace Trump, like Republican Bob Gray, a former councilman and business executive, who promised, like Trump, to "drain the swamp" if sent to Washington.
Victory isn't necessarily out of reach for Democrats in the June runoff.  A lot can change in two months, and FiveThirtyEight has suggested that Ossoff may have roughly a 50-50 chance of winning the second round of the race based on polling data, despite the traditional Republican lean of the district.
In looking for a race to focus on, though, it is possible that Democrats misjudged the degree to which the Georgia district is a potential pickup opportunity for the party. Price won reelection in November by a double-digit margin. And although residents of the district did not embrace Trump to the extent they rallied around Romney in 2012, some polling suggests that a slim majority of residents nevertheless approve of the president.
Whatever happens, Democrats will undoubtedly continue to frame future races as a referendum on Trump. The president's party typically loses seats in Congress during midterm elections, and Trump's approval rating remains below 50 percent, according to Gallup.
It's not clear, however, that Georgia's sixth congressional district is the ideal place for that message to resonate, or if Ossoff is the best messenger, especially given the fine line his campaign has tried to walk between criticizing Trump and trying to avoid the subject. The answer to those questions may become clearer when the final votes are tallied.