Why Is Jeff Sessions Attacking the Police?
The attorney general frequently claims that criticism of law enforcement can hurt morale. Now he's doing the same.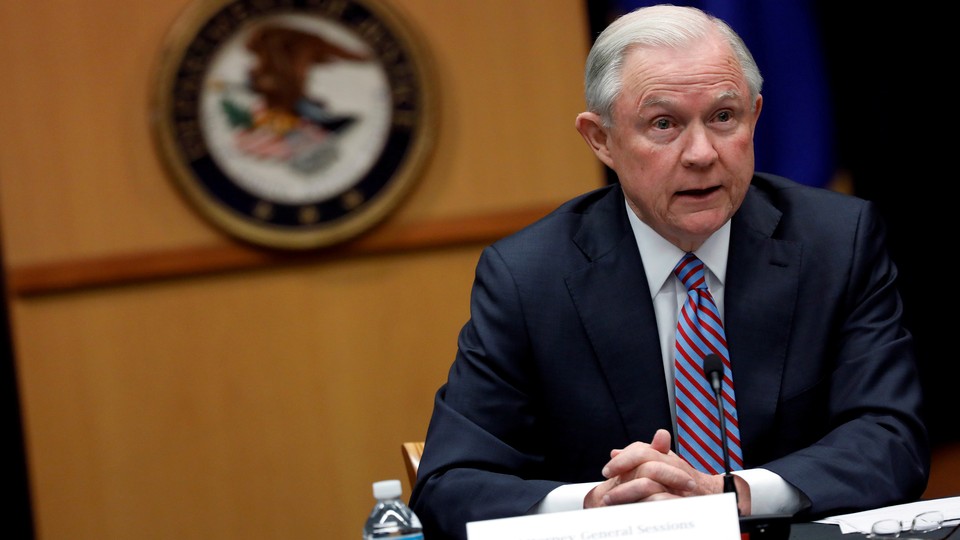 It's been a busy week for Attorney General Jeff Sessions. He and Homeland Security Secretary John Kelly are currently touring the U.S.-Mexico border to draw attention to illegal immigration and its impact on the country. But a series of remarks from Sessions about places far from the Southwest, including criticisms of major-city police departments, drew the most attention.
It began during an interview with conservative radio host Mark Levin on Thursday, where Sessions made an unusual attack on the federal judiciary for blocking President Trump's travel ban. "I really am amazed that a judge sitting on an island in the Pacific can issue an order that stops the president of the United States from what appears to be clearly his statutory and Constitutional power," he said. Compounding its strangeness was the odd suggestion that Hawaii, which gained statehood in 1959, was somehow a lesser part of the United States.
The remark drew criticism on multiple levels. Hawaii Attorney General Danny Chin, who is challenging the travel ban, called Sessions's comments about the judiciary "disappointing." The state's congressional delegation also leapt to rebuke Sessions's insinuation that the "island in the Pacific" was anything less than a full-fledged member of the Union.
Hey Jeff Sessions, this #IslandinthePacific has been the 50th state for going on 58 years. And we won't succumb to your dog whistle politics

— Senator Mazie Hirono (@maziehirono) April 20, 2017
A few hours later, the attorney general's office tried to quell the outrage while repeating his criticism of federal judge Derrick Watson. "Hawaii is, in fact, an island in the Pacific — a beautiful one where the Attorney General's granddaughter was born," a Justice Department spokesman said in a statement. "The point, however, is that there is a problem when a flawed opinion by a single judge can block the president's lawful exercise of authority to keep the entire country safe." (As a senator, Sessions had previously voted to confirm Watson to the bench.)
But the real kerfuffle came Friday, when the Justice Department sent letters to nine "sanctuary cities"—Sacramento, Chicago, New Orleans, Philadelphia, Las Vegas, Miami, Milwaukee, San Francisco, and New York City—warning about a loss of federal funds if they refuse to allow local law-enforcement agencies to provide federal immigration officials with the immigration statuses of those held in their custody. The move itself was widely expected, but the Justice Department announced the letters with stark, factually dubious assertions about some of the cities in question.
"Additionally, many of these jurisdictions are also crumbling under the weight of illegal immigration and violent crime," the department's statement asserted. "The number of murders in Chicago has skyrocketed, rising more than 50 percent from the 2015 levels. New York City continues to see gang murder after gang murder, the predictable consequence of the city's 'soft on crime' stance."
This statement fits in with a broader Trump administration effort to blame illegal immigration for what it describes as a growing crime wave, an unproven assertion at best. While the department correctly noted Chicago's rising homicide rate—a problem frequently invoked by Trump to bolster his "tough on crime" stance—it then implicitly linked the rise in murders to illegal immigrants. That connection doesn't seem to be supported by the available evidence: An analysis by the University of Chicago Crime Labs earlier this year couldn't find a single definitive cause for the increase in gun violence, stumping researchers.
Friday's statement also took aim at the Santa Cruz Police Department in California, albeit not by name. "And just several weeks ago in California's Bay Area, after a raid captured 11 MS-13 members on charges including murder, extortion, and drug trafficking, city officials seemed more concerned with reassuring illegal immigrants that the raid was unrelated to immigration than with warning other MS-13 members that they were next," the statement read.
That's an apparent reference to a series of 12 raids targeting the gang in California's Santa Clara County in February. Both the Santa Clara Police Department and the Department of Homeland Security carried it out, reportedly raising fears of a massive Immigration and Customs Enforcement raid among the city's residents. "We want to make it very clear that these were not immigration-related arrests," said Deputy Chief Dan Flippo told The Mercury News at the time. "We recognize the timing is unfortunate, but this is a federal criminal case that was five years in the making and has nothing to do with immigration."
The Justice Department's description of New York City was even more egregious. The city's crime rate is at its lowest levels in a generation. Murders are down by 10 percent in the first quarter of 2017 compared with the previous year. And New York City Police Department officials partly attributed 2016's decline in shootings and homicides to a reduction in gang-related violence.
An NYPD spokesman on Twitter sounded incredulous at the Justice Department's assertion:
Did DOJ really say the NYPD is soft on crime?

— J. Peter Donald (@JPeterDonald) April 21, 2017
Criticism from city officials soon followed. "The Justice Department's release this afternoon stating that New York City is somehow 'soft on crime' and continues to see 'gang murder after gang murder' demonstrates a willful disregard for the facts," NYPD Commissioner James O'Neill fired back in a statement.
The Justice Department's criticisms defy the advice of none other than Sessions himself, who warned during his confirmation hearing that haphazard critiques of police endangered their lives. "We need to be sure that when we criticize law [enforcement] officers, it is narrowly focused on the right basis for criticism," he told senators in January, in reference to federal efforts to monitor local police departments for abuses. "To smear whole departments places those officers at greater risk." Friday's press release could suggest he's revised his stance on the issue.
In his rebuttal, O'Neill went on to cite a wealth of statistics demonstrating that crime had dropped in his city. He also noted that, far from "crumbling under the weight of illegal immigration and violent crime," New York City was educating other jurisdictions on its methods. "Additionally, over the past year the NYPD has hosted dozens of other police departments from across the world to share our best practices of precision policing, which focuses on the most serious criminals," he said. His unspoken point seemed clear: Instead of criticizing the NYPD for an imagined crime wave, the attorney general should learn from the city on how to forestall one.