Is Trumpcare Dead or Alive?
Repealing Obamacare and reviving the GOP's once-doomed bill are top priorities once again, despite a vow to move on to tax reform.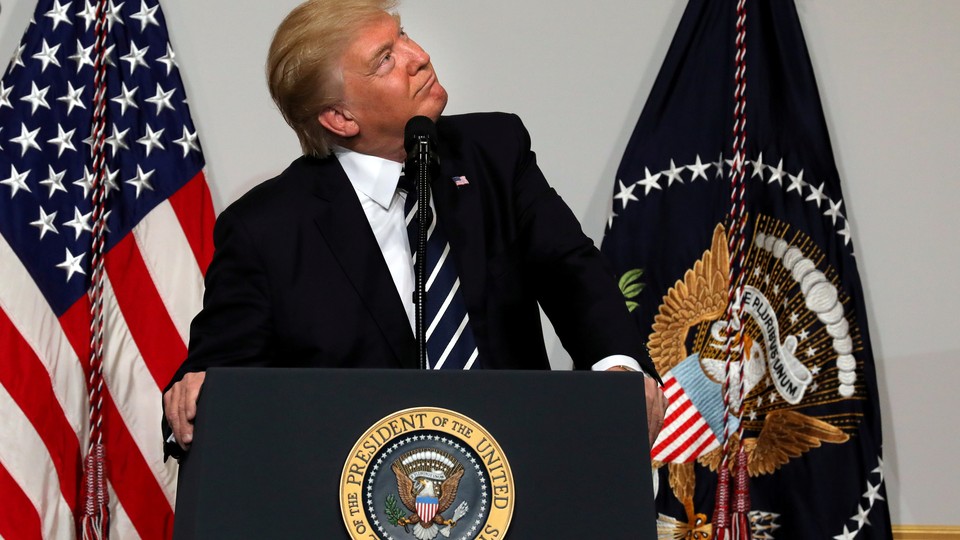 The message President Trump delivered to House Republicans on the evening of March 23 was unambiguous: Pass the American Health Care Act the next day, his top advisers told them, or the president would scrap the whole effort to repeal Obamacare and move on to the rest of his agenda.
The House, of course, did not so much as vote on the bill on that fateful Friday, but two-and-a-half weeks later, it's clear Trump had been bluffing.
After a brief flirtation with the even more daunting legislative thicket known as tax reform, the president is back to talking about health care as if the bill he endorsed had never died. "It's been very much misreported that we failed with health care," Trump told Fox Business's Maria Bartiromo in an interview broadcast Wednesday. "We haven't failed, we're negotiating and we continue to negotiate and we will save perhaps $900 billion."
He went on to explain, as he had done before Republicans called off the House vote, that the White House wants to enact a new health-care law first so that the party can pursue a more ambitious overhaul of the tax code.
So is the AHCA dead or alive?
Trump is correct that negotiations have resumed on reviving the proposal, and they've continued behind the scenes even after lawmakers departed Washington for a two-week Easter recess at the end of last week. Principally, the talks are occurring between aides to Vice President Mike Pence and leaders of House Freedom Caucus, the hardline conservative group withholding its votes until the bill moves further to the right.
Representative Mark Meadows, the chairman of the Freedom Caucus, has been speaking daily with both the White House and Speaker Paul Ryan's office in search of an agreement, as well as with leaders of the Tuesday Group, a larger collection of moderate Republicans who criticized the bill from the left.
But no deal is imminent, according to a senior Republican aide briefed on the negotiations. And there's been no shift in the underlying dynamic that scuttled the AHCA originally: Conservatives are insisting that it repeal more of Obamacare, while moderates were concerned that it eliminated too many of the law's more popular provisions already.
Those moderates had pushed back last week on an offer from Pence that the Freedom Caucus was poised to accept in which states would be able to opt out of the current law's core insurance mandates, like the requirement that policies cover certain "essential health benefits," and the protection against discrimination based on a preexisting condition.
In conversations over the last several days, the aide said, the White House and the Freedom Caucus have discussed language that would ensure that even if a state gets a waiver to bypass the ACA's mandates, insurers would still be prohibited from discriminating based on a person's "health status." But that idea is far from finalized, the aide said.
Under another proposal first reported Wednesday by Axios, insurers would be able to sell some plans that did not cover "essential health benefits" like maternity care, hospitalization, preventive services, and addiction treatment so long as they sold other policies that did. But the Republican aide predicted that idea wouldn't fly with the Freedom Caucus. "My gut would tell me it keeps too much of the Affordable Care Act," the aide said.
What's clear is that Republican leaders, and particularly Trump, are increasingly desperate to rewrite the story of their initial failure on health care by at least passing a bill out of the House, even if the changes they make to do so render it even less acceptable to the narrow GOP majority in the Senate.
In an unusual move before Congress left for its recess, Republican leaders convened the House Rules Committee at the request of the White House for the sole purpose of adding an amendment to the AHCA. It was an obvious attempt to demonstrate some semblance of progress and positive momentum, and the GOP leadership even raised the possibility of calling all 430 members of the House back early from their holiday break to vote on the bill if a final deal was struck.
But that won't be happening now. On Wednesday, Ryan's office announced that the speaker would instead lead a congressional delegation to Europe for meetings with NATO allies. Because Congress must pass a federal funding bill by April 29 to avert a partial government shutdown, the earliest the House will act on health care is early May.
The other reason Trump has returned to health care is that he seems to have a renewed appreciation for why Republicans wanted to begin with it in the first place. The president has repeatedly made clear that he preferred to start with tax reform, but that effort was, at least in part, predicated on first reducing the size of the federal government through a repeal of the Affordable Care Act.
By eliminating nearly $1 trillion in the law's taxes and simultaneously cutting money out of Medicaid, Republicans could more easily reduce tax rates without further exploding the federal deficit. But without a new health law, the party likely will not be able to make the expansive changes Trump wants to the tax code—or at least not without a bigger fiscal and political headache.
"So we're going to have a phenomenal tax reform," Trump told Bartiromo. "But I have to do health care first. I want to do it first to really do it right. And after that, we're going to start on tax reform and infrastructure."
The president's new idea for infrastructure is to possibly pair it with a later stage of health-care legislation. Republicans have long acknowledged that because of the Senate's budget rules, they will eventually need Democratic votes to fully replace Obamacare. Trump wants to entice Democrats to the bargaining table by offering new spending on roads and bridges—a longstanding progressive priority—in exchange for their support for a subsequent health-care bill.
Yet Trump may be misjudging the Democrats' willingness to help him eviscerate the Affordable Care Act. When I asked Matt House, spokesman for Senate Minority Leader Charles Schumer, whether Democrats would vote for a repeal bill in exchange for infrastructure spending, his emailed reply was succinct: "No."
House Minority Leader Nancy Pelosi's spokesman, Drew Hammill, was a bit more expansive. "Democrats have been very clear that any effort that repeals the Affordable Care Act and increases costs for families is a complete non-starter," he said. "Republicans must put aside repeal before any conversations about building upon the ACA can occur."
By later in the afternoon, however, Trump had already shifted from bartering with Democrats on health care to threatening them. In an interview with the Wall Street Journal, he suggested his administration might decline to pay out subsidies to insurance companies as part of Obamacare—a provision of the law that is currently the subject of litigation. His comments came just hours after a coalition of insurers, industry associations, and the U.S. Chamber of Commerce wrote Trump a letter urging him to honor the subsidies and warning that without them, premiums and other costs for consumers would shoot up and more insurers might pull out of the individual market.
The complexities of health-care reform and its connection to other parts of Trump's agenda are why it was always going to be hard for the president to simply "move on" after the failure of the American Health Care Act. Administering Obamacare brings its own political complications, and trying to swiftly pass a major tax bill brings even more. And so while the once-doomed GOP bill might not be fully back to life, it's not totally dead, either.