Trump Backs Away From Terminating NAFTA
The nationalists in Donald Trump's White House appear to have come very close to persuading the president to sign an executive order withdrawing from the North American Free Trade Agreement.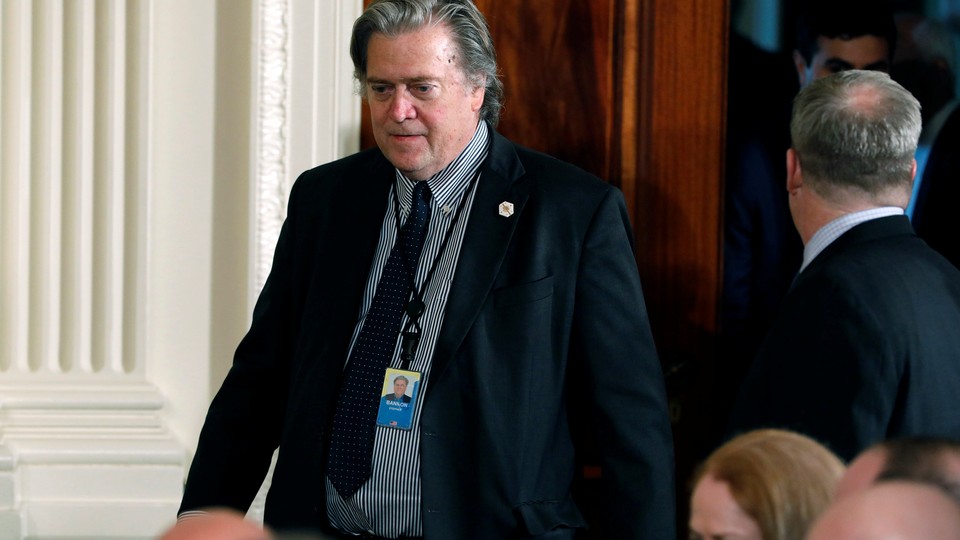 A proposed draft executive order that would pull the United States out of the North American Free Trade Agreement set off the latest round in a now-familiar series in Trump's White House: The friction of Donald Trump's nationalist campaign promises against the reality of governance, and the tension between moderating forces within the White House and more aggressive ideological purists.
The draft of the executive order, its existence first reported by Politico, is "in advanced stages of the process," a senior White House official told me on Wednesday afternoon. But on Wednesday evening, the White House released a readout of a call between President Trump, President Pena Nieto of Mexico, and Prime Minister Trudeau of Canada, saying that Trump had "agreed not to terminate NAFTA at this time." It quoted Trump as saying: "It is my privilege to bring NAFTA up to date at this time," and said the three leaders had agreed to embark on renegotiation of the deal.
Earlier on Wednesday, The New York Times had reported that Trump was likely to sign the order; the president "wants to be more aggressive on trade, economic nationalism, America first," the senior White House official told me. It's still unclear what exactly is in the draft and how it would trigger the U.S. pulling out of the agreement, which requires six months notice before one of the signatories can withdraw.
As a candidate who ran on protectionist trade policy, one of Trump's main bêtes noires was NAFTA, which he has called the "worst trade deal ever approved in this country." Trump's rhetoric on NAFTA helped endear him to the white working class voters in formerly manufacturing-heavy areas who helped put him in the White House. He has repeatedly promised to renegotiate the agreement, and if all else fails, pull out altogether. Early on in his administration, Trump lived up to one trade-related campaign promise by pulling the U.S. out of the Trans-Pacific Partnership.
But in the early days of his administration, Trump had shown signs of moderating on trade, or at least of entertaining more moderate views. Reports leaked out of a "civil war" over trade, with nationalist ideologues like Bannon and National Trade Council chief Peter Navarro on one side, and Wall Street-connected centrists like National Economic Council head Gary Cohn on the other. And a draft letter to Congress that leaked to the media appeared to show a more moderate posture towards NAFTA, suggesting less dramatic changes to the agreement and not proposing ditching it altogether.
The senior White House official told me that Cohn and his allies had been against this draft executive order on NAFTA. Cohn has been seen as one of the key figures in the faction associated with Trump's son-in-law Jared Kushner and daughter Ivanka Trump; infighting between this faction and Bannon recently spilled into public view. The conventional wisdom had been that the Kushner allies came out as the victors, with Bannon's fall from grace representing the sidelining of the populist nationalism Trump espoused as a candidate. Bannon was removed from his seat on the principals' committee of the National Security Council, and Trump himself chastised the chief strategist publicly, saying in interviews that Bannon had joined his campaign late and that it was Trump who led the White House's strategy, not Bannon.
But despite weeks of Washington gossip assuming Bannon's imminent downfall, Bannon is still there. And whether or not the order is signed,  that it is even being considered ups the ante on the administration's posture towards U.S. trading partners following increasingly heated rhetoric from the administration. Trump has become increasingly aggressive towards Canada, imposing a tariff on Canadian lumber.
"People don't realize Canada's been very rough on the United States," Trump told a meeting of agricultural leaders on Tuesday. "They've outsmarted our politicians for years."
"Canada has made business for our dairy farmers in Wisconsin and other border states very difficult. We will not stand for this. Watch!" Trump tweeted on Tuesday.
Just last week, Trump told the AP in an interview that he was either going to renegotiate or terminate NAFTA, and that "If they don't treat fairly, I am terminating NAFTA."
Bannon and Navarro reportedly wrote the draft of the order. Navarro is a trade protectionist academic who has sounded the drumbeat against China for years. The executive orders in which Bannon has had the largest hand haven't had a great success rate; the first and second iterations of the travel ban targeting mostly Muslim nations did not stand up to legal challenges.
It's also unclear whether Trump really could have unilaterally pulled out of NAFTA without congressional approval; a recent study by a Canadian think tank concluded that he cannot. But politically, the fact that the order came close to being signed could be a signal that Bannon is not a spent force, the nationalist wing remains influential in the White House.