In The Freedom Caucus, Trump Meets His Match
This group of House conservatives are just as committed to their brand of right-wing populism as the president.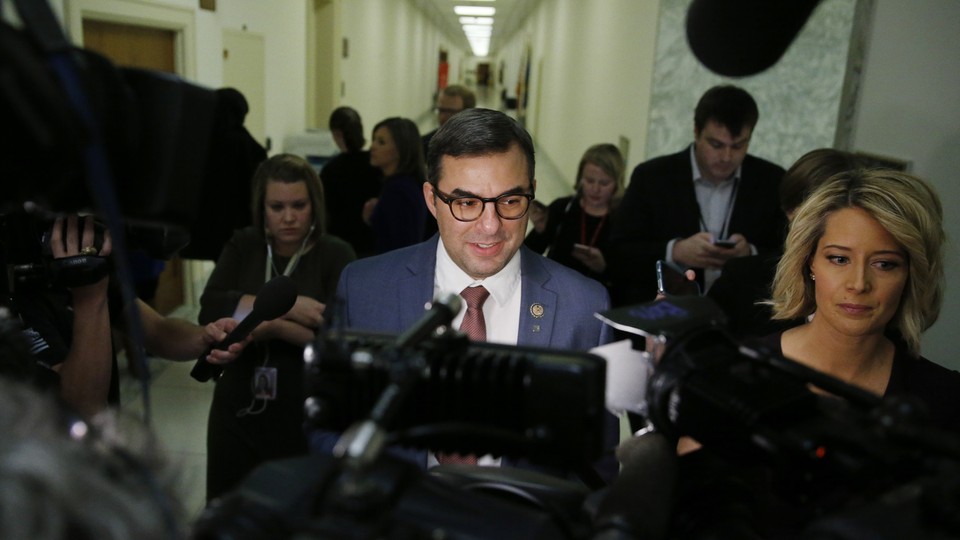 No doubt Twitter has done some unfortunate things to public discourse, especially in the fetid swamps of U.S. politics. But every now and again, a tweet surfaces that makes ones stop and marvel at its transcendence—its ability to boil a broad, multifaceted issue down to a tasty, bite-sized nugget that would tuck snugly inside a fortune cookie.
Last Saturday, House Freedom Caucus member Justin Amash let fly with one such bit of brilliance, when he released the snarktastic term "Trumpstablishment" on the Twitterverse.
The portmanteau emerged as part of Amash's pushback against the tantrum thrown by President Trump—call it a tantrump—after Republicans failed to fulfill their 7-year pledge to repeal and replace Obamacare. Miffed at looking less like a "closer" than a loser, Trump trashed the conservative House Freedom Caucus, many of whose members—including Amash—had opposed the (wildly unpopular) replacement bill known as the American Health Care Act on the grounds that, as they saw it, the bill did not fully repeal Obamacare. On the eve of the (ultimately canceled) AHCA  vote, Trump huffed, "The Freedom Caucus will hurt the entire Republican agenda if they don't get on the team, & fast. We must fight them, & Dems, in 2018!"
Amash responded with a poke at Trump's populist image: "It didn't take long for the swamp to drain @realDonaldTrump‬‬‬. No shame, Mr. President. Almost everyone succumbs to the D.C. Establishment."
A couple of days later, Trump aide Dan Scavino decided to take it up a notch. He denounced Amash as "a big liability" and, in the name of the #TrumpTrain, called for the libertarian congressman to be primaried.
To which Amash gamely fired back: "Trump admin & Establishment have merged into #Trumpstablishment‬‬‬. Same old agenda: Attack conservatives, libertarians & independent thinkers."
As burns go, "Trumpstablishment" isn't especially scathing. (Trump slung vastly more toxic, personal, and degrading mud at every step of his path to the White House.) It is, however, a tidy bit of political jujitsu by Amash, as he and his Freedom Caucus brethren find themselves targeted by a President who rose to power via a turbo-charged brand of populist rage.
For the most part, Trump's populist demagoguery is a powerful weapon. Red, blue, or purple stater: Everyone loves to hate Washington and "the political elite." But when it comes to trashing the establishment and proclaiming devotion to "real Americans," the Freedom Caucus takes a back seat to no one—especially not some born-to-money, schmancy-pants New York real estate mogul.
After all, caucus members such as Amash, Jim Jordan, Mark Meadows, Thomas Massie, and Mark Sanford came to Congress on an anti-Obama, Tea Party-fueled, damn-the-establishment tide of fury and frustration when Trump was still firing people on The Apprentice. Love them or hate them, these guys have been tormenting the powers that be ever since.
So if the president wants to pick a fight with Freedom Caucusers, its members are well-positioned, and willing, to hit back, painting Trump as the one betraying the conservative, anti-establishment cause. Which is, in fact, what a handful have begun doing, some more gently than others.
Amash's beef with Trumpland has caused the most buzz. At an event hosted by Politico Thursday, he appeared alongside the Freedom Caucus's current (Mark Meadows) and former (Jim Jordan) chairmen for a group interview. Seated center stage, the boyish Amish fielded multiple questions about tensions with the White House. Asked about Scavino's call for him to be primaried, he shrugged it off.
"I'm not worried about it. My constituents know what I stand for." Indeed, he pointed out, "every election somebody makes these kinds of threats." Moderator Jake Sherman helpfully reminded the audience that, in 2014, the Chamber of Commerce labored to unseat Amash. "It didn't work," the congressman noted cheerily.
No, it did not. And Amash is more than happy now to have Trump lumped in with monied, Chamber of Commerce establishment types. The Chamber of Commerce wants Amash gone. Trump wants Amash gone. You do the math.
Amash is hardly the only caucus member questioning Trump's anti-establishment cred. The day after Trump's Freedom Caucus twitter-fit, The Washington Times ran a piece about member Thomas Massie. The opening line:
"Rep. Thomas Massie isn't worried about President Trump coming after him in a primary election … saying the commander-in-chief is 'burning political capital' by listening to members of the establishment and attacking conservatives that want to help him deliver on his promise to drain the swamp.'" The piece went on to quote Massie sadly telling MSNBC's Morning Joe, "'conservatives were excited when we heard Donald Trump was coming to help us drain the swamp, but now he is taking advice from the swamp creatures.'"
Freedom Caucuser Mark Sanford too has dismissed Trump's attempts at "intimidation"—along with the idea that the President's ranting about the AHCA would matter to voters back in South Carolina. As Sanford told the New York Times, "They're not part of the intelligentsia of what happens in Washington. They're just conservative folks."
"It's a nice little story line, that it's the Freedom Caucus's fault," Sanford told me on Friday. But the bill's failure, he insisted, "goes much higher up the food chain."
"I don't think it's unfair to characterize some of the president's claims as outlandish, unreal, and unfounded," said Sanford. And Trump's assertions that the AHCA would have passed if not for the Freedom Caucus, he quipped, "is as true as saying the Mexicans are going to pay for the wall."
Trump's penchant for outrageous statements is, in fact, one reason caucus members are taking his threats with "a grain of salt," said Sanford. "He seems to jump from subject to subject and people aren't quite sure how long and sustained his attention span is, whether he's carrying out a threat or pushing for a legislative change."
As for the White House's attempts to paint the Freedom Caucus as in league with the broken, corrupt Washington powers that be? "Anti-establishment has a context and a meaning," insisted Sanford. "It means going against the normal course of things in politics—but not just in theatrical terms. Also in terms of policy."
Thus begins a new showdown over which Republican leaders are the true champions of "real America" and which are faux-populist tools of the establishment. Trump has the bigger megaphone, but he is facing off against a gaggle of lawmakers who have built their careers on refusing to back down from a fight—especially with their own team.
At the Politico event, Jim Jordan asserted that, whatever the policy debate, it is the Freedom Caucus' mission to fight for the legions of Americans who feel "forgotten" by the rest of the country. And it will continue to do just that, he pledged, "no matter what."