Hitting Bill O'Reilly Where It Hurts
Can activists use big business to stop a conservative media juggernaut?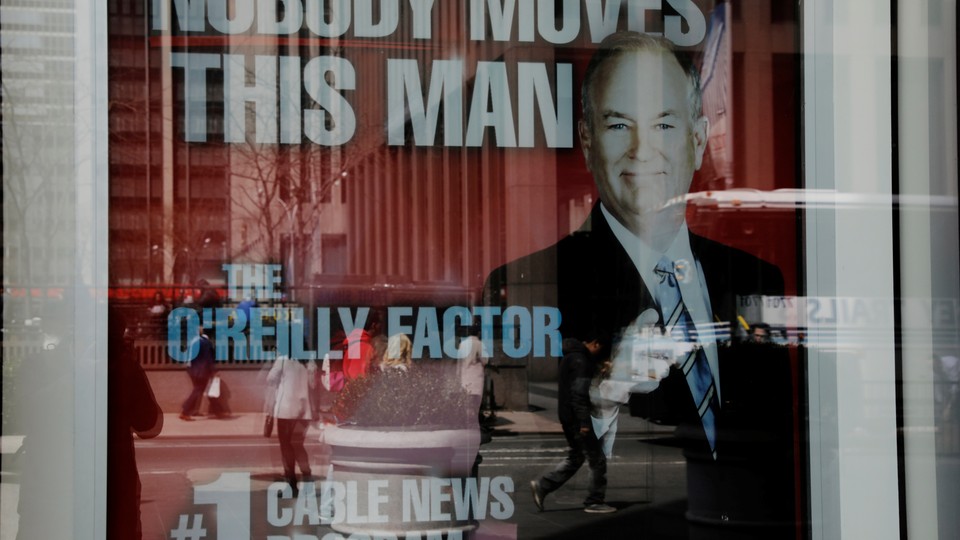 Throughout the day on Wednesday, the list—and presumably, Bill O'Reilly's headache—kept growing. Twenty-four companies announced they were pulling their advertisements from his wildly popular, if hyper-partisan, O'Reilly Factor, in the wake of sexual-harassment allegations (and related settlements) against its host, revealed this weekend by The New York Times.
By mid-afternoon, the count had risen to 41.
The group of advertisers included established, national brands ranging from Mercedes-Benz and BMW to Glaxo-Smith Kline and H&R Block. As CNN pointed out, Fox could still count on a selection of "bottom feeder" ads for the hour—gold companies and direct-response marketers—but the dollars from big American brands were being pushed over to other, less fraught programs.
Perhaps the only bright spot for O'Reilly occurred when the president himself defended the host in an interview with the Times:
I think he's a person I know well—he is a good person. I think he shouldn't have settled; personally I think he shouldn't have settled …Because you should have taken it all the way. I don't think Bill did anything wrong.
The growing list of uneasy advertisers has been the result of activism on the part of several national and grassroots progressive groups, among them the National Organization for Women and Color of Change—both of which have called for O'Reilly's ouster. (Terry O'Neill, the president of NOW, remained nonplussed by President Trump's defense of O'Reilly, recalling the commander in chief's own problems last year: "I think that a man who brags about sexual assault is not helping Bill O'Reilly," she told me.)
NOW released a strongly worded statement in the wake of the Times report, condemning O'Reilly for "a pattern of predatory, misogynistic behavior" and excoriating the "larger culture that condones the harassment and objectification of women at Fox News," while Color of Change focused on the advertisers themselves.
Rashad Robinson, that group's executive director, argued that corporations could be convinced to take a stand against someone like O'Reilly. "All of our campaigns reach out behind the scenes," he said, "to the CEO's office, the diversity office, to corporate communications. We explain our position, we ask for a conversation, and make clear what our demand is … We work inside the corporation, figuring out who is our ally."
I asked him how hard it was to convince skeptical advertisers that it was in their best interest to distance themselves from someone like O'Reilly, who remains extremely popular, if largely among a certain slice of the electorate.
"You need to create a narrative for corporations—that they can't have their brands next to Bill O'Reilly," he told me.
Perhaps, in this case, the narrative—alleged serial sexual harasser—was evident enough. But if not, different pressure could always be applied. "Our goal is to help any corporation that decides to be next to this dangerous predator to be as visible as possible," Robinson said.
The present O'Reilly campaign resembles efforts like #GrabYourWallet—a consumer-driven movement that aimed to convince large retailers like Nordstrom to discontinue carrying Ivanka Trump's line of clothing as a form of resistance against the Trump administration. (Nordstrom insisted its decision to drop the line was due to weak sales.)
Shannon Coulter, the co-founder of that campaign, said that the effort to target O'Reilly's advertisers signaled that "we are at a cultural crossroads—attention is heightened, from the October release of the Trump tapes through the Women's March. This is all happening in the broader context of disrespect coming out of the White House and coming out of our culture."
Consumers, she said, "are willing to be more proactive about changing this."
But can progressively minded activists actually upend a conservative media juggernaut? O'Reilly in particular poses a tricky problem. To begin with, The O'Reilly Factor pulled in an estimated $446 million in ad revenue from 2014 through 2016. While advertisers may be cool to the host in the heat of this present battle, it's a lingering question as to whether they can be convinced to stay away from O'Reilly in the medium- and long-term. Without sustained pressure, the effort to pressure Fox to do something about its thus far hugely lucrative hour of programming may fall short.
"We have to make it not worth it," Robinson said, explaining that his group intended to activate its membership base of 1.2 million people to monitor the airwaves and see which advertisers return the Factor fold. "We are going have to be engaged in the long run. We are going to have to track and leverage our member volunteers—to tape the show, to TiVo it."
But when it comes to Fox, there is still a more difficult and unique revenue question: Cable providers like Comcast and Time Warner pay stations like Fox what's known as a "carrier fee" for the privilege of broadcasting their content to subscribers. Given Fox's huge audience, and O'Reilly's in particular, Fox can charge the cable providers top dollar, using the argument that its sizable audience is indispensable to any cable provider. This is where O'Reilly makes the biggest difference to Fox's bottom line—and that reality makes outside consumer activism fairly complex.
I asked Robinson whether his group intends to pressure the cable providers to, in turn, pressure Fox. "Not yet," he said. "Those are utility companies—and they often don't have a lot of competition. To get people to go after cable companies that already keep them on hold when they call? They can't get them to do anything even when they're already paying customers."
Robinson is convinced that current pressure on advertisers will suffice. "Fox doesn't want to lose any money," he said. "The more we can make them in need terms of resources, the more we can damage their brand and make negotiations harder—the more we do damage to affiliations and relationships."
In other words, the bottom line is important, but so is perception. If Fox begins to think its core brand is being hurt by having O'Reilly on the air, maybe there really does exist the possibility of toppling the cable king. Which brings to bear a larger question: To what degree does the Fox brand exist independent of Bill O'Reilly—to what degree are their interests divergent?
Writing in the Hollywood Reporter, Andrew Tyndall posited:
For the moment, both the defecting advertisers and [Fox News Channel's] advertising sales team make the distinction between a boycott of O'Reilly himself and of the channel as a whole. But it is a ridiculous notion that the audience appeal and ideological worldview of the two are separable. In the long run, the commercial logic of abandoning O'Reilly means the abandonment of FNC as well.
And indeed, in this current moment, when Fox News has become the de-facto mouthpiece for the Trump administration—with ample evidence of back and forth between the president and the channel—progressive activists are unlikely to be satisfied by focusing on O'Reilly's troubles alone.
O'Neill offered this assessment: "I think it is possible that advertisers are going to peel away from Fox and not just Bill O'Reilly. Just go back to January 21st. That was an extraordinary outpouring of support for women's rights as human rights. That drew millions and millions of people—men and women—to demonstrate. That kind of upwelling was not controlled by any one organization. Advertisers ignore that at their peril."
As evidence of this, one of O'Reilly's advertisers, the Society for Human Resource Management announced yesterday that it would discontinue its ads not just during his hour, but on the entire Fox News Network.
How many corporations will follow its lead in large part depends on how engaged and tenacious Fox detractors remain in the days and months to come. For O'Reilly and his brethren, this fundamental reality may not necessarily bode well: Progressives now have very few levers of power at their disposal. The executive, legislative and judicial branches are dominated by conservatives—and consumer activism is one of the only potent forces left for progressives to assert themselves.
As Coulter told me, "It's a very easy lever—it allows people to say, I have some control. I have some power. It's a function of how much choice they have as consumers. And it's really easy to do this."