The Government Is Staying Open—For Now
The House and Senate voted to extend federal funding for another week, averting a shutdown to buy more time for negotiations on a large spending bill.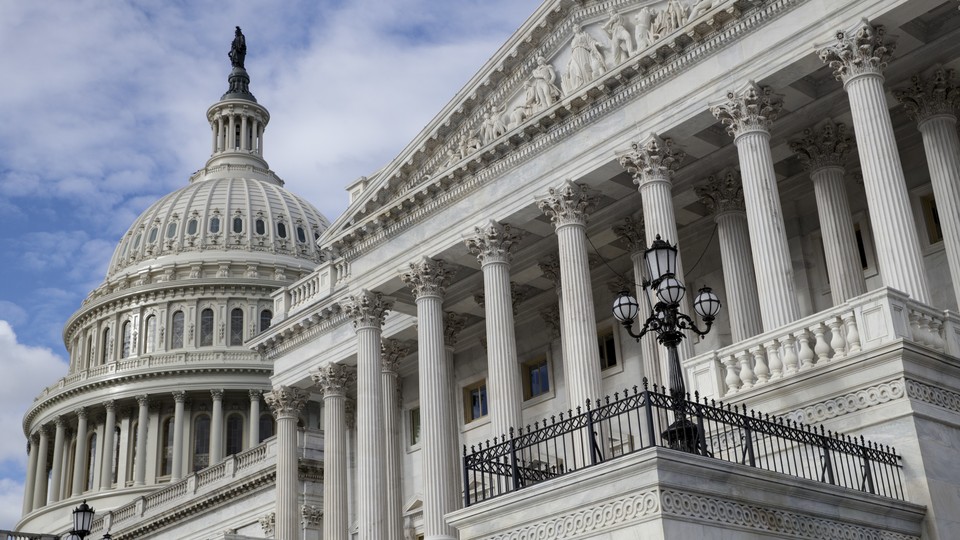 Updated on April 28 at 12:05 p.m. ET
President Trump isn't getting a health-care vote to mark his 100th day in office, but he won't be saddled with a government shutdown, either.
The House and Senate voted in quick succession on Friday morning to extend federal funding for another week past a midnight deadline as negotiators try to reach an agreement on a large spending bill for the remainder of the fiscal year.
Democrats had briefly threatened to hold up the stopgap measure if Republicans tried to jam through their stalled American Health Care Act. But GOP leaders still can't find enough support among their members for the proposal, and their decision on Thursday night to again put off a vote defused—for now—the shutdown threat.
Negotiators have mostly agreed on the spending levels for the larger omnibus appropriations bill, but Senator Charles Schumer, the Democratic minority leader, said Friday they were still haggling over a few extraneous policy provisions that Republicans were insisting on including in the bill. "We still have a little bit of a ways to go, and we still have some poison-pill riders that they haven't dropped yet," he said. Democrats determined that enough progress had been made to okay the week-long extension.
A pair of reversals by Trump helped move the talks forward earlier in the week. First, the president backed off his demand that the spending bill include money to begin development of a southern border wall, which Democrats refused to support. Then the White House told Democratic leaders that contrary to an earlier Trump threat, the administration would continue making subsidy payments to health insurers as part of the Affordable Care Act, which are considered crucial to maintaining the stability of the individual market.
After passage of the stopgap bill on Friday, Congress now has until May 5 to strike a broader deal.