The Districts Where Democrats Might Find the Next Georgia 6
There are dozens of congressional seats nationwide that share similarities with this conservative area near Atlanta—where a special election scheduled for Tuesday has been unusually competitive.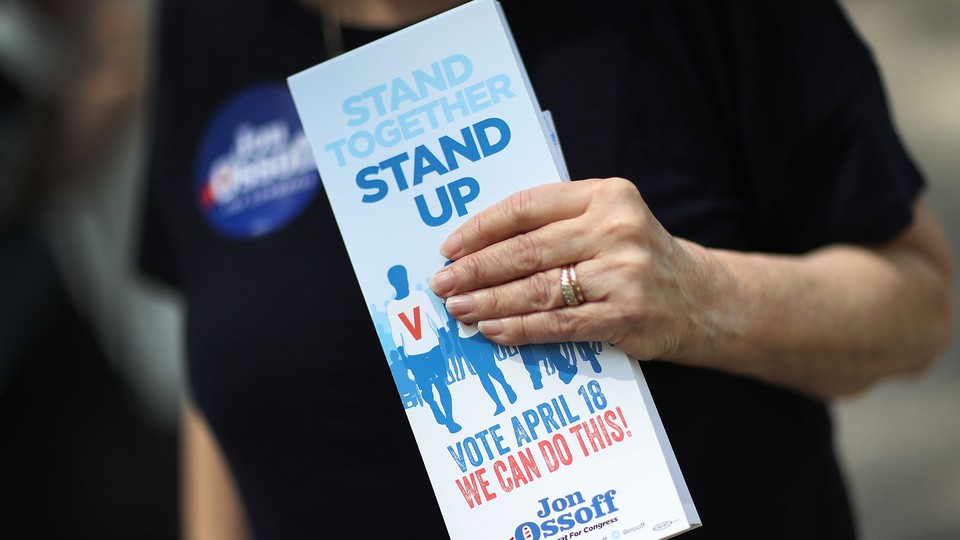 The suburban Atlanta House district holding a special election Tuesday to replace former Representative Tom Price, now President Trump's secretary of health and human services, is a most unlikely bellwether.
The sixth congressional district in Georgia has been reliably Republican for decades. Since Price was first elected there in 2004, he never carried less than 60 percent of its vote. Mitt Romney and John McCain each won almost exactly 60 percent of the vote there in the 2012 and 2008 presidential races, respectively. And National Journal's most recent Almanac of American Politics concluded that "all parts of the district are safe Republican."
But in recent weeks the race to replace Price has transfixed the political world, because the seat crystallizes two electoral trends that could decide the struggle for the House in the 2018 midterm election. Centered on white-collar communities in the northern Atlanta suburbs, the district is one of 48 Republican-held House seats that share two key characteristics that could potentially boost Democrats. First, it has a greater share of college-educated whites than the national average of 34.2 percent. Second, Trump performed worse in the district last November than Romney did in 2012. These similar districts—the ones that could produce the next Georgia 6—are portrayed in the chart below.
Price's former seat has become an improbable battleground because it ranks so high on both lists: Nearly 65 percent of whites in the district hold at least a four-year college degree, and Trump's margin of victory there was nearly 22 points lower than Romney's. Trump won the district by just 1.5 percentage points, and Hillary Clinton took nearly 47 percent of its vote—an almost 10-point bump from then-President Barack Obama's performance there in 2012.
Heavily white-collar districts that were cool to Trump aren't the only seats Democrats will contest next year: They are also targeting less urban and more blue-collar seats, including a few in upstate New York. And Democrats are not planning to challenge all of the 48 GOP-held seats that share the two key characteristics; that list includes several suburban seats in Texas, as well as in South Carolina, Arizona, and Georgia, that lean even more strongly Republican than Price's former district.
But with national polls consistently showing Trump's job-approval rating sagging below 40 percent among whites with at least a four-year college degree—and sometimes sinking as low as 35 percent—white-collar districts such as Georgia's sixth have grown central to Democratic hopes of recapturing the House. With the exception of the suburban Dallas seat held by Republican Representative Sam Johnson, Democrats are seriously targeting every seat on the chart above where at least half of the district's whites are college-educated. Most of these are also seats where Trump's margin significantly eroded compared with Romney's four years ago. And most of them are also seats where Hillary Clinton beat Trump.
The list of targeted House Republicans includes John Culberson (Houston suburbs), Barbara Comstock (Northern Virginia), Ileana Ros-Lehtinen (Miami), Pete Sessions (Dallas), Mimi Walters and Dana Rohrabacher (Orange County, California), Darrell Issa (suburban San Diego), Leonard Lance and Rodney Frelinghuysen (New Jersey), Peter Roskam (suburban Chicago), Kevin Yoder (Kansas City, Kansas), and Erik Paulsen (western suburbs of Minneapolis-St. Paul).
Several GOP seats with a slightly lesser, but still above average, concentration of white college graduates are also high on the Democrats' priority list. Those include the Philadelphia-area seats held by Ryan Costello and Pat Meehan; Martha McSally's seat in the Tucson, Arizona, area; Will Hurd's district outside San Antonio; and the suburban Denver seat held by Mike Coffman. Some of the seats in Democrats' sights—including those held by Culberson, Comstock, Sessions, Walters, Rohrabacher, Issa, Hurd, McSally, and Coffman, as well as the Price seat—also contain substantial minority populations, potentially making them more competitive.
As for this week's race in Georgia, Republicans will breathe a sigh of relief if Democratic candidate Jon Ossoff fails to capture Price's old seat. Running against a crowded Republican field, Ossoff is virtually guaranteed to finish first in Tuesday's initial round. But to win outright, he needs to clear 50 percent of the vote; if no one captures a majority, the top two finishers will compete in a June runoff where Ossoff's path may be rockier. But the Price district leans more strongly Republican than almost any of the other white-collar seats on the Democratic target list. Price's most recent Democratic opponent carried just 38 percent.
If Ossoff doesn't do much better, it would send Democrats the dispiriting signal that white-collar whites are still differentiating between their unease about Trump and their inclination to back Republicans for Congress. But if Ossoff improves on the Democratic performance there in 2016—much less if he wins outright—it would suggest at least some of the well-educated, ordinarily GOP-leaning whites expressing concern about Trump in polls are open to voting Democratic as a way to impose a check on him. If that dynamic were to develop, it would offer Democrats probably their best chance of recapturing the House next year—on a path that runs primarily through the competitive districts on this chart.