Will Backlash Against Trump Deliver Victory for Democrats in Georgia?
Liberals are hoping for an upset in the conservative sixth congressional district, but the results won't necessarily predict the future of the party one way or the other.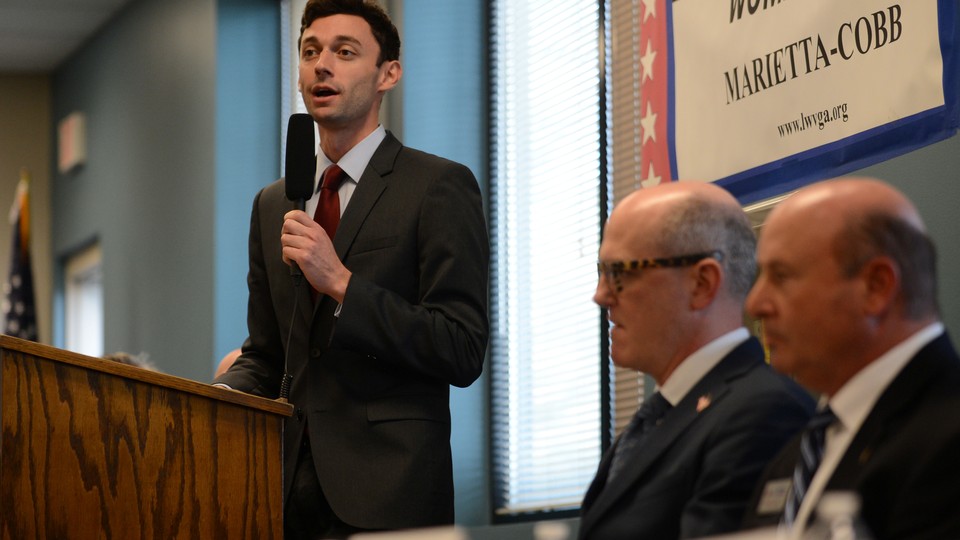 Jeff Kazanow understands firsthand how difficult it can be to run as a Democrat in the red state of Georgia. In 2012, he lost badly to Tom Price, who was up for re-election as the Republican Representative for the sixth congressional district. But Kazanow thinks things are different now that Donald Trump is president. He believes a Democrat just might win the April 18th special election to replace Price, who left Congress in February to serve as Trump's Secretary of Health and Human Services.
"Democrats were happy, we had nothing to complain about in 2012 when Obama was in office. Now, we all feel like we have to do whatever we can to minimize the damage Trump could do to this country," Kazanow said in an interview. "This race is a way to try to get someone with progressive values into Congress. But if a Democrat wins it would also send a message to Trump and the Republican Party that they can lose seats they thought were safe because of the outrage he has created."
The sixth congressional district should indeed be a safe Republican seat. Mitt Romney won the district by a double digit margin in 2012. Trump, on the other hand, eked out a victory over Hillary Clinton by less than two percentage points. That less-than-stellar showing, combined with a liberal voter base energized by the Democratic defeat in the presidential election, has convinced Democrats they have a chance to flip the district. The nonpartisan Cook Political Report has even labeled the race a toss up.
30-year old Jon Ossoff is the party's best hope to do that. Ossoff is running a campaign carefully constructed to entice liberals anxious over the Trump administration. A recent ad features the candidate warning that Trump "could start an unnecessary war," while the tagline of an email blast—"We don't have to wait until 2018, or 2020, to fight back against Donald Trump"—makes his campaign sound like an attempt to make the race a referendum on the president.
The strategy appears to be literally paying off. Earlier this month, the campaign announced that it had raised an eye-popping 8.3 million dollars, with a sizable amount of the haul coming from out of state. The party establishment also evidently believes the race is competitive: The Democratic Congressional Campaign Committee has made investments in the race, including deploying staffers to get out the vote.
Local progressive activists energized by the presidential election are dedicating time and energy in an attempt to flip the district too. Ken Hall of Cobb Progressives said that members of his group based in Cobb County, Georgia, are showing up to phone bank in part because the the Trump administration spurred them to action.
"Lots of people are coming out who aren't rabid political animals, but they're appalled at many of the things that have been going on with the administration," Hall said, citing the currently stalled GOP effort to repeal the Affordable Care Act as one example of a proposal that has alarmed progressives in the district.
Adding to a sense of momentum among Democrats is the fact that so far Ossoff has performed well in the polls. A recent survey found him leading a crowded field with 43 percent of the vote, though that's less the 46.8 percent share of the vote that Clinton earned in the district, and puts him below the threshold needed to win the race outright.
Republicans have thrown cold water on the idea that an upset is possible. Debbie Dooley, the Atlanta Tea Party chairwoman, said she was "somewhat surprised" to see the level of Democratic attention to the race. "This is a very safe Republican seat," she said, concluding: "it just shows how motivated many Democrats are to stop Donald Trump right now."
A number of additional factors make it difficult for a Democrat to win the district. Even if residents aren't Trump's biggest fans, they still approve of the president by a slim majority, according to a recent survey. And while Trump won a smaller percentage of the vote than Romney four years ago, that didn't dampen enthusiasm for either Price or Johnny Isakson, who won re-election in November to the House and Senate respectively on the GOP ticket by double digit margins.
Nevertheless, national media outlets have framed the contest as a high-stakes trial and potential indicator of whether Democrats can channel anti-Trump fervor into the votes needed to win back Congress. In February, The Washington Post noted that "this is the kind of district that Democrats will need to find a way to flip if they are going to seize the House majority in November 2018." In March, The New York Times described the race as "an early test" that will show whether Democrats can "capitalize" on "Trump's polarizing presence."
But the outcome of the race won't be enough on its own to draw sweeping conclusions about how the Democratic Party will fare in the Trump era. And individual special elections for congressional seats aren't necessarily predictive of what will happen in upcoming midterm elections.
"If Ossoff wins, people will say the GOP is doomed. If he loses, people will say the Democrats are terribly disorganized, and they can't win in 2018. Neither of those things are true," Brandon Finnigan, the director of the non-partisan election site Decision Desk HQ, said in an interview.
Still, the Georgia race may provide some clues as to how Democrats will perform in the midterms when viewed alongside the outcome of other special elections.
Democrats lost a Kansas special election race on Tuesday, but the results were far better for the party than political observers would have predicted even weeks ago. Republican Ron Estes won only by a relatively narrow seven point margin, despite the fact that Trump won the district by 27 points in November.
Taken together, the results of these elections, including upcoming Montana and South Carolina special elections, could shed light on the extent to which grassroots liberal activism will translate into election wins. "Paying attention to the margins in all these elections can help show whether Democrats are making inroads into conservative districts," Finnigan said.
If Democrats seem to be gaining ground, that will inevitably provoke a counter-reaction. Dooley predicted that all the attention from Democrats to the sixth district race in Georgia would backfire. "The fact that there's been all this publicity, I think that will succeed in driving Republicans to turn out in big numbers," she said, "So it's a double-edged sword."
Michael Altman, a Republican voter living in Georgia who has been following the race closely, sounded even more confident that Ossoff won't win. "He doesn't have a chance in hell, it's just not going to happen," he said. He conceded though that this race feels different from past congressional district elections.
"There's more signs, and more advertisements, than I've ever seen for a Democrat running around here," he said. But Altman doesn't believe that's proof the political tide is turning in the district. He thinks it's just an indication that national Democrats are desperate for a win. "I don't think he has that much grassroots support in the district," he said, adding: "I think it's just smoke and mirrors."
If Ossoff fails to win more than 50 percent of the vote next Tuesday the race will advance to a runoff between the two candidates with the most votes. Republicans might coalesce around a single candidate if that were to happen, likely dooming chances for the Democrat.
In the event of a defeat, Georgia progressives say that they won't simply give up. "I'm really planning on making this a long-term thing," Amy Nosek, the founder of one Georgia Indivisible group, said in an interview. "We might lose some people along the way, but I do think we've grown a movement that won't go away anytime soon."
That doesn't mean there won't be serious disappointment if the party falls short in the upcoming election.
"As far as Ossoff's campaign is concerned, victory to me is seeing him sworn into Congress," Carlos Moreno, one of the founders of a different Georgia-based Indivisible group, said. "I'm sorry, but in politics, second place is losing."