The Trump Official the FBI Was Investigating
Carter Page would be the first known candidate advisor to be directly monitored during a presidential campaign as a possible agent of a foreign power.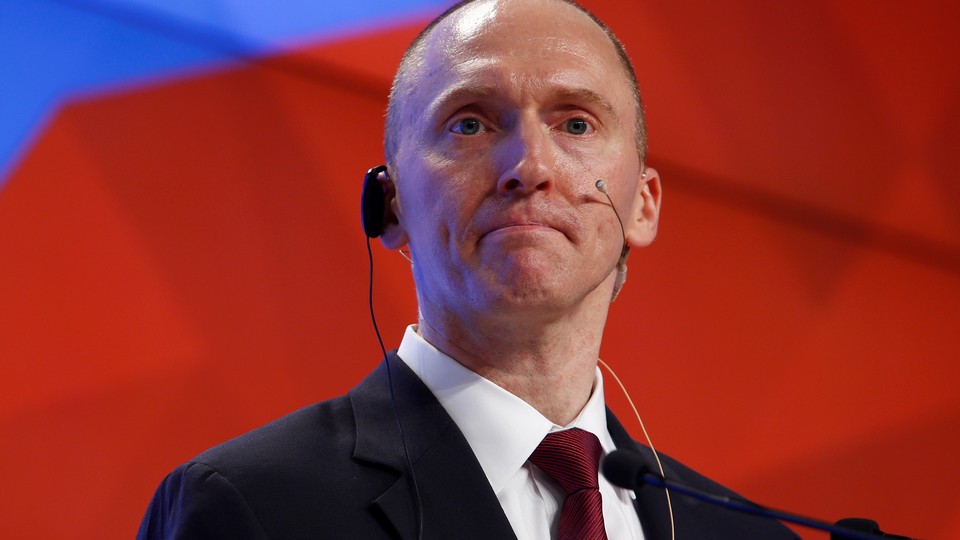 A Foreign Intelligence Surveillance Court judge approved a secret warrant request by the FBI to monitor Trump advisor Carter Page last year, the Washington Post reported Tuesday. Page would be the first known member of a presidential campaign to be targeted by a FISA court warrant, an extraordinary move for a federal law-enforcement agency to undertake during an American general election.
Multiple news outlets had reported in recent months that the FBI sought at least one FISA warrant targeting someone in Trump's orbit during the presidential campaign. The Post is the first to identify Page, a national-security advisor for the Trump campaign, as the warrant's target. No formal charges have been filed against Page, and he has repeatedly denied any wrongdoing or impropriety.
The warrant's existence is also likely to fuel claims by Trump allies that the president's campaign was illicitly spied upon by the Obama administration. Page told the Post that its reported existence "confirms all of my suspicions about unjustified, politically motivated government surveillance" and compared himself to Martin Luther King, Jr., who was repeatedly harassed by the FBI during the civil-rights movement.
But the warrant cuts both ways for Trump. Applying for one suggests federal investigators had strong suspicions about Page's ties to Russian officials. And to obtain the warrant, the Justice Department would have persuaded a federal judge serving the Foreign Intelligence Surveillance Court—often simply referred to as the FISA court—that investigators had probable cause to believe a Trump campaign official was either acting as an agent for a foreign power or knowingly aiding one.
Congress created the FISA court in 1978 to place judicial restraints on American intelligence services after a series of domestic spying scandals in the early 1970s. The court is unlike any other tribunal in the American legal system: Its proceedings are secret and non-adversarial, with only Justice Department lawyers presenting evidence to a single federal judge. The judges themselves are selected by Chief Justice John Roberts from among the ranks of the federal judiciary.
The court's secretive nature has long drawn skepticism from civil-liberties advocates, especially after Edward Snowden's mass-surveillance revelations in 2013. Among the documents Snowden released to the public was a FISA warrant authorizing the FBI to obtain all telephone metadata from every U.S. customer of a Verizon subsidiary. The disclosure prompted lawsuits by the ACLU asking federal courts to block the surveillance order.
According to the Post, part of the FBI's warrant application relied on Page's reported contacts with a Russian intelligence official in 2013, contact Page himself recently acknowledged to BuzzFeed News. It's not clear if Page knew he was speaking to an intelligence official at the time.
The Post also reported that application's collection of Page's contact with Russian officials included ones that haven't been publicly disclosed before. FISA warrants typically last for 90 days but can be renewed; the FISA court reportedly renewed the warrant targeting Page "at least once," the Post reported. It's not clear whether the FBI's surveillance of him is still ongoing.
Page joined the Trump campaign's national-security team in March. Campaign officials have since downplayed his role, which effectively ended in September as reports of Page's ties to Russian officials began to circulate in the press. But his presence proved controversial even before then. His perceived pro-Russian stances drew scorn from the wider foreign-policy establishment, which also generally shunned Trump before he secured the Republican nomination.
In one memorable episode last July, Page, with the Trump campaign's assent, traveled to Moscow to give a commencement address at the New Economic School. He denied meeting with any Russian officials under sanctions by the U.S. government at the time.
Page is one of multiple Trump advisors whose ties to Russia came under intense scrutiny during and after the 2016 election. In January, U.S. intelligence agencies publicly concluded that the Russian government used cyberthefts against Democratic Party organizations and Hillary Clinton's inner circle to undermine her presidential campaign for President Trump's benefit. Trump has denied that he or his campaign played any role in the disclosures, which he frequently cited on the campaign trail as proof of Clinton's untrustworthiness.
FBI Director James Comey told Congress last month that his agency was conducting a counterintelligence investigation into the Russian hacking of Democratic campaign servers last year. Part of that investigation, he told legislators, included probing "the nature of any links between individuals associated with the Trump campaign and the Russian government and whether there was any coordination between the campaign and Russia's efforts." The House and Senate Intelligence Committees are also conducting their own probes into Russian interference.
The specter of those investigations has roiled the nascent Trump administration. In February, Trump fired National Security Advisor Michael Flynn for lying to Vice President Mike Pence about conversations with Sergey Kislyak, Russia's ambassador to the United States, during the transition. A few weeks later, Attorney General Jeff Sessions recused himself from overseeing the FBI's Russia investigation after he failed to disclose his own conversations with Kislyak last year, having testified to the Senate in his confirmation hearing that he had no contact with Russian officials during the 2016 campaign.
Rep. Devin Nunes, the chair of the House intelligence committee and a former Trump transition official, also recused himself from the Russia inquiry less than a week ago because of an ethics investigation into whether or not he broke the chamber's rules governing classified information. Nunes had come under fire for suggesting that he had seen documents showing Obama officials had abused their authority to glean information on the Trump transition; CNN reported Tuesday night that other officials on the committee reviewed the documents and saw nothing improper.
Nunes was widely seen as attempting to justify the unproven charges by Trump that Barack Obama illegally spied on him during the transition. The president himself first leveled the allegations that Obama wiretapped Trump Tower in an explosive series of tweets in March, but offered no proof to support them.
Comey later told Congress in an unusual statement that he had "no information" to support those specific claims.