Breitbart Can't Convince a Committee to Let It Cover Congress
The right-wing news outlet has been denied permanent congressional press credentials, amid questions about its independence.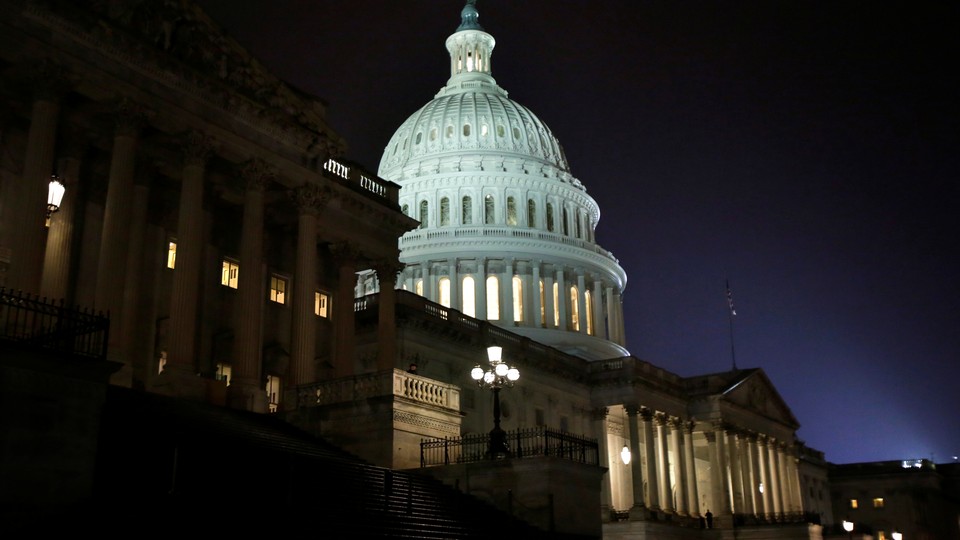 Updated at 3:38 p.m.
Breitbart News' application for permanent congressional press passes was denied on Tuesday, after a months-long attempt by the right-wing news outlet to obtain credentials.
The Standing Committee of Correspondents of the Senate Press Gallery voted to table Breitbart's application and also to not extend its temporary passes, which are valid through May 31.
The committee has so far declined to issue permanent press credentials to the outlet based on a number of concerns, including its independence from figures in the Trump administration and from the Mercer family of Republican donors and related groups.
In the course of its quest to get credentials, Breitbart, normally a secretive organization, has been forced to disclose information about its operations, structure, and finances. But the committee has not been satisfied by Breitbart's responses.
"The pending application of Breitbart News Network was tabled by the Standing Committee of Correspondents at the April 25, 2017 meeting.  The application was tabled until Breitbart can sufficiently demonstrate to the committee that they meet the requirements of Rule 4 of the Congressional rules governing the Gallery," the committee said in a statement later on Tuesday. "If Breitbart wishes to take steps to meet those requirements, the Committee will reopen its review." Rule 4 stipulates that applicants for congressional press passes must reside in the Washington area and not be involved in any paid advocacy or lobbying work for political, business, or government entities.
For now, the site is vowing to fight on.
"Breitbart News is unequivocally entitled to permanent Senate Press Gallery credentials and is determined to secure them," Breitbart spokesman Chad Wilkinson said in a statement on Tuesday.
The last time the committee met to consider Breitbart's application, the outstanding issues included concerns about Breitbart's office space—until recently, a Capitol Hill rowhouse owned by an Egyptian politician which is not zoned for office use—its connections to the Mercer family, which has invested in the news site, and its relationship with White House chief strategist Steve Bannon, who led the outlet as executive chairman before going to work for President Trump.
Breitbart News CEO Larry Solov sent two letters to the committee which were considered on Tuesday morning. In one, dated April 18, Solov promises that Rebekah Mercer "has no editorial control at Breitbart News Network" and that Breitbart and the Government Accountability Institute, another Mercer-connected group that has or has had ties to some Breitbart staffers, "are separate and independent companies, with separate and different boards and management. They have no editorial control over each other."
In the other letter, dated April 24, Solov asserts that "none of the individual applicants for membership pursuant to a BNN Senate Press Gallery credential do work, or while credentialed will be working, for GAI, Liberty First Institute and/or the US border patrol unions."
"Without limitation, is it the Standing Committee's position that a news organization cannot be credentialed if it employs any editor and/or reporter who is also employed by or affiliated with any advocacy group or non-profit?" Solov wrote. "Of course, we respectfully assert that any such rules, standards and/or criteria must be reasonable and realistic, and transparent – and applied equally and fairly to all news organizations."
Neither of Solov's letters address the office issue. Breitbart is reportedly seeking office space in downtown Washington.
The committee's decision to table Breitbart's application and not extend its temporary pass means that, barring any change, Breitbart will lose its credentials to access Capitol Hill after May 31. Not having permanent congressional press credentials also affects Breitbart's ability to cover the Supreme Court, join the White House Correspondents Association, or participate in pool coverage.
The decision is a blow to Breitbart's attempts to be taken seriously as a news outlet. The site was one of the most vociferous pro-Trump voices in the conservative media sphere during the election, and it has achieved greater prominence since Trump's election and ascension to the presidency. It has made moves to become more accepted by the political establishment, hiring reporters from mainstream outlets like The Hill and The Wall Street Journal.
But the site's deep ties to Trump—Bannon aside, two former Breitbart writers have gone to work in the White House—have raised questions about its independence. A group of Democratic senators wrote a letter to Bannon last week asking him to explain how much communication he has with Breitbart, noting that he is under ethics obligations not to be involved with the site.
Both Bannon and Breitbart have said that he no longer has any association with the organization. But it's still the case that Breitbart's image is inextricably tied to his.
"The people running things at Breitbart believe they are the reason Breitbart became more popular," former Breitbart writer Lee Stranahan told me last week. "Steve Bannon being part of the administration is why Breitbart became so popular.