Rifts Over Abortion and Economic Populism Threaten to Divide Democrats
A debate over what it means to be a progressive is front-and-center as the party tries to rebuild.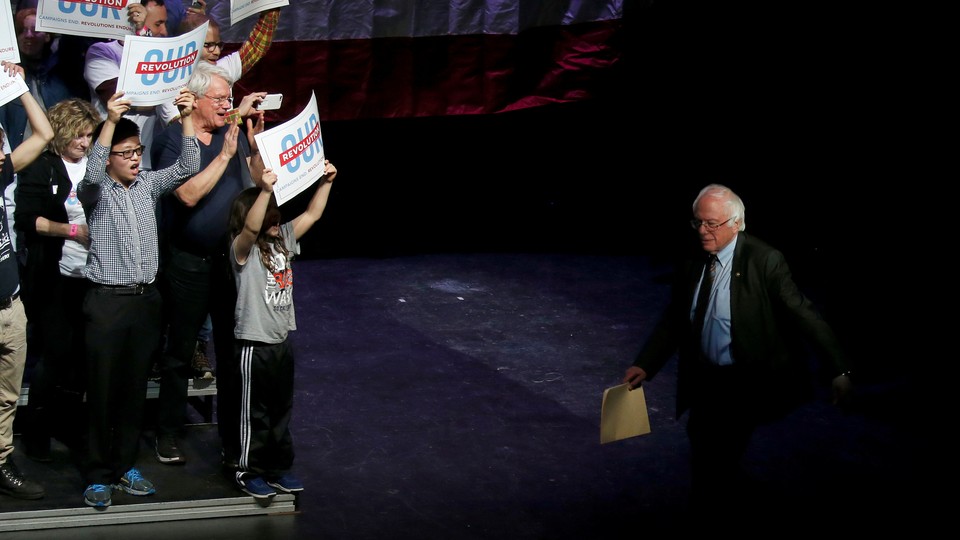 Democrats are facing their first high-profile tests of whether the party can win back seats in Congress in the Trump era. But rather than unifying in opposition to the new administration, the political left is riven by division over what it means to be progressive.
The same debates that divided Democrats throughout the 2016 presidential primary—over how and when to prioritize economic populism and reproductive rights—threaten to make it more difficult for Democrats to rally around the very candidates who could help the party make inroads in conservative parts of the country. Controversy over those questions illustrates the challenge Democrats face as they decide which candidates to support, and what transgressions from liberal convictions to let slide, as the party tries to rebuild after being shut out of power in the White House and Congress.
Ahead of an event on Thursday where Bernie Sanders, the independent Vermont senator who remains the left's most popular figure, was slated to appear with Representative Keith Ellison, the Democratic National Committee's deputy chair, and Heath Mello, an Omaha, Nebraska Democratic mayoral candidate, NARAL Pro-Choice America, an organization that endorsed Hillary Clinton in the presidential primary, harshly criticized the DNC for what it called the party's "embrace" of "an anti-choice candidate."
The statement followed a report in The Wall Street Journal that Mello once supported legislation "requiring women to look at ultrasound image of their fetus before receiving an abortion." The liberal website Daily Kos withdrew its endorsement of Mello over the report.
On Thursday, Mello told The Huffington Post, however, that he "would never do anything to restrict access to reproductive health care," if elected. Jane Kleeb, the chair of the Nebraska Democratic Party and board member of Our Revolution, a group that emerged out of the embers of the Sanders campaign, said in an interview that The Wall Street Journal and NARAL had "mischaracterized" Mello's legislative record.
"Heath is a strong progressive Democrat, and he is pro-life, and you can be both things," Kleeb said, adding: "What Heath did actually was stop a bill to make ultrasounds mandatory by getting Republicans in our legislature to agree to make them voluntary."
Mello's vow did not satisfy NARAL, however. "It's not enough to issue a statement for political expediency when your record is full of anti-choice votes," Ilyse Hogue, the organization's president, said in a follow-up statement. "The Democratic Party's support of any candidate who does not support the basic rights and freedoms of women is disappointing and politically stupid."
That's not the only controversy to divide the party in less than 24-hours. Sanders also drew backlash from Democrats after he told the Journal that he doesn't know if Jon Ossoff, a Democratic candidate hoping to flip a conservative congressional district in Georgia, is a progressive in an article published on Wednesday.  Sanders appeared to go even further in an interview with The Washington Post, saying bluntly: "He's not a progressive."
So, why isn't Sanders convinced Ossoff, a candidate backed by progressive organizations like MoveOn.org and the Progressive Change Campaign Committee, and who raked in millions of dollars in part because he has captivated grassroots Democrats looking to send a message to Trump, is progressive?
Sanders allies argue that Ossoff has not elevated, or embraced, core economic issues that the senator champions, like reducing income equality. They also defended  Sanders' decision to campaign with Mello by stating that the senator is a champion of reproductive rights for women. (Sanders has received a 100% on Planned Parenthood Action Fund's congressional scorecard.)
"I fully stand by Senator Sanders because he does champion women's reproductive rights and he has never wavered there," said Lucy Flores, a board member for Our Revolution, which has also endorsed Mello.
Flores added that while she personally would not support any candidate who does not fundamentally support a woman's right to abortion "the fact that this one issue didn't disqualify his support of Mello just speaks to the complexity of what it means to be a progressive champion during a time when many within the Democratic Party are still trying to figure out what that means."
As for Ossoff, Flores said, the candidate "has not taken a definitive stance on some progressive issues" including advocating a single-payer universal health care system, or raising the minimum wage to 15 dollars an hour, and believes that "may be part of the problem for Senator Sanders."
Flores added: "To a certain extent, I feel like we're holding, and in some cases rightly so, Sanders to a higher standard and viewing him as the standard-bearer for progressivism in this country, but you have to remember there are all kinds of reasons why people decide to endorse or not endorse, and just because you endorse a candidate does not mean you support 100% of everything they say or do."
"Jon Ossoff doesn't have the word 'income inequality' on his issues page, he doesn't talk about single-payer health care, and he doesn't have a plan to fight climate change" a former Sanders campaign staffer said in an interview. "I don't think the senator is anointing anyone or imposing a litmus test on candidates, and I don't think he sees it that way either. He's always cared about a core set of economic issues, which is why people flocked to his campaign, and he wants to make sure he supports people who believe in the same things."
The current controversy is evidence that that ideological divides within the party continue to cause division even after the 2016 presidential election, and that Trump alone will not be enough of a unifying force to paper over those rifts. How those divides will affect the chances of candidates in special election races like Ossoff also remains an open question.
Spokespeople for Sanders, Ossoff, and Mello did not respond to questions prior to publication. But appearing on CNN Thursday, Ossoff said he is "not interested in ideological labels or purity tests," adding: "I'll tell you where I stand on the issues, and then I'll let the pundits decide how to label me."
On Friday, Sanders issued a statement insisting that "it is imperative that Jon Ossoff be elected." He commended "the energy and grassroots activism in Jon's campaign," and said "his victory would be an important step forward in fighting back against Trump's reactionary agenda." Sanders made no mention of the word "progressive."
Some of Ossoff's supporters, though, weren't happy about Sanders' earlier remarks.
"I think that Bernie's comments are not helpful," Carlos Moreno, the founder of an Indivisible group in Georgia that has been working to support the Ossoff campaign, said in an interview Thursday. "If you look at Jon's positions on civil rights, the environment, a woman's right to chose, healthcare, you'll see that he really is very much a progressive candidate. He is someone who shares the values of Democratic voters, who wants to fight corruption, protect access to the ballot box, and promote good education."
"I think that Bernie seems to have a rather extreme point of view, that if a candidate wants to do anything to create jobs, that he's not a progressive," Moreno added.
David Nir, the political director for Daily Kos, which has been instrumental in channeling grassroots support for Ossoff into an influx of small-donations, respond to Sanders' comments on Twitter by saying: "Bernie Sanders isn't helping—he's hurting. He should either endorse Ossoff and raise money for him, or keep his silence." Nir later added, "on second thought, Sanders shouldn't endorse Ossoff. He should just remain silent and not hurt the efforts of those of us helping in #GA06."
---
Related Videos