Barack Obama's Seven-Year Presidency
The lone legislative accomplishment of Donald Trump's first 100 days will likely be erasing the final months of his predecessor's tenure.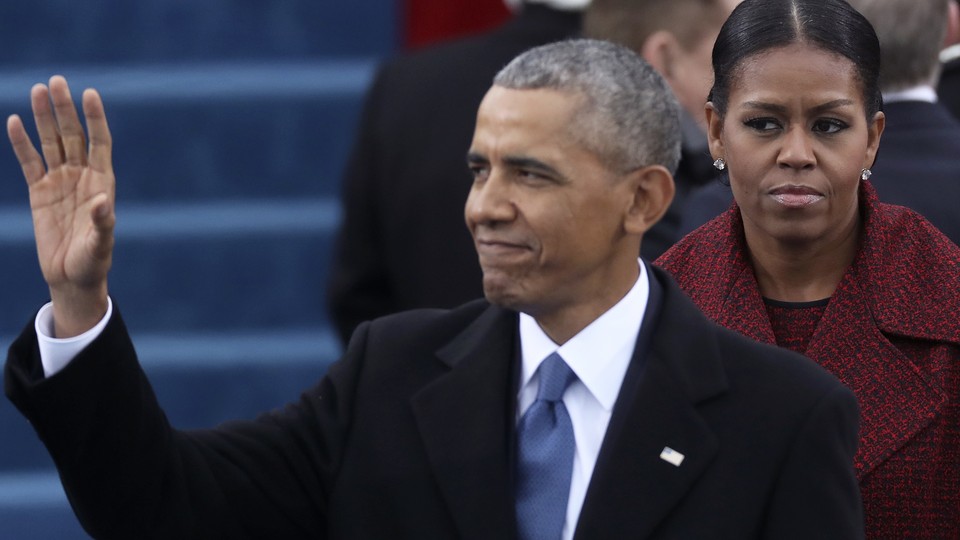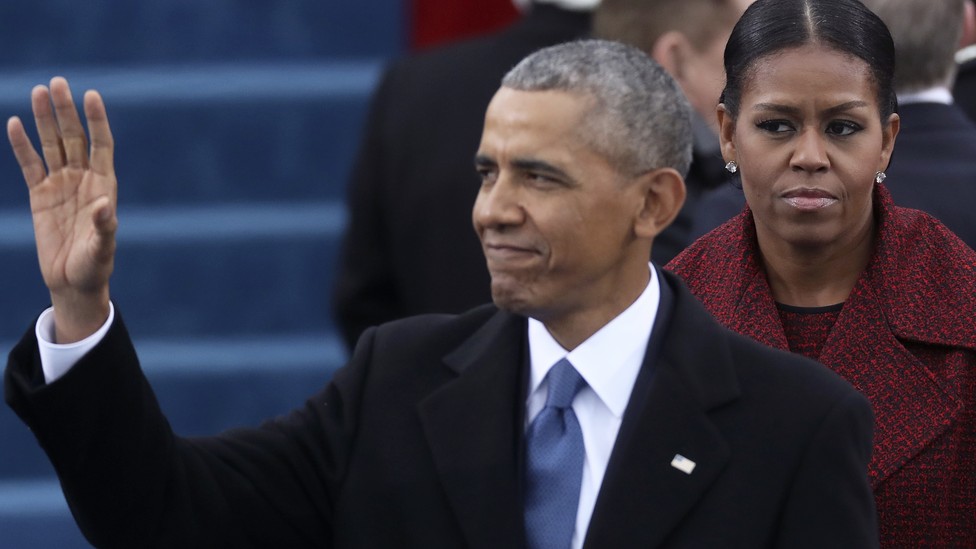 Republicans in Congress couldn't make Barack Obama a one-term president. And they've failed to repeal his signature domestic legacy.
Yet the GOP is succeeding in a more discreet project: In vote after vote this year, they are steadily erasing the final year of Obama's presidency.
The clearest result of that operation will come on Friday, when the Senate plans to confirm President Trump's nominee to the Supreme Court, Neil Gorsuch, more than a year after Republicans refused to consider Merrick Garland, Obama's pick for the same seat. As Democrats argued at the time, the blockade (which later extended to lower-court nominees as well) had the effect of denying Obama the ability to shape the federal judiciary for the full eight years of his two terms in office.
Since January, the congressional GOP has moved to overturn other aspects of Obama's presidency retroactively, by tossing aside major regulations his administration finalized during the final months of his tenure. Republican majorities have passed, and Trump has signed, 11 resolutions of disapproval under the Congressional Review Act, a 1996 law granting the legislature expedited power to throw out recent rules written by the executive branch.
Gone are regulations protecting streams from industrial waste, a rule prohibiting the sale of certain consumer internet data, a ban on states requiring drug testing for unemployment benefits, a requirement that companies report certain workplace injuries and illnesses, a measure tightening background checks for gun buyers, and a half dozen other regulations. The House and Senate hope to eliminate several other Obama-era rules in the next month before their window for action under the CRA closes in early May.
Along with the Gorsuch confirmation, the deregulatory blitz is likely to be the only legislative victory of Trump's first 100 days in office, and GOP leaders have hailed the CRA bills as a promise kept. "After years of talk about cutting red tape, it is now actually happening," House Speaker Paul Ryan said on Tuesday. "We are reversing the Obama administration's most recent and last regulatory onslaught. And, more fundamentally, we are returning power from unelected bureaucrats in Washington to the states and the people that we represent."
But the scope of the Republican achievement is necessarily limited: None of these regulations were on the books even a year ago, and some of them had yet to take effect at all. And while GOP leaders have made a more aggressive use of the Congressional Review Act than some experts predicted after the November election, the vast majority of the Obama administration's regulatory architecture will survive well into Trump's term. The dozen or so rule reversals the House and Senate have passed so far represent less than 2 percent of the 689 major regulations finalized while Obama was president, according to a tally kept by the right-leaning American Action Forum.
Unwinding a presidency, as Republicans are finding, is simply a lot harder than political rhetoric makes it seem. Along with just about every other GOP candidate last year, Trump promised to roll back Obama's policies immediately upon taking office. Republican opposition to many of his priorities had forced Obama to go around Congress and take action unilaterally in many areas, particularly to combat climate change and tighten labor protections. For his critics, the upshot was that a new Republican president could sign away the policies Obama had implemented on his own. And true to his word, Trump has signed an array of executive orders targeting his predecessor's record on immigration, the environment, and law enforcement.
But Trump cannot take a weed-whacker to the federal bureaucracy in one swing. Under federal law, major regulations generally must go out the way they came in—through a lengthy, painstaking process that can take years and be subject to litigation. "The accepted law and custom is that it cannot just be unceremoniously reversed because the next administration doesn't like it," said Philip Wallach, a senior fellow in governance studies at the Brookings Institution. "They will have to have go through an equivalent rule-making process with notice and comment procedures in order to repeal the old rules."
The Clean Power Plan is a prime example. The Obama administration's signature climate policy took six years to write and finalize, and Trump signed an executive order last week to roll it back. As a whole, the directive fundamentally reorients the federal government's approach to tackling climate change over time, at a minimum delaying actions that environmental scientists believe are urgently needed.
But while headlines suggested the new president had wiped out a complex regime of energy and environmental rules with the stroke of a pen, the reality is his order only initiated a series of steps that could extend beyond his term. The practical impact is further limited by the fact that the implementation of Clean Power Plan itself has been suspended by a court ruling for the last year. "Technically, the Clean Power Plan outlasted an entire term of an administration," said Sam Batkins, director of regulatory policy at the American Action Forum. "I imagine repeal of it will probably take an entire term of President Trump, when you consider there will definitely be a legal challenge to the repeal."
For congressional Republicans and the Trump administration, the only way to quickly cut red tape without running into another thicket of red tape is through the Congressional Review Act. Though it had previously been used successfully just once before, under President George W. Bush in 2001, the law is ideally designed for reversing the final actions of an outgoing administration. With a simple majority vote, Congress can wipe out any rule finalized in the previous 60 legislative days, and as a bonus, the act prohibits future presidents from re-instating a substantially similar regulation without approval from lawmakers. Because the House and Senate are in session so rarely during the final months before an election, the window for CRA bills goes back to the middle of 2016. GOP officials have determined that it will close as soon as the end of April for some regulations and early May for a couple of others.
With other parts of its agenda flagging, the White House has embraced the CRA legislation as a centerpiece of Trump's first 100 days. Marc Short, the president's director of legislative affairs, told reporters that 11 bills Trump has signed reversing Obama-era regulations would boost the economy by $10 billion. "This is a huge accomplishment in the first quarter," he said, later lamenting that the regulatory action has gotten short shrift in the media. "There is a concern that this is an important story that is not being told."
Yet the GOP's decision about which rules to target—and which it has left alone—has puzzled regulatory experts. According to Batkins, the Obama administration finalized 88 regulations in its last 60 legislative days that could be vulnerable to reversal by Congress. Republicans have gone after 15 so far and sent 13 to Trump's desk for his signature. (He has signed 11, but is expected to approve two others.)
But while the president has touted the regulatory-reform agenda as an economic issue, several of the CRA bills target rules that have little or no economic impact. They include the repeal of the FCC's rules protecting Internet privacy and a bill allowing states to once again block funds from going to Planned Parenthood. The estimated cost of the Planned Parenthood regulation, Batkins said, was just $24,000. "Not every one of these," Short acknowledged, "is necessarily a job-creator."
Republicans also scrapped educational accountability standards established under the 2015 Every Student Succeeds Act, a law the GOP had hailed as one of the few significant bipartisan accords of Obama's second term. Lawmakers said the regulation went far beyond their intent when they passed the bill, but it's not clear what the Trump administration will try to put in its place. "That sort of leaves education policy in a big mystery," Wallach said.
Though Congress has reversed major environmental regulations issued by the Department of the Interior, Republicans haven't touched a few costly rules finalized last year by the EPA, which is usually a top conservative target. The most expensive regulation eligible for reversal under the CRA identified by Batkins is on greenhouse gas emissions of commercial trucks and buses.  Yet neither the House nor the Senate has acted to overturn it.
The biggest challenge for Republicans is finding floor time in the Senate, where Democrat used procedural maneuvers to drag out the confirmation of Trump's Cabinet for weeks after his inauguration. And just like any piece of legislation, they also need the votes. The party has just a 52-48 majority in the Senate, and with Democrats opposing many of the resolutions en masse, Republicans have struggled to get all of their members on board for a few of them. Vice President Mike Pence had to break a tie to pass the CRA bill targeting Planned Parenthood.
Republican congressional aides said the party prioritized axing regulations that were the most "egregious," but input from industries has also played a role in the decisions. Businesses may have opposed regulations when the Obama administration initially proposed them, but if they spent millions of dollars in compliance costs, they might not want to spend even more to go back to the way they were operating before, nor would they want Congress to suddenly make it easier for a new competitor to start up. That's especially true in the energy sector.
"If a plant switches from coal to natural gas, which many of the plants were able to do, they're not just suddenly going to switch back to coal, especially because of the market dynamics right now with natural gas," Batkins said.
Trump and Republicans in Congress have other ways to undermine Obama's regulatory scheme in the short term once the window closes for the Congressional Review Act, but none are as clean or as simple. Lawmakers could try to withhold funding for the implementation of certain policies that remain in effect, although they would need Democratic support in the Senate to be successful. And the Trump administration ultimately will decide how aggressively to enforce regulations it disagrees with before they are formally repealed.
It's unclear whether the government could get away with a lack of enforcement altogether, since that, too, could spur lawsuits from liberal advocacy organizations. "The rules are still on the books, but thats not the same thing as saying they are enforced energetically," Wallach said. "It's still hard to make the executive branch prosecute people if it doesn't want to. It has a lot of discretion on that."
For Trump, the upcoming 100-day mark of his presidency will show, at best, a mixed legislative record. He will, in all likelihood, see his own legacy cemented with the confirmation of a justice to the Supreme Court. And he will have signed more than a dozen pieces of substantive legislation, which would otherwise signal a productive period for Congress. But nearly all of those bills look backward, not ahead, and they serve only to lighten the imprint left on the nation by the president who preceded him—rather than to deepen his own.