Arkansas Wants to Execute Seven Inmates Before Their Drugs Expire
The state has announced its intention to quickly put to death more than half a dozen prisoners before their lethal-injection chemicals go bad.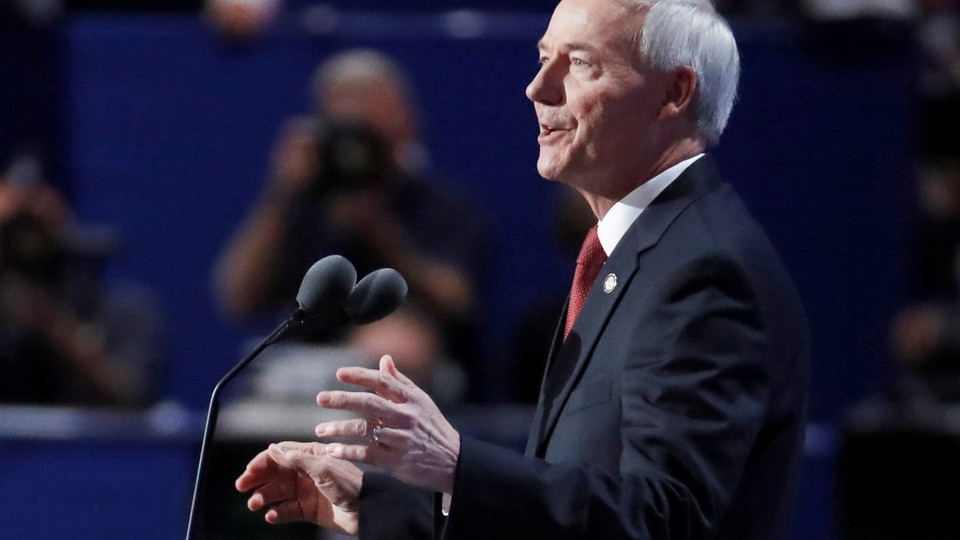 Even by the degraded standards of American public life in 2017, what will shortly happen in Arkansas stands out for its brutality and lawlessness.
As outlined by Lincoln Caplan in The New Yorker, the state of Arkansas has announced plans to execute seven human beings during the last two weeks of April.
Arkansas has not executed anyone since 2005. Asa Hutchinson, the governor, has announced that the state must kill these prisoners now because if it does not, the use-by date of its supply of an execution drug will pass and the state will no longer be able to administer the three-drug lethal injection "cocktail."
The state has told these prisoners—and the world—that the end of their lives will be coordinated with the expiration date on a Food and Drug Administration warning label.
If that doesn't violate the Eighth Amendment for psychological reasons alone, what does? Cruel? You bet. Unusual? Well, I sure have never heard the like. Texas, which right now holds the modern speed record, executed eight prisoners in a calendar month in 1997, and then did the same the next month.
In a statement released to National Public Radio last month, Hutchinson clothed the decision in the language of law: "In order to fulfill my duty as governor, which is to carry out the lawful sentence imposed by a jury, it is necessary to schedule the executions prior to the expiration of that drug."
The drugs Arkansas will use to kill eight people are medicines, designed and sold to end suffering and save lives, not inflict pain and death. The companies that made them require purchasers to promise not to sell them to executioners; the state has by its own admission obtained them through inducing and conniving breaches of those valid contracts, and promised the suppliers to keep their names secret.
Increasingly, states committed to lethal injection behave like addicts desperate for another fix. They have resorted to such expedients as interfering with contracts, purchasing drugs from sketchy foreign suppliers, and even—on one occasion—sending state employees out with bags of cash to buy lethal drugs.
The entire history of lethal injection is squalid and dishonest. After ordering a moratorium on executions in 1972, the U.S. Supreme Court in 1976 authorized states to begin executing prisoners again. Over time, however, the public showed revulsion use of the electric chair—especially when smoke and flames erupted from near the head of a prisoner during a 1990 botched Florida execution; the same thing happened again in 1997. Meanwhile, an Oklahoma medical examiner in 1977 had proposed a "cocktail" of three drugs as a substitute for existing methods. Texas in 1982 became the first state to use the method; virtually all states that have an active scheme of capital punishment now make lethal injection the primary method.
But there are persistent questions whether lethal injection is actually "humane." As originally designed, the first of the three drugs was to be an anesthetic to prevent the condemned person from feeling pain. The second was a paralytic agent, which would the condemned person's body from moving, and depress breathing; and the third would stop the heart.
The paralytic agent, however, may have the effect of making the death seem more peaceful than it is. The heart-stopping drug is usually potassium chloride. It can be used to treat high blood pressure; but administered intravenously, it can produce excruciating pain. If the first drug hasn't produced complete anesthesia, the potassium chloride may cause a sensation that has been compared to being burned alive. If, however, the limbs are effectively paralyzed, witnesses won't be aware of the inmate's agony.
That's become more troubling lately, because pharmaceutical companies that produce the anesthetics have refused to allow their drugs to be used. As a result, states have turned to a drug called midazolam, or Versed. It's a benzodiazepine, not a barbiturate. Doctors don't use midazolam for general anesthesia but for purposes like producing relaxation (and blocking memory) during a colonoscopy, or reducing anxiety before a true general anesthetic puts a patient to sleep. Several executions using midazolam have been botched, with inmates thrashing around and even complaining of pain. One inmate did not die from the bungled objection but ended up dying of a heart attack while still strapped to the gurney after the execution had been stopped.
In the 2015 case of Glossip v. Gross, a group of inmates from Oklahoma argued that using midazolam violated the Eighth Amendment because it might not in fact prevent an inmate from feeling excruciating pain, even if he or she would appear unconscious. In an earlier case, the Supreme Court had already held that states are not required to prove that a method of execution is entirely pain-free. In an opinion by Justice Samuel Alito, the majority in Glossip rejected the challenge to midazolam. Alito reasoned that since the death penalty had been held to be constitutional, there must be a constitutional means of carrying it out. "Holding that the Eighth Amendment demands the elimination of essentially  all  risk  of  pain," Alito wrote,  "would  effectively  outlaw  the  death  penalty altogether."
In the Glossip oral argument, Alito complained bitterly from the bench about "what amounts to guerilla warfare against the death penalty" by anti-execution groups. His ire was raised by efforts by death-penalty opponents—most effectively the London-based nonprofit Reprieve—to alert drug manufacturers to the uses to which their products were being put. Reprieve has pointed out to European pharmaceutical companies that, under European Union law, it is illegal to export any object or substance to be used in executions. The group works with the companies to construct controls on the uses to which these drugs may be put.
The notion that this polite civil-society lobbying is a "guerrilla war" is so jejune that even conservative columnist George Will had to rebuke Alito, writing that "Public agitation against capital punishment is not relevant to judicial reasoning."
On the other hand, courts might want to take note of Arkansas's essentially lawless position. Seeking poisons to take human life, the state was thwarted because the makers of medicines refused to collaborate in killing. The state then persuaded some company somewhere to violate a valid contract and turn over these drugs to be used contrary to their purpose. In an earlier case involving the new "cocktail," the state admitted that it had knowingly bought the drugs from distributors who were violating contracts with the drug-makers. The suppliers only agreed to the sale, the state admits, because a change in Arkansas state law made their identities exempt from disclosure under the state's public records law. Asked about this, Judd Deere, communications director for Arkansas Attorney General Leslie Rutledge, responded, "I don't have any further comment."
I wondered whether any of these companies had considered legal action, either by suing the state to find the name of the faithless supplier or by intervening in the current federal challenge to the executions.
In an email statement to me Tuesday, a spokesperson for Hikma, the manufacturer of the midazolam to be used by Arkansas, said, "We have made our objections to the misuse of any of our products for lethal injection known to the governor, attorney general and Department of Corrections both in person and multiple times in writing. Even though we have limited information due to the secrecy laws, we continue to explore what legal channels might be open to us. As I'm sure you can appreciate, we cannot comment on any possible litigation beyond this."
Pfizer, maker of the paralytic agent to be used by Arkansas, said that "Pfizer makes its products to enhance and save the lives of the patients we serve. We strongly object to the use of any of our products in the lethal injection process for capital punishment  ... We have implemented a comprehensive strategy and enhanced restricted distribution protocols for a select group of products to help combat their unauthorized use for capital punishment." I followed up with a question about possible court action; the response was "we have nothing more to add."
Before the execution dates were set, the inmates had challenged the state's planned "cocktail" in a petition to the United States Supreme Court, which denied it on February 21. They have now filed a petition for rehearing—a remedy almost never granted—on the grounds of the "extraordinary" schedule: "Executing eight men in 10 days is far outside the bounds of what contemporary society finds acceptable," they argue.
The court is scheduled to consider the petition today.
Hutchinson's decision embodies no norm of legality or due process; instead, it reeks of petulance and politics. Its impact on the condemned must be shattering—perhaps enough to amount to psychological torture in and of itself.
My University of Baltimore colleague John Bessler, author of The Death Penalty as Torture: From the Dark Ages to Abolition, pointed out that the Convention Against Torture and Other Cruel, Inhuman or Degrading Treatment or Punishment, to which the United States is a party, prohibits not only deliberate infliction of physical pain but psychological torture as well. "The whole death penalty reeks of psychological torture," especially in this context, Bessler said.
If psychological torture of the condemned doesn't shock judicial consciences, then how about the impact the Arkansas Massacre may have on those who have committed no crime? Twenty-five present or former corrections officials have written to Hutchinson warning him that the grueling schedule may traumatize the corrections officers who must carry it out. "Even under less demanding circumstances, carrying out an execution can take a severe toll on corrections officers' wellbeing," they write.
In addition, they warn, the grueling schedule creates an unacceptable risk that something will go wrong: "A state's interest in justice and finality are not served by a botched execution."