Who Does the Anne Frank Center Represent?
The organization has a flair for attracting media attention, but lacks a mass membership or scholarly expertise—and its connection to its famed namesake isn't what it claims.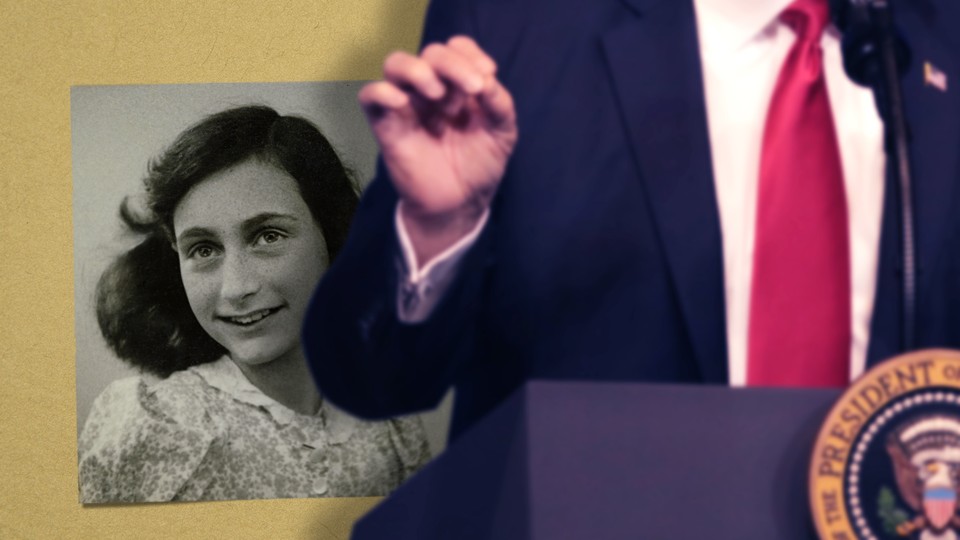 Updated for clarification on June 29, 2017
Sean Spicer was in trouble. In a press conference addressing Syrian President Bashar al-Assad's use of chemical weapons against his own people, the White House press secretary had fallen into one of his signature slow-moving train-wrecks of an analogy: "You had someone as despicable as Hitler who didn't even sink to using chemical weapons," he said, later clarifying that he understood Hitler did use them in "the Holocaust centers" but didn't use them "on his own people." The claims were wrong in just about every way: Adolf Hitler used gas chambers to murder millions of Jews in concentration camps across Europe, including German citizens.
"BREAKING NEWS: SEAN SPICER DENIES HITLER GASSED JEWS DURING THE HOLOCAUST," the Anne Frank Center for Mutual Respect wrote in all-caps on Facebook. "MR. PRESIDENT, FIRE SEAN SPICER NOW." Weeks earlier, the center had slammed Donald Trump for being slow to condemn a recent wave of bomb threats against Jewish Community Centers—"a Band-Aid on the cancer of anti-Semitism that has infected his own administration," it said—and the White House's failure to mention Jews in its statement on Holocaust Remembrance Day. Dozens of news outlets picked up the statements, and the group's executive director, Steven Goldstein, was all over television. After all, this was the American organization that speaks for Anne Frank, the teenaged author of the world-famous diary about her life in hiding in Amsterdam before she was murdered in a Nazi concentration camp.
Or does it speak for her? The Anne Frank Center for Mutual Respect, known until about a year ago as the Anne Frank Center USA, is a small organization of about nine staffers. It is independent from the Anne Frank House in Amsterdam, which memorializes Anne's hiding place, and is not connected at all to the Anne Frank Fonds, the Swiss organization that owns the rights to Anne's diary. Before Goldstein officially became executive director in June 2016, the center was an obscure educational organization with a tiny storefront museum in New York City that few visited. And though the organization claims it was founded by Anne's father, Otto Frank, in 1959, the organization's own historical documentation and people who were part of its founding say it was actually started in 1977, and Otto Frank had no direct involvement.
After the initial publication of this piece, staffers at the Anne Frank Center said they had searched through thousands of documents in their archives, which they had not previously done despite multiple requests. The center claims these documents provide "unambiguous" evidence of Otto Frank's involvement and the organization's 1959 founding, but the documentary evidence they have provided so far remains inconclusive.*
The Jewish world is full of organizations that advocate against anti-Semitism and discrimination, including groups like the Anti-Defamation League and the American Jewish Committee. Unlike the Anne Frank Center, these organizations have years of experience, dozens of offices, and sizeable grassroots support. They also have clear frameworks for defining and combatting anti-Semitism—even the ADL, which is known for its strongly worded statements, didn't call Spicer's ill-advised comments "Holocaust denial." The Anne Frank Center has reliably been willing to criticize the Trump administration in more aggressive and hyperbolic terms than any of these well-established groups, and media outlets have credulously rewarded it with extensive coverage.
The center's transformation was no accident. It recently got a new board chair, a private-wealth manager named Peter Rapaport, and he brought on Goldstein, who has a background in political organizing. It shuttered its small museum and disbanded its board of advisers comprised of Holocaust experts. All of the staffers who were working there when Goldstein arrived have left.
With just its famous name and a savvy social-media strategy, the Anne Frank Center has transformed into a putative authority on anti-Semitism and American politics. But it's not at all clear the organization speaks for anybody other than its own leaders—not Holocaust scholars, Anne Frank's family, or the Jewish community. Ultimately, by politicizing Anne Frank, the group may undermine her legacy.
* * *
The history of Anne Frank organizations is complicated. After World War II, Anne's diary was published and became an international sensation. A Hollywood adaptation won three Oscars and a Broadway play endeared Anne to the New York City theater crowd. In 1957, the Anne Frank Foundation, or Stichting in Dutch, was created to preserve the house where Anne and her family hid from the Nazis between 1942 and 1944. A few years later, Otto Frank established the Anne Frank Fonds in Basel as his family's foundation and universal heir.
On its website, the American Anne Frank Center claims it was created in 1959 "with Anne's father Otto Frank among its founders." Goldstein provided me with a letter from 1958 as proof of the center's origins. The letter appears to be a fundraising appeal from the Anne Frank Stichting in Amsterdam; at that time, it was trying to raise money to save Anne's house from demolition. "It is contemplated that after this first fund raising no further appeals for large funds will be needed," the letter said. Otto Frank is not its author. He is only mentioned once, toward the end: The upkeep costs of the house in Amsterdam would "be met by small contributions from school children in many countries and from a few private sources, including Anne's father, Otto Frank," it says. The letterhead bears the name of the "American Committee for the International Anne Frank Youth Center," but the text goes on to call it a "temporary committee."
According to a 1959 document provided after the initial publication of this article, Otto Frank appears to be listed as president of an organization called the Anne Frank Foundation, Inc., located at 12 E. 94th St. in New York. A separate 1959 document provides his written and signed consent to that organization to use his name in fundraising. Neither document makes clear his role in the founding of the organization or day-to-day leadership of it.*
"I don't think Otto Frank had anything to do with any organization … in the '50s or '60s. I'm pretty sure. I would have known that."
Bauco van der Wal, who oversaw the Anne Frank House in Amsterdam during the late 1970s and '80s, said he does not think any American Anne Frank organization existed in 1959. "I don't think Otto Frank had anything to do with any organization set up with his approval or his initiative anywhere in the '50s or '60s," he said. "I'm pretty sure. I would have known that."
According to van der Wal, the U.S. organization now known as the Anne Frank Center for Mutual Respect wasn't started for another two decades—and it was his job to start it. At the time, the Anne Frank Stichting was hoping to build an American fundraising arm: "We tried to see if we could find a foothold in the United States," van der Wal said. He established the American Friends of the Anne Frank Center in New York City with the help of several Holocaust survivors, including a man from Austria named Ernest Nives and a man from the Netherlands named Jack Polak. Otto Frank was not part of that effort: "I went to see him every two or three months in his home in Basel to tell him what was going on, but that was basically as far as his involvement was. He didn't okay it, and he didn't say it was not allowed," van der Wal said. "He was also an old man in those days."
The contemporary organization tells the story differently. On its website, in emails to its supporters, and in the media, the center says it was started directly by Otto Frank. In a June 2016 email announcing a "new era" at the Anne Frank Center, Goldstein made this claim clear: "Otto Frank, Anne's father, founded our organization—ours, right here in the United States—to partner with the Anne Frank House in Amsterdam and the Anne Frank Fonds in Basel," he wrote.
But other people who were around during the organization's early years were also skeptical that Otto Frank was one of the founders in 1977. Grayson Covil, who served as a staffer and, later, as executive director during the late '80s and '90s, said 1977 was when the organization obtained its 501(c)(3) status. "I don't believe that Otto Frank started the American Friends of the Anne Frank Center," its name at the time, she said. Nives, the first president of the organization, died in 2006, but his wife, Fanny, told me she didn't think Otto Frank was involved, either. "I think my husband met with him once or twice," she said.
"Nobody says that he went door to door to build this organization. That was left to Americans."
Prior to publication, Goldstein pointed me to documents from 1977 to demonstrate that Otto Frank was involved, but these did not conclusively prove his claims. In a letter, Nives announces that "a U.S. tax-exempt organization has recently been formed to support various projects of the Anne Frank Center in Amsterdam." He only mentions Otto Frank once, in a postscript noting that the names of people who received the letter were "furnished to us by the Anne Frank Center, Amsterdam and/or Otto Frank." This fits van der Wal's telling of the history: Otto Frank may have been aware of the organization's creation, and contacts he provided to the Stichting may have been used in an initial fundraising appeal for the American center, but it's not clear that Frank did anything beyond that. "Nobody says that he went door to door to build this organization," Goldstein said in response. "That was left to Americans."
After the initial publication of this article, the organization offered another 1977 document showing that Myer Mermin and Max Grossman—two of the vice presidents listed in another 1959 document not provided before publication—consented to let the "American Friends of the Anne Frank Foundation, Inc.," be used as the name of the newly formed 1977 organization. The document provides no evidence of Mermin and Grossman's involvement, if any, in the 1977 organization. Nor does it provide any evidence that the 1959 organization and the 1977 organization were connected, nor that it had been active between those years.*
There are other, more anodyne apparent errors in the way the organization tells its history. For example: On the website, the organization claims that it took the name Anne Frank Center in 1977. That's not right, said Covil: It started out as the American Friends of the Anne Frank Center, referring to the Stichting in Amsterdam, and didn't drop the "American Friends" part until the late '80s or early '90s while she was at the organization. The documents Goldstein provided also say this was the group's name starting in 1977.
Goldstein attributes the confusion over the organization's history to years of mismanagement. "When I looked at the historic research, I, too, saw different names for this organization from 1959 until 2016," he told me. "I saw a vague and incoherent purpose. The organization didn't seem to know—beyond in letter, I'm talking about in spirit—how much did it report to European organizations, how much was it a friend of the House, versus how much it was supposed to do independent work." He told me "the questions you're posing—these are the same questions I had. I can only give you my perspective [as] an outsider … who wasn't around from 1959. I was born in 1962."
"To believe that Anne Frank is a sort of Mother Teresa, or a universal symbol of tolerance and goodness—I don't see it in the diary."
At small organizations like this, historical memory can easily get lost. Polak, the Holocaust survivor and long-time board member, died in 2015. Even his son, Tony, who serves as a board trustee, couldn't remember details about when the group was founded—he had to ask Goldstein. There's an argument to be made that it doesn't really matter what year the center started or whether Otto Frank was involved, anyways: It has clearly set a new direction and goal for itself.
On the other hand, the newly reinvented center is using Anne Frank's name for moral credibility and historical authority, which many news organizations have taken at face value over the last several months. It's also associating Anne Frank with specific political statements—ones that are stridently partisan.
* * *
The debate over how to use Anne's legacy is long standing in the Holocaust-education world. For all his disagreements with the organization's historical narrative, van der Wal said he supports what Goldstein's Anne Frank Center is doing. In fact, during van der Wal's tenure, the Anne Frank House in Amsterdam was also politically outspoken on issues like apartheid, nuclear armament, and what he called neo-fascism. "My position has always been that the fate of Anne Frank is an example of what might happen if people don't let other people live in freedom and equality," van der Wal said. "To make statements about discriminatory remarks or racist remarks or anti-Semitic remarks, evoking the name of Anne Frank, is right."
But just as Goldstein's approach has rankled some people in America—Alan Dershowitz, the emeritus Harvard law professor, told me Goldstein is making "over-the-top, irresponsible, exaggerated statements designed to bring him publicity"—the Anne Frank House's political activity in the '70s and '80s upset folks. "It got a lot of people's backs up," said Rolf Wolfswinkel, a scholar who studies Anne Frank's diary and teaches at New York University. During this period, he often brought students to visit the House. "I think that we have to tread carefully if we want to make the diary part of a political agenda," he said. "The danger is to read things into her diary that are not there. It's a 15-year-old girl. … To believe that Anne Frank is a sort of Mother Teresa, or a universal symbol of tolerance and goodness—I don't see it in the diary."
Goldstein disagrees that it is "'politicizing' our organization to be tough on Sean Spicer," he told me. "I believe that Donald Trump has an astounding insensitivity to the Jewish community that boggles the mind." He thinks it would be irresponsible not to call out the administration. "How many times are [we] supposed to say, 'Well, that's just a mistake, there's nothing anti-Semitic going on here'?" he said. "If it talks and quacks like a duck tinged with anti-Semitism, it's a duck tinged with anti-Semitism."
"I would hate to see her being abused as a rubber doll who you can shake and prod any way you like."
To some extent, Otto Frank himself might be responsible for the disagreement over how to use Anne's name. As Goldstein repeatedly pointed out, Otto Frank was a passionate advocate for human rights and urged people to fight prejudice and anti-Semitism in the latter years of his life. According to Wolfswinkel, Otto "felt that if his daughter's diary had to have any significance beyond what she had written, the message should be universalized. It should be an activist message." Over the years, this has led to criticism that Otto was making Anne's story less distinctively Jewish, Wolfswinkel said: "In Jewish circles, that was always considered a little fraudulent. By taking the Jewishness out of the Holocaust, are we still talking about the same thing?"
There's also the fear that trying to universalize and politicize Anne Frank's story actually undermines her. "Part of the Holocaust-denial mantra is that the Anne Frank diary is a forgery," said Dershowitz. "There's a great effort to destroy the legacy of Anne Frank. That's part of Holocaust denial. Inadvertently or advertently, this guy contributes to harming the true Anne Frank legacy and heritage." Wolfswinkel agreed. Is "an agenda of political activism fodder for Holocaust deniers? Yes. I do think that opens up the diary for all kinds of unwanted interpretations," he said. "I would hate to see her being abused as a rubber doll who you can shake and prod any way you like."
Both Otto Frank's intentions and Anne Frank's legacy remain contested. The two primary Anne Frank organizations in Europe, the Fonds and the Stichting, were circumspect about their American cousin's present-day activities. The one thing Yves Kugelmann, a Swiss journalist and publisher of Jewish magazines who serves on the board of the Fonds, made clear was this: "Anne Frank is not for politics. Anne Frank is for education." Otto Frank stepped away from organizations or events "whenever there was politics involved," Kugelmann said. "If somebody who is using Anne Frank and stepping too far away from the way Otto Frank initiated, maybe they should take another name to be active." Maatje Mostart, the head of communications at the Anne Frank Stichting, would only say that her organization has "taken note of various recent statements by Steven Goldstein," emphasizing that the Anne Frank House in Amsterdam is independent from the Anne Frank Center in America. "We stay out of the political playing field, and see it as our task to achieve our mission—combating anti­-Semitism, racism, and discrimination—through our educational activities," she wrote in an email.
"It isn't our focus to be pro-Jewish or to be just a Holocaust-education [organization]."
The Anne Frank Center in the U.S. no longer sees itself this way. Rapaport, the organization's new board chair, said it is neither a Jewish organization nor a Holocaust organization. Teaching about the Holocaust is "a valuable thing, but that's not what we do," he told me. "We teach about the thing that we think will prevent future Holocausts. … It isn't our focus to be pro-Jewish or to be just a Holocaust-education [organization]. We want to use the knowledge of the Holocaust and go further."
And it's acted accordingly. Over the last year and a half or so, all of the former employees, who mostly had backgrounds in museum work, have left. At least one was fired, said Rapaport. In an email, Yvonne Simons, the former executive director, said only that "the board of directors choose a different path for the Anne Frank Center and changed its mission after my 10-year tenure." Several longtime board members have also departed.
Shortly after Goldstein came on, the organization disbanded a long-standing advisory committee of Holocaust scholars, of which Wolfswinkel was part—nobody knew what their purpose was, Goldstein told me, and they didn't meet very often. William Shulman, the president of the Association of Holocaust Organizations and emeritus professor of history at the City University of New York, was another adviser. He said the Anne Frank Center has been "inactive" in the association, which brings together all of the major Holocaust groups in America. The Anne Frank Center "[pays] their dues," he said, "but rarely do we see anyone from the organization." In general, the Anne Frank Center's outspokenness is "an outlier," he added. "There's been universal distaste for doing this. … Our function is not to engage in politics. It's to engage in Holocaust education, remembrance, and research. Anything that deviates from that damages our mission."
Goldstein also shut down the little museum in New York City. It was serving an average of six visitors per day, Goldstein said, and people were getting "shpilkes"—Yiddish for "restless"—"going to a gallery downtown filled with thousands of words and not being able to get information quickly." The center has opened a new office in Manhattan and Los Angeles and hired staff with backgrounds in social-justice organizing. This includes at least one colleague from Goldstein's old days at Garden State Equality, the LGBT-rights organization he founded in New Jersey after working as a television producer and a short stint as a student at a Reconstructionist rabbinical school. The center's new style echoes Goldstein's organizing background. "He's a force of nature," said Troy Stevenson, the head of the LGBT-rights organization Freedom Oklahoma, who served as Goldstein's number two at Garden State Equality for years. "He was very involved with the media. He's got a long history of knowing how to get a message out."
Goldstein claims the Anne Frank Center isn't partisan. "So help me God, if Donald Trump were a Democrat, I would criticize him with the same gusto," he told me. Rapaport, the board chair, describes himself at as a conservative Republican, and said he's been going around mocking Breitbart for alleging that the Anne Frank Center has been taken over by left-wing activists. Goldstein is certainly liberal—Stevenson said he was always a staunch Hillary Clinton supporter, and "it seems like [he] took the current administration winning in a very harsh way." But Goldstein uses different language to describe himself: "I am a social-justice activist [and] a Jewish activist," he told me. Although the center has no official stance on Israel, Rapaport said, Goldstein noted that he is "a supporter of AIPAC, not J Street"—referring to the American Israel Public Affairs Committee and its slightly more dovish competitor—and "an impassioned Zionist."
"We are far more than the organization that knows how to write sound bites on Facebook and Twitter."
Fundraising has been great over the last few months, Goldstein told me. In 2016, the organization was in the black for the first time in four years, he said, and financial statements show that it was able to do this in part because he didn't take a salary for the first five months of his new gig and through donations from the board that were more than five times greater than in 2015. The center also put more money into educational programs and traveling exhibits than it did in 2015. For many years, this was the center's focus: It taught lessons on Anne Frank to school children and put on theater performances about her life.
Prior versions of the organization "were doing good work, don't get me wrong," Rapaport told me, "but they were doing very little of it." He and Goldstein hope to expand their educational audience from 3,000 people per year to 300,000. On Monday, the organization is announcing a new campaign to lobby state legislators to make genocide education mandatory in public schools. "We are far more than the organization that knows how to write sound bites on Facebook and Twitter," Goldstein said.
In other words, it is a tiny organization in the process of reinventing itself. The Anne Frank Center for Mutual Respect and Understanding may not be a Holocaust organization or a Jewish organization, and it has an unclear connection to Anne Frank's father. It may not have leaders with a scholarly background, a mass membership, or institutional standing among Jewish groups and Holocaust museums. But because it talks a big game and wields the name of Anne Frank, the media has awarded it authority it never earned.
---
* This article has been updated to include new documentary evidence provided by the Anne Frank Center during the weeks following the initial publication of this article, during which time these documents were newly discovered, according to the organization.