To Protect and Serve (and Pray)
Alabama could soon create something unprecedented in American legal history: a police department run by a church.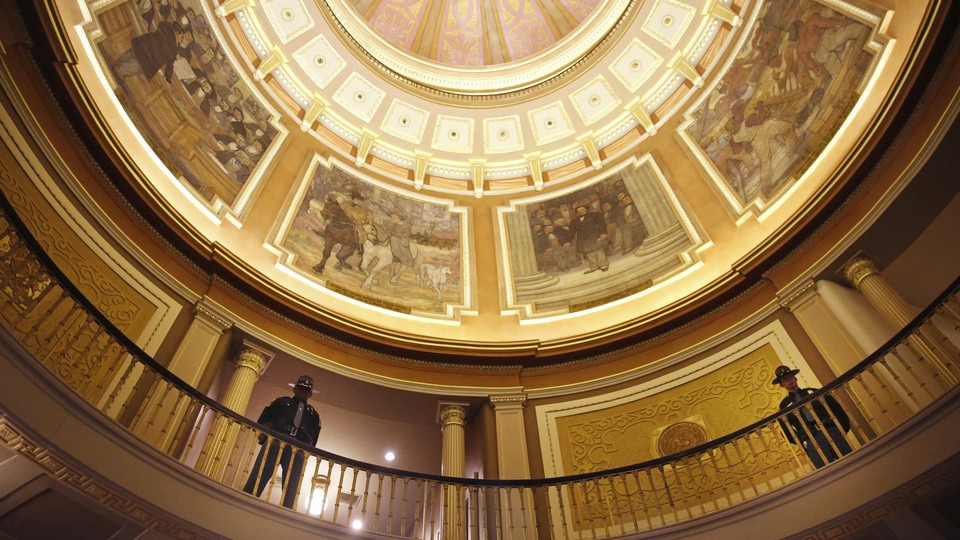 There are more than 18,000 police departments in the United States, spread out in a vast jurisdictional patchwork of federal, state, local, and tribal agencies that stretches from Hawaii to Maine. This month, Alabama could add to their ranks something unprecedented in American history: a police department operated by a church.
In February, Briarwood Presbyterian Church asked the state legislature for legal authority to establish one. The Alabama state Senate approved Senate Bill 193, which would grant the church's wish, earlier this month, and a House committee approved the measure on Wednesday. While it's still several steps away from becoming law—the full chamber is expected to consider it next week—the legislation already, and predictably, faces opposition for blurring the lines between church and state.
The Alabama megachurch serves about 4,000 congregants between its two campuses outside Birmingham, which include a seminary and a K-12 school. About 2,000 students attend the school, and to protect them and worshippers, church officials say they need a police department of their own.
Briarwood declined multiple requests for an interview to discuss the bill. In an email, a church administrator provided documents laying out the institution's rationale. Among the reasons it cited were recent, high-profile mass shootings nationwide, including those targeting schools. Other security measures can help reduce the threat, Briarwood acknowledged, but it argued that research showed the "number one line of defense" is a police presence.
"After the shooting at Sandy Hook and in the wake of similar assaults at churches and schools, Briarwood recognized the need to provide qualified first responders to coordinate with local law enforcement who so heroically and effectively serve their communities," the church said in a press release in February. State Senator J.T. Waggoner, who drafted SB 193, told local newspapers that the church preferred to form its own police force instead of hiring a private security firm or using off-duty officers.
Church officials' proposal has drawn strong criticism from groups that oppose the bill on constitutional grounds, including the American Civil Liberties Union chapter in Alabama. Randall Marshall, the organization's acting executive director, called it an "unparalleled action" by the Alabama legislature.
"Our analysis is that this bill, if enacted and signed by the governor, would clearly violate the Establishment Clause of the First Amendment in vesting what is really a quintessentially government power—the police power—in the hands of a religious entity with essentially no oversight after that," he told me.
Briarwood has indicated it doesn't plan on adopting all the features of a law-enforcement system. In the provided documents, the church said it doesn't plan to run a jail or a dispatch center, and will instead forge agreements with three other jurisdictions to handle those aspects of policing. Both Waggoner and the church have also repeatedly cited a provision in Alabama state law that allows universities and colleges to operate their own police departments.
Even with those limitations, the proposed department would still hold a broad array of powers typically held by local police forces. "It would grant to Briarwood Presbyterian Church the right to detain people, to arrest them, to use appropriate levels of force, including deadly force, to decide which laws to enforce, and which laws not to enforce," Marshall said. Another problem he raised: The force would be answerable to church leaders, not the public.
The bill itself is fairly straightforward. If enacted, it would allow the church's board of trustees to "appoint and employ one or more persons to act as police officers to protect the safety and integrity of the church and its ministries." Those officers would be "charged with all of the duties and invested with all of the powers of law-enforcement officers in this state." Two other sections impose restraints: a standard requirement for officers to be certified by a state commission, and a provision restricting their authority to "the campuses and properties of Briarwood Presbyterian Church."
As far as legislation goes, that's pretty concise. But its constitutional implications are vast and apparently unprecedented. "I have been following this stuff for 20 years and can't recall any other circumstance in which a church has asked for a police force that it can control," said Robert Tuttle, a George Washington University law professor who specializes in relations between governments and faith-based organizations.
A major constitutional issue that Briarwood could face is Supreme Court precedents requiring religious neutrality—"that if you do establish a benefit, you don't make it available to a single faith and then say, 'Well, we'll wait and see for the next application to come along,'" Tuttle said. He pointed to a 1994 Supreme Court case in which the justices struck down a New York law that carved out a special school district for members of a Hasidic Jewish sect. By singling out a specific church and imbuing it with the state's policing powers, the law could face a similar challenge on those grounds.
Another influential precedent that could prove challenging for Briarwood, Tuttle noted, would be Larkin v. Grendel's Den, a 1982 Supreme Court case. Central to the dispute was a Massachusetts law that allowed the governing bodies of churches and schools to block the issuance of liquor licenses within a 500-foot radius of their properties. The proprietors of Grendel's Den, a bar and restaurant near Harvard University, sued the state on Establishment Clause grounds after a nearby Armenian church vetoed its license.
Unlike its namesake, the restaurant won handily. The justices ruled in an 8-1 decision that the statute "substantially breached" the metaphorical wall of separation between church and state set forth by the First Amendment. "The framers did not set up a system of government in which important, discretionary governmental powers would be delegated to or shared with religious institutions," Chief Justice Warren Burger wrote for the high court.
Alabama's bill would likely face a similar constitutional hurdle. In 1994, for example, the North Carolina Supreme Court relied on the Grendel's Den precedent to abolish a campus police department at Campbell University, a private Christian university affiliated with the state's Baptist convention. The state law authorizing the department's creation amounted to an "excessive entanglement" between the government and a religious entity, the court ruled.
The debate over the Establishment Clause's meaning is far from settled. Questions about the breadth and scope of religious liberty shaped recent Supreme Court rulings on same-sex marriage and the Affordable Care Act's contraceptive mandate, as well as lower-court battles about transgender rights and anti-discrimination laws. Conservatives frequently cited Justice Neil Gorsuch's record of broad latitude toward religious-freedom claims as a reason to support his Senate confirmation.
But SB 193 still stands out amid those debates. Tuttle noted that the founders' experience with the Church of England, which ran ecclesiastical courts and exercised a decree of policing power during their lifetimes, shaped their thinking when drafting the Establishment Clause.
"The interweaving of church and state in the exercise of coercive force was one of the rare things where you'd get agreement between the Congregationalists of New England and Madison and Jefferson in Virginia," he told me, alluding to battles between the framers over provisions in the nation's founding charter. "They all agreed that it was not the job of the government to turn over any of its coercive authorities to religious institutions."