A Chilling Threat of Political Violence in Portland
Activists threatened to drag local Republicans off a parade route if they weren't excluded from a local celebration. Organizers cancelled the entire event in response.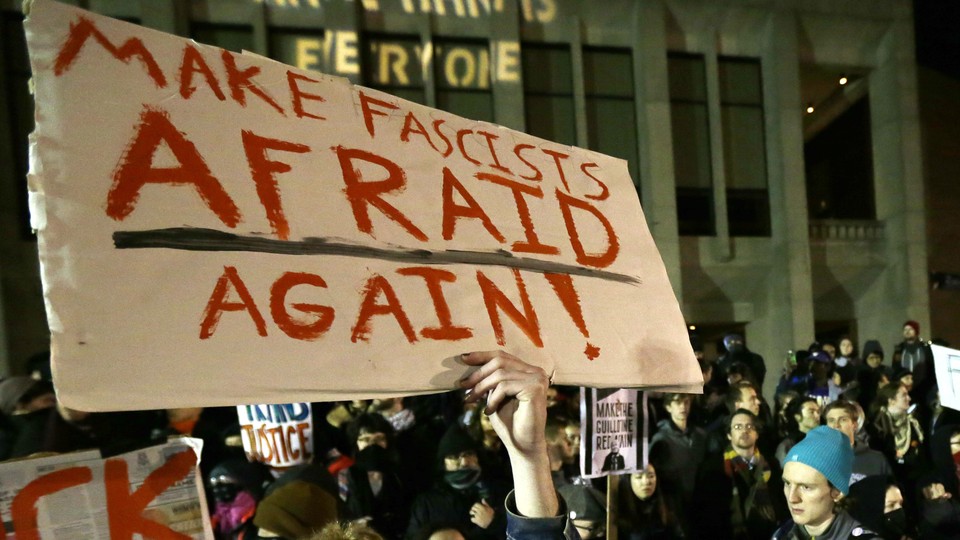 On the day after Donald Trump was inaugurated, perhaps 3 million Americans took to the streets in peaceful protest to register their opposition. When news of his travel ban broke, I stood at LAX watching Angelenos sing the Star Spangled Banner and Amazing Grace. Across the nation, peaceful protest against President Trump continues. But a violent fringe has been using Trump's rise as a justification for political violence, as if his authoritarian impulses justify authoritarianism from his opponents.
This tiny faction knows that most of their compatriots on the left are committed to nonviolence, so they frame their aggressive actions as a narrow exception to the rule.
Most famously, they insisted that it was okay, or even righteous, to punch white supremacist Richard Spencer because he was "a Nazi." That position impels the debate down a slippery slope. And now, activists in Oregon caused the cancellation of the 82nd Avenue of Roses Parade, a community event in the southeast quadrant of Portland, by threatening to forcibly drag "fascists" off the parade route if they weren't excluded.
Who exactly did they want removed from the parade? The local Republican Party of Multonomah County. The Oregonian reports on the threat the leftists sent to organizers:
"You have seen how much power we have downtown and that the police cannot stop us from shutting down roads so please consider your decision wisely," the anonymous email said, telling organizers they could cancel the Republican group's registration or else face action from protesters.
The email went on to speculate that right-wing extremists would march among the Republicans, and warned, "we will have two hundred or more people rush into the parade into the middle and drag and push those people out as we will not give one inch to groups who espouse hatred toward lgbt, immigrants, people of color or others."
A local alt-weekly quoted from a Facebook event page describing a perhaps different planned protest––its authors say that they did not send the threatening email––which stated:
The fascists know that we'll keep shutting their marches down, they are now planning to march within other parades to protect their message of hate and white supremacy - it WON'T work. Nazis will not march through Portland.

The group we're disrupting is #67. It is registered to the Multnomah County Republicans, but these infiltrators are the same folks from Lake Oswego, Salem, Vancouver, and even Berkeley. These are the folks that attacked a woman at PDX, they harassed Latinx parishioners with slurs and threats at a local church, they spew hate, threaten and curse young women at women's health clinics. They seek to intimidate and harass our Latinx, Muslim and LGBTQ+ neighbors and friends. Their Trump flags, their red MAGA hats and their hate group badges are all intended to normalize support for an orange man who bragged about sexually harassing women and who is waging a war of hate, racism and prejudice against our Muslim, Latinx, Black and Native neighbors. They will attempt to march from the Eastport Plaza to Yamhill, but nazis will not march through our city.
If you missed that, one reason these protesters cite as justification for stopping Republicans on a parade route is that they will otherwise "normalize support" for a sitting president.
Organizers caved. "Following threats of violence during the Parade by multiple groups planning to demonstrate at the event, we can no longer guarantee the safety of our community and have made the difficult decision to cancel the Parade," they stated.
The local GOP put out its own statement. It reads in part:
The Multnomah County Republican Party (MCRP) has for many years participated in the Parade, and calls upon the Mayor, the Police Chief, and the District Attorney to take action against this criminal conspiracy to commit crimes of riot and disorderly conduct in violation of Oregon law.

Under former Mayor Charlie Hales the City allowed this cancer of lawlessness to grow to the point where its leaders are now bragging, like some sort of comic book characters, that 'the police cannot stop us'. But this is no laughing matter. The participation of political parties in public events like the Parade is not only an American tradition, but also reflects the most fundamental constitutional rights of free speech and freedom of assembly.

The road to fascism begins with armed gangs of thugs using violence to shut down opposing points of view. The question now is whether the City of Portland will be complicit in such conduct. We hope the City's new leadership has the courage to respond to these threats appropriately.
So long as threats of violence succeed in causing events to get shut down by their risk-averse organizers, more threats will be made. One wonders who this faction on the left will next label a Nazi or a fascist in order to justify their own use of fascistic tactics.