Stripping Miners of Safety Protections
A West Virginia proposal to help the coal industry by paring back safety regulations may actually protect neither miners or their jobs.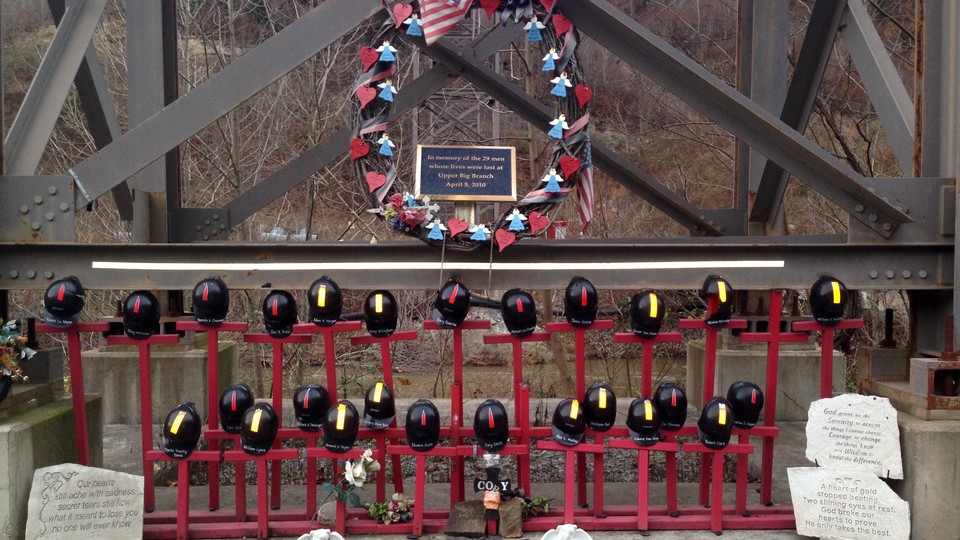 Updated March 15 at 3:31 p.m.
When is a mine-safety agency not really a mine-safety agency? Soon, if a bill under consideration in the West Virginia Legislature passes. The proposal would prevent state regulators from writing policies, downgrading their work to drafting suggested guidelines; strip them of the ability to issue citations and fines; and demote safety inspections to offering "safety compliance assistance."
Ken Ward of the Charleston Gazette-Mail, an expert reporter who's set the standard on the mining beat for years, writes:
Those and other significant changes in a new industry-backed bill would produce a wholesale elimination of most enforcement of longstanding laws and rules put in place over many years — as a result of hundreds of deaths — to protect the health and safety of West Virginia's coal miners.

Opponents are furious about the proposed changes but also fearful that backers of the bill could easily have the votes to push through any language they want. Longtime mine safety experts and advocates are shocked at the breadth of the attack on current authorities of the state Office of Miners' Health, Safety and Training and the Board of Coal Mine Health and Safety.
Ward reports that rumors of an industry-backed bill along these lines have been circulating in Charleston since early February. The bill was introduced by Republican Senator Randy Smith, who is himself a safety manager for a mining company. Smith told the Gazette-Mail that he doesn't really support taking away state enforcement power, even though it's in the draft of the bill. Chris Hamilton, senior vice president at the West Virginia Coal Association wrote in an email, "We prefer the bill to be modified to allow for a balance of enforcement, technical support and mine emergency preparedness functions  as oppose to mine inspectors being laid off."
The bill is unclear in places, but it seems to shift responsibility for safety away from mining companies in two directions. First, individuals at mines would become the focus for penalties, rather than companies overall. Yet major disasters in West Virginia coal mines have often been ascribed to systemic mistakes made by corporations, and not to the actions of individuals. The Upper Big Branch explosion that killed 29 miners in 2010, occurred at a mine owned by Massey Energy. An independent commission convened by the governor noted that the company had a long record of violating safety laws. (Its CEO, Don Blankenship, was sentenced last year to a year in prison for his role in the safety issues.)
Secondly, the bill would defer safety-enforcement to the federal government, on the grounds that state rules are duplicative of federal safety regulations. Yet as Ward points out, the Upper Big Branch panel recommended tighter state standards. And moreover, President Trump has promised to roll back regulations on mining so as to jump-start the industry—meaning that the landscape could soon see not duplicative regulation but no meaningful oversight on either the state or federal level.
SB 582 is a dramatic illustration of changes in the coal industry, and they way are squeezing coal miners from both sides. Miners have long had to fight for safety and wages, a situation in which they waged war—mostly figurative, but sometimes literal—against coal companies, demanding better treatment. In 1974, Fred Harris wrote for The Atlantic that Duke Energy was "burning up people to make electricity" in Harlan County, Kentucky. Harris went to Harlan County report on a strike by workers there who were demanding better safety measures as well as improved benefits and pay. (The same strike was the subject of Harlan County, USA, an Oscar-winning 1976 documentary.) The union ultimately triumphed in that case, and in others, where miners were the frontline of demanding better safety measures.
But things have changed over the last 40 years. The coal industry is in deep trouble, with both prices and production in steep decline. Rising concern about climate change has led to somewhat stricter regulations governing the coal industry.  Meanwhile, and not coincidentally, the clout of labor groups like the United Mine Workers of America has been diminished. Where workers were once concerned that mining companies were out to deprive them of their fair wages, their primary concern now is whether the industry will survive, or whether it will perish—taking their livelihood with it. That has pushed miners toward the companies. Groups like Friends of Coal, a multistate group that rallies for the industry, seeks to unite miners and companies around fighting against stricter regulation.
As a result, the political ground has shifted, too. Where politicians might have been forced in the past to choose between standing with coal companies or standing with miners, now they can push for rolling back regulations on the coal industry, which pleases coal companies, while arguing that looser regulations are essential to making the industry competitive again. West Virginia politicians of both parties still push for shoring up pensions for miners, for example, but the emphasis on matters like black lung has receded as the industry's existence comes into question.
This is effectively the playbook that Donald Trump employed in the 2016 election. He argued that President Obama was conducting a war on coal, and that Hillary Clinton would continue it. (He was helped by a boneheaded gaffe by Clinton, who, in the midst of boosting her job-retraining plan for unemployed miners, said she would "to put a lot of coal miners and coal companies out of business.") Trump was rewarded with votes in coal country. He won both Kentucky and West Virginia. In West Virginia, he held Clinton to barely a quarter of the vote, carrying every county in what was very recently one of the country's most solidly Democratic states.
The UMW has come out against SB 582. Its health and safety director told Ward, "It completely guts the state law. You're taking back decades of laws." But since miners have joined with coal companies to fight against environmental regulations, it's harder for them to split effectively when the industry also pushes for laxer safety regulations. In 2016, the UMW agreed to support a bill that reduced mine-safety teams, cut fines for failing to report safety violations, and made it easier to challenge citations, but only because they saw it as a way to head off a more sweeping rollback of safety regulations.
Removing safety regulations would likely help the coal industry—at least insofar as it removes a burden on coal companies in the short term. For miners, however, any rollback is likely be a much rawer deal. Demand for coal is plummeting, due in part to the rise of the American shale-gas industry, and many experts see Trump's promise to bring back coal as impossible to keep. Meanwhile, two miners have already been killed in West Virginia this year, half of last year's death toll in the state. Since 2004, 127 miners have been killed in the state, almost double the toll in Kentucky, the second most lethal place for miners. Better safety regulations might have saved some of those lives. But rolling back existing regulations won't do much to save jobs of today's miners.