Trump's Proposal to Scrap the Agency Devoted to Developing Appalachia
The Appalachian Regional Commission distributes grants in states that voted for the president, and works to revitalize coal-mining communities.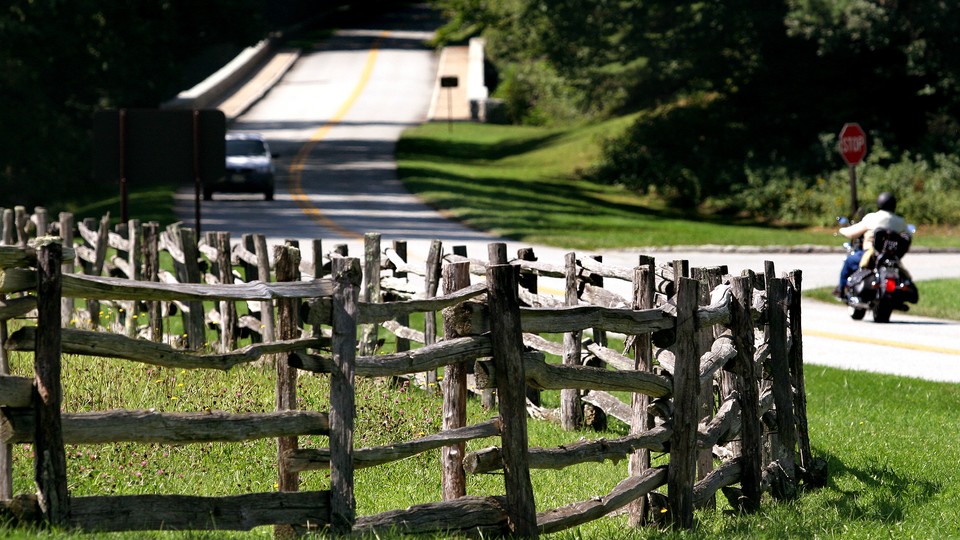 The White House released President Trump's wish-list for the federal budget on Thursday, and outlined in it, among other domestic-spending cuts, is a proposal to totally eliminate funding for 19 independent agencies. While Trump's decision to cut the Corporation for Public Broadcasting— an agency dedicated to journalism—and the National Endowment for the Arts might not be entirely surprising, what is notable is his apparent desire to eliminate a federal agency created to improve the lives of many of his own supporters: the Appalachian Regional Commission.
The ARC was established by an act of Congress in 1965 as a federal-state partnership to promote economic growth in a region encompassing all of West Virginia and parts of Pennsylvania, Ohio, Kentucky, Alabama, Georgia, Maryland, Mississippi, New York, North Carolina, South Carolina, Tennessee, and Virginia. Its footprint includes 420 counties and more than 25 million people.
The commission is made up of the 13 states' governors, along with Federal Co-Chair Earl Gohl, who was appointed by President Obama in 2010. Their job is to approve funds for grants for hundreds of wide-ranging projects in the region every year: things like highway and sewer system improvement projects, technical education, and community health initiatives. The agency's POWER initiative, which will celebrate its one-year anniversary on Friday, specifically targets communities affected by job losses in coal mining.
"We're making sure the Appalachia workforce is prepared for jobs," Wendy Wasserman, the communications director for the ARC, told me. In fact, Wasserman said, last year, Congress approved a budget of $146 million for the agency, its highest budget in decades, in order for it to focus on coal-impacted communities. Already, the ARC has invested $73 million on 89 projects in 236 counties—projects that include, Wasserman says, "teaching coal miners how to code, helping develop agricultural activity on former coal land, and training folks who would have been tracked into coal into solar installation or construction."
A February 2015 evaluation of the agency's work showed that in the past 50 years, the ARC's $3.8 billion invested in non-highway related programs resulted in 312,000 jobs and $10.5 billion in additional earnings. Because of its work, the agency told the Lexington Herald Ledger, the number of high-poverty counties in Appalachia dropped from 295 in 1960 to 84 in 2017. The overall poverty rate also decreased since the ARC's founding, from 30 percent to under 17 percent. "We're doing what we said we would do since 1965," Wasserman said, "which is invest in Appalachia's potential." Without federal funding, she said, the ARC literally would not exist.
Trump's promise to revitalize the region economically became a centerpiece of his campaign during 2016, and Appalachia overwhelmingly backed Trump in the presidential election; 10 of the 13 states covered by the ARC went to him on November 8, 2016. His proposal to eliminate all funding for the commission—an agency specifically designed to stimulate economic growth in the region—seems to fly in the face of that promise.
"We've been around for 52 years," Wasserman told me. "There's a reason."