How Trump Earned His Low Approval Rating
The man in the White House is failing even those who favored his "Make America Great Again" platform.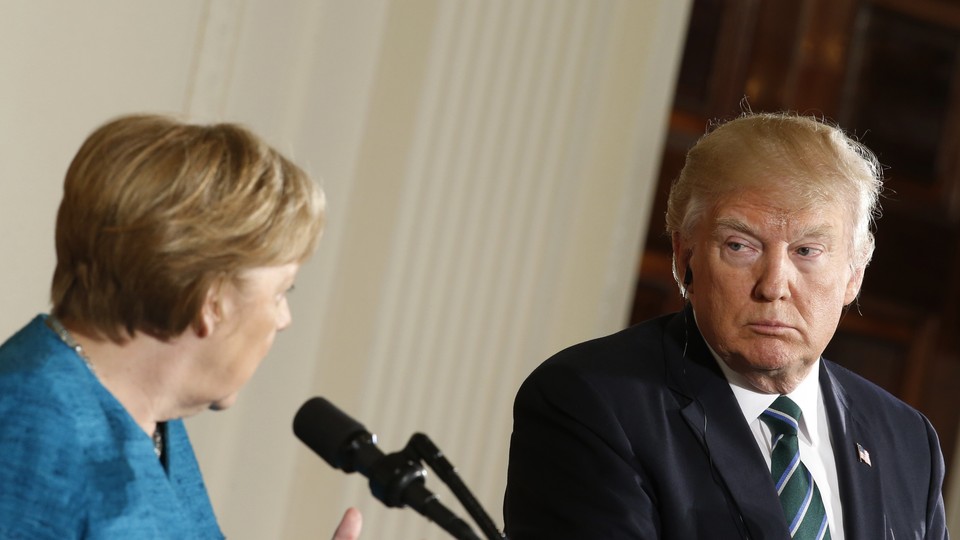 The percentage of Americans who disapprove of the job that President Trump is doing rose to 57 percent over the weekend, his worst showing yet. Just 37 percent now tell Gallup they approve. "At this point in his first term, President Obama's approval rating was hovering in the low 60s," ABC News notes, "while President George W. Bush's was in the mid-50s." Why is Trump getting such lousy ratings from the public?
Losing the popular vote by a margin of 3 million people doesn't explain these latest findings, which are looking much worse for Trump than when he was first inaugurated. For two days beginning on January 24, the president managed to be in the black: 46 percent of Americans approved of him while 45 percent disapproved, suggesting a willingness at the start to give him the benefit of the doubt.
Then his ratings started to slide...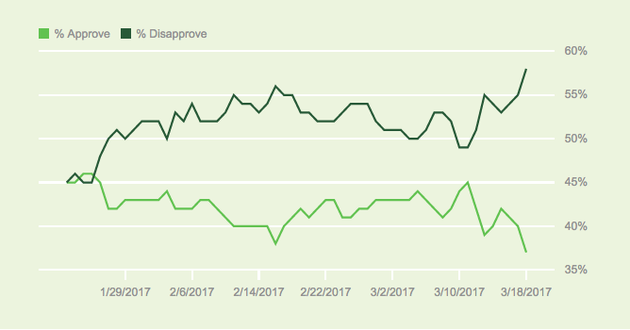 ...and now, the turn toward greater disapproval is reaching new heights.
There's never any telling what next week will bring.
But if some Trump voters are turning against him, as these numbers suggest, the hit is well-deserved. Even Americans who loved Trump's campaign promises have been given new reasons in the last couple of months to reassess their prior support, even if they've lost no enthusiasm for his "Make America Great Again" platform.
The problem for them is what they're getting instead.
For example:
Part of Trump's appeal was his assertion that he was a born winner who'd keep winning for Americans. So far, however, he has done a lot of losing. He lost Mike Flynn to scandal; he lost judicial rulings over his poorly constructed travel ban; the first special-operations raid that he approved was a disaster; Angela Merkel rebuked his suggestion that Germany owes more to NATO; he even messed up his first call with the leader of Australia, a close ally; and it's hard to think of a foreign leader who respects America more now.
Some Trump supporters are figuring out that recently proposed changes to health-care policy and the federal budget would be excellent for folks a lot richer than they are, but very hard on working class people who voted Trump. On health care, after promising "insurance for everybody," Trump is complicit in a GOP plan that the CBO expects to insure millions and millions fewer people. And Trump told Tucker Carlson of Fox News that he knows the bill would be extra hard on Americans in the counties that he won.
Representative Hal Rodgers, a Kentucky Republican, said of Trump's budget, "many of the reductions and eliminations proposed in the president's skinny budget are draconian, careless and counterproductive."
Trump could change course on either policy. But he cannot escape the fact that the GOP coalition is rife with deep divisions—and that he can't now finesse policy with evasive rhetoric or impossible promises as he did during the campaign. Tradeoffs are inescapable.
Trump promised to "drain the swamp" in Washington, D.C., often citing the appearance of corruption that Hillary Clinton created by cashing in on her government service—and the expectation that she'd be president—with lucrative speaking gigs and donations from foreigners to her family's foundation.
But rather than behave better, Trump has exploited the presidency to benefit himself and his family to an unprecedented degree. Kellyanne Conway stood in front of the White House in an on-the-clock TV interview and told the public to buy Ivanka Trump clothing! The Trump Organization keeps making money off foreign entities, even as Trump himself refuses to divest from his business (or to release his tax returns). And his sons aren't just continuing to do deals around the globe—their habits, along with Trump's insistence on spending most weekends at his Florida vacation palace, mean taxpayers are footing an unprecedented bill to facilitate luxury travel for billionaires.
Americans don't want their country to be a laughingstock. Trump's insistence on continuing to tweet, even now that he's won the presidency, makes him a laughingstock, whether during frivolous moments, like his childish feud with Snoop Doggy Dogg, or very serious ones, like his erratic tweet alleging that President Obama wiretapped Trump Tower just before the election. During the campaign, I interviewed many Republicans who believed that Trump's behavior as a candidate was mostly for show. They assumed that he would exhibit more discipline and judgment if elected. He hasn't.
I highlight those flaws, rather than the many policy grievances held by staunch Trump opponents, because they illustrate how Trump is failing even many of the people who cheered him on during the campaign. Many still support him, and will keep doing so if he avoids looking too much like a man who cannot master himself. But Trump keeps exhibiting that unpopular trait. And approval ratings are a popularity contest.