What Devin Nunes's Bombshell Does and Doesn't Say
The House intelligence committee chair, a Trump ally, muddied waters and gave comfort to the White House, but he provided no evidence of wrongdoing or support for Trump's "wiretap" claims.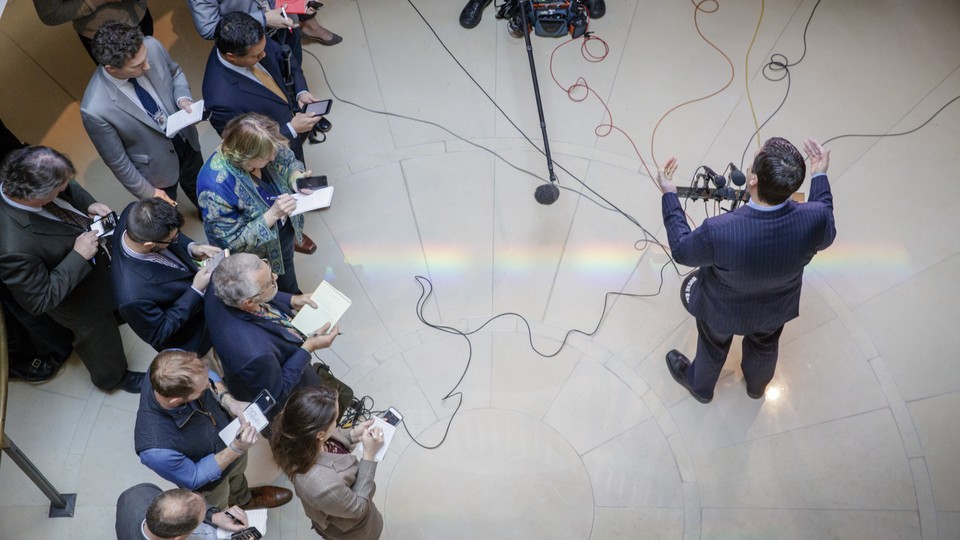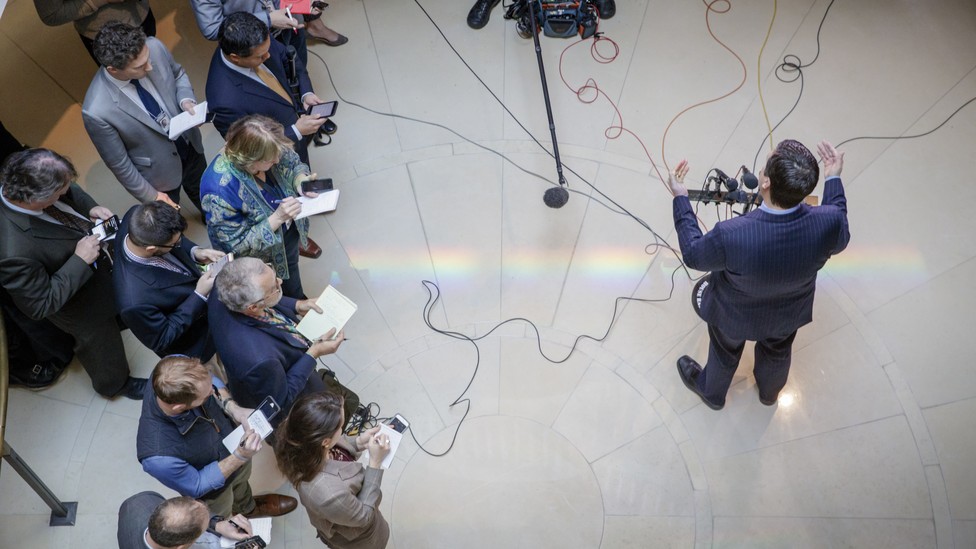 Updated on March 22 at 5:24 p.m.
In a head-spinning development on Capitol Hill on Wednesday, Representative Devin Nunes, the chair of the House Permanent Select Committee on Intelligence, revealed that … well, what Nunes revealed isn't totally clear.
Nunes held a brief press conference Wednesday afternoon saying that "on numerous occasions the Intelligence Community incidentally collected information about U.S. citizens involved in the Trump transition." But Nunes's vague statements raised a host of questions, and his decision to announce them publicly and then go to the White House to brief President Trump, having not informed Democrats on the committee about his new findings, cast a pall of politics over the proceedings.
Coming into Wednesday, the Trump administration faced a crisis: Every knowledgable source, from congressional Republicans to intelligence officials, has said that President Trump's claim that his predecessor "wiretapped" him was bogus. In the midst of this crisis, a mysterious and unnamed "source" apparently delivered new information to Nunes, a Trump ally, which deals with legal collection of information. Nunes, in turn, quickly went public with the information, despite offering no proof of wrongdoing, in an apparent effort to shift the story in a direction favorable to the administration.
For example, Nunes said that all of the information that was collected legally, as part of "incidental collection" that occurs when U.S. citizens are captured speaking with lawful non-U.S. targets of surveillance under FISA orders. Nunes also reiterated that there had been no "wiretap" on Trump Tower, as the president has alleged and continued to assert, despite disavowals by top Republicans in Congress and the intelligence community.
Yet Nunes's announcement offered Trump a lifeline, presenting him—intentionally or not—with a way to claim he really had been surveilled. Trump quickly seized it, saying he felt "somewhat" vindicated during a brief pool spray at the White House.
Nunes charged that while the collection was entirely legal, the fact that Trump team staffers' names were unmasked and information was shared is "inappropriate."
"It looks like it was legal, incidental collection that then made its way into intelligence report," Nunes said. "Nothing criminal at all involved."
The problem is that there's no way to assess the truth of Nunes's claims. He says he has full faith in his source, suggesting it's someone within the intelligence community, but it's not clear that anyone besides Nunes has seen the "reports" to which he referred: Adam Schiff, the Democratic ranking member on the committee, has not, and while Nunes briefed both Trump and Speaker Paul Ryan, there's no indication he showed them the report.
This is troubling because, as my colleague Conor Friedersdorf reported Wednesday morning, Nunes's statements so far in the investigation make it difficult to give him the benefit of the doubt on truthfulness. The Washington Post also previously reported that the White House had asked Nunes to help tamp down stories about Trump team ties to Russia.
Moreover, Nunes repeatedly said he did not have all the information he needed, raising the question of why he felt it was worthwhile to go public immediately. As Republicans including Nunes complain about unauthorized leaks of classified information to the press, he has come forward to publicize anonymously obtained intelligence community materials.
His choice to take it to the White House is even more perplexing, especially without having discussed the matter with Schiff. Trump accused Obama of having surveilled him despite offering no evidence for the claim. No evidence has appeared since. Pressed to explain why it can't simply provide the proof, the White House—rather than admit, as appears indisputable, that it has no evidence—has claimed that because of "separation of powers," Congress should investigate without executive-branch interference. By taking his information to Trump on Wednesday, Nunes has driven a bulldozer through that wall of separation.
In leaving Schiff out of the process, meanwhile, he has blithely poisoned his cooperation with the Democratic member on the committee. Monday's committee hearings with FBI Director James Comey and NSA Director Mike Rogers showed that there were already effectively two separate House intelligence committees, a Democratic one worried about Russian meddling in the election and a Republican one worried about leaks about Michael Flynn. Nunes's sidestepping of Schiff, though, could doom any remaining prospects for cooperation on the committee.
Schiff angrily responded during a press conference late Wednesday afternoon.
"The chairman will need to decide whether he is the chairman of an independent investigation into conduct which includes allegations of potential coordination between the Trump campaign and the Russians, or he is going to act as a surrogate of the White House, because he cannot do both," Schiff said. "Unfortunately I think the actions of today throw great doubt in the ability of the both the chairman and the committee to conduct the investigation the way it ought to be conducted."
Nunes also made several jabs at Comey, who confirmed that the FBI was investigating whether Russia colluded with Trump officials to interfere with the election. This is also exactly what one might do if one were trying to assist Trump.
There are a few useful pieces of information to be gleaned from Nunes's two press conferences, one at the Capitol and another at the White House later in the afternoon. Nunes said that none of the information involved Russia, though he would not say what foreign countries the subjects of surveillance were from. He said he did not know that any of the communications were intercepted from Trump Tower. Nunes was not clear about who might have been caught up in the incidental collection. It was already known that Michael Flynn, Trump's disgraced former national security adviser, was intercepted speaking with Russian Ambassador Sergei Kislyak, and Nunes said it went beyond that, though his wording was somewhat opaque.
"I have seen intelligence reports that clearly show that the president-elect and his team were I guess at least monitored and disseminated about in the intelligence community," he said.
In both press conferences, reporters expressed puzzlement at what Nunes believed was wrong, since he indicated that the collection was lawful and incidental. His answer focused on the question of "unmasking." When Americans' names are caught up incidental collection, those names are supposed to be redacted unless there is a reason why including them is essential to understanding the report.
At the White House, however, Nunes offered an answer that muddied the waters on whether he thought the collection was in fact legal.
"What I have read seems to me to be some level of surveillance activity, perhaps legal, but I don't know that it's right, I don't know that the American people would be comfortable with what I read, but let's get all the reports," Nunes said.
But this, too, is perplexing, as though Nunes was just now realizing for the first time that U.S. persons' information is routinely caught up in FISA surveillance.
In sum, Nunes's announcement on Wednesday raises far more questions that it answers. It's hard to see how that ambiguity, and the way he handled it, make the American public better informed, or strengthen the House investigation or instill faith in it. But by design or not, they brightened the skies over 1600 Pennsylvania Avenue, at least for a day.