The White House Is Being Reset Even Before It Started
President Trump has already fired a national security adviser, removed a communications officer, and pushed a deputy chief of staff out—with more shakeups on the horizon.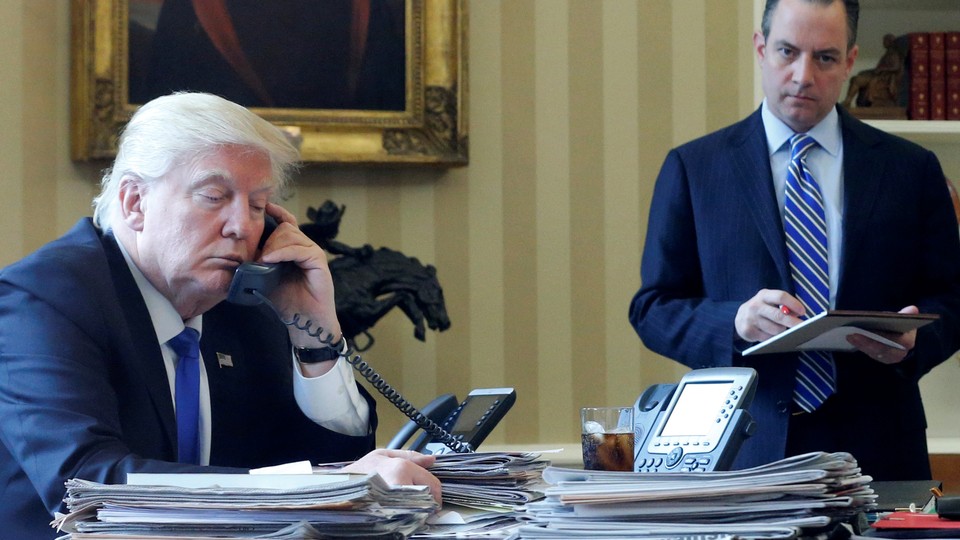 The "usually" framework has become a staple of coverage of Donald Trump. As in: Usually, you have to hire a full complement of staffers before you start pushing them out and reshuffling. But normal patterns, as is well known, do not apply to this White House.
Consider this. The president has already had to fire his national security adviser. A deputy White House chief of staff has been shipped out, and there are rumors swirling around another. The chief of staff has been the subject of rumors more or less since he started unpacking his boxes in the West Wing. A top communications official has been fired. The press secretary is widely viewed as ineffectual and endangered. And while the West Wing is not as empty as it once was—for example, President Trump finally hired a communications director in mid-February—the vast majority of essential executive-branch positions are not only unfilled but have no nominee.
Let's survey the damage in a little more detail. The first casualty was National Security Adviser Michael Flynn, who was forced to resign on February 13, after it became clear that he had lied to Vice President Mike Pence about his conversations with the Russian ambassador. Flynn has since revealed he lobbied for Turkey before taking the job, and has opened discussions about seeking immunity with several investigations.
On March 25, reports indicated that Boris Epshteyn, who was a frequent surrogate for the Trump campaign and was in charge of coordinating TV surrogates for the Trump White House, was leaving that job. The circumstances of the departure are a little unclear—he had reportedly clashed with TV bookers, but The New York Times reports his departure was mutually sought. For whatever reasons, Epshteyn was not cut out for the job.
This week, the White House announced that Deputy Chief of Staff Katie Walsh is leaving her job. She'll head to America First Policies, an outside group that's supposed to help drum up support for Trump's agenda, but was universally regarded as ineffective during the health-care fight. Administration officials sought on the one hand to portray this as a perfect meeting of a need and skills, but in practice no one wants to be sent packing from a prime White House job. There were also rumors that another deputy chief, Rick Dearborn, was headed for the exits, though the White House says that's not true.
Walsh's departure stirs speculation about the fate of her boss, Reince Priebus. Walsh came with Priebus from the Republican National Committee, where she was chief of staff. Priebus has been the subject of unflattering leaks for weeks, apparently the victim of a factional war within the White House. (Priebus and the putative leader of the other faction, chief strategist Steve Bannon, have sought to dampen those claims with a best-buds press tour. It hasn't worked.)
The collapse of the health-care bill adds to his headaches. Priebus is close to Speaker Paul Ryan and helped design the failed process for moving the bill. Now he has also lost a trusted lieutenant.
Press Secretary Sean Spicer also came with Priebus from the RNC, and he too is perpetually on the hot seat. Trump is said to watch his briefings very closely, and it's hard to imagine he likes what he sees. Spicer's difficult task was exemplified by several moments in recent days. He tried to assert that Trump's campaign chairman was just a short-term employee. He argued, despite a letter suggesting otherwise, that the White House hadn't tried to keep former Acting Attorney General Sally Yates from testifying to the House Intelligence Committee. And he insisted the White House had no idea where committee Chairman Devin Nunes had received information about alleged surveillance of Trump transition team members—only for it to emerge on Friday that two White House officials were behind the leaks. The question with Spicer is whether he is wantonly misleading the press and public, simply out of the loop on White House information, or is being misled by colleagues.
The RNC crew are not the only Trump aides in the doghouse, though they are more easily fireable than one of the others: Jared Kushner, who is Trump's son-in-law, and who was in Aspen, Colorado, for much of the week the health bill fell apart.
The Nunes leaks suggest the depth of the chaos in the White House too. In one scenario, the two staffers who were reportedly involved were acting on the directions of senior officials, in which case the administration lied about its actions and interfered with a congressional investigation. If, on the other hand, either was acting on his own initiative, it's a dangerous sign that junior staffers are going rogue on sensitive national-security issues.
Mike Allen of Axios reports Friday:
President Trump brought his chaos-and-loyalty theory of management into the White House, relying on competing factions, balanced by trusted family members, with himself perched atop as the gut-instinct decider. He now realizes this approach has flopped, and feels baffled and paralyzed by how to fix it, numerous friends and advisers tell us.
Maybe, maybe not. Allen also writes, "You should expect regular, sometimes violent, upheavals in this Trump White House," which seems to suggest more chaos rather than less.
As I reported last week, there's a partial precedent for Trump in the Clinton administration. Yet that precedent is looking more tenuous by the day. Clinton's White House disorder was partly a factor of focusing on other appointments; he didn't have to fire any Cabinet-level aides in his first month; and his first major legislative initiative was not a flop. It took until June if its first year for the Clinton administration to attempt to reboot the West Wing, bringing in the veteran operator David Gergen.
One important lesson of the Clinton administration is that what matters most is the president, who sets the tone for the rest of his team. If he accepts, or even wants, chaos, then that's what he'll get. It took some time for Bill Clinton to learn that lesson, though he eventually did. Looking back on those days, Clinton's second chief of staff, Leon Panetta, said of the Trump administration, "I think it's going to be a lot bloodier." So far, his prediction is looking accurate.