Trump's Obamacare Ultimatum
At the president's behest, House Republicans will render what might be a final verdict on the Affordable Care Act in a high-stakes vote on Friday.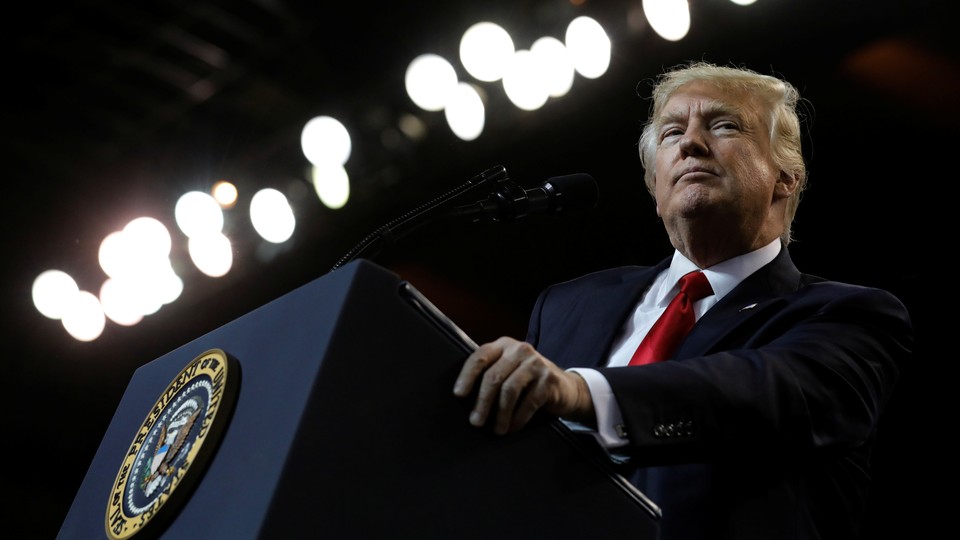 On Thursday, the Affordable Care Act celebrated its seventh birthday. On Friday, it just might celebrate a most unlikely reprieve.
In a take-it-or-leave-it message delivered by his senior advisers to Capitol Hill, President Trump late Thursday told bickering House Republicans they had one final opportunity to repeal and replace the health-care law they have decried since its enactment. At the president's behest, Speaker Paul Ryan on Friday will call a vote on the American Health Care Act and dare recalcitrant conservatives to defeat it. If the bill fails, Trump plans to keep Obamacare in place and move on with other parts of his agenda—a move that would enrage conservative activists while conceding an enormous defeat for the new administration.
"We are done negotiating," Representative Chris Collins of New York, a Trump ally, told reporters after Republicans held what was described as an emotional meeting in the Capitol basement. The president sent his chief of staff, Reince Priebus, and top advisers Steve Bannon and Kellyanne Conway to the meeting. Mick Mulvaney, the budget director and a former member of the hardline House Freedom Caucus, delivered Trump's ultimatum to his former congressional colleagues.
"This is our moment in time, and the president is insisting on a vote tomorrow one way or another," Mulvaney told them, according to Collins.
The decision follows days of frenzied negotiations at the Capitol and at the White House, as Trump summoned one group of wavering lawmakers after another for round-the-clock talks. The bill lawmakers are considering on Friday will include an amendment that represents the offer that members of the Freedom Caucus rejected as insufficient on Thursday afternoon. It eliminates Obamacare's requirement that insurance plans cover maternity care, addiction treatment, hospitalization, and several other "essential health benefits." Conservatives argue that scrapping the mandate would help lower premiums. But they were pushing the White House to agree to repeal other provisions that constitute the most popular elements of the health law, including the ban on lifetime coverage caps and insurers' discriminating based on preexisting conditions. Republican leaders rejected that request, however, because they were sure it would cost them dozens of other votes that would sink the bill's chances.
As it stands, the American Health Care Act is unlikely to pass the Senate in its current form. But Republican leaders need to get it out of the House first.
So Trump is making his risky bet and gambling that rank-and-file Republicans will stick by him in a high-stakes vote. Exiting the meeting, several members predicted the party would fall in line. As Representative Glenn Grothman, a Wisconsin freshman, put it afterward: "Who wants to be the butt-head that keeps Obamacare going?"
Inside the meeting, supporters of the bill stood up, one by one, to rally their colleagues. Representative Brian Mast of Florida, a first-term Republican who lost both his legs fighting in Afghanistan, brought members to their feet with a call for the party to unify and accept a compromise. "I've never been in a battle where we've only had to fire one shot. I've never been in a battle with a perfect plan," he told them, according to Representative Matt Gaetz, another Floridian. Representative Tom McClintock of California read passages from Ben Franklin's speeches to the Constitutional Convention.
Gaetz cast Friday's vote as an existential moment both for the Republican majority in the House and for Trump's presidency. If it fails, he told reporters, "we'll have the opportunity to watch a unified Democratic caucus impeach Donald Trump in two years when we lose the majority."
Republicans were clearly short of votes heading into Thursday night's meeting. The only question was by how many. Party leaders had postponed a vote they had long planned to hold on the Obamacare anniversary, unable to win over conservatives without losing too many moderate members who feared the bill's impact on insurance coverage, Medicaid, and premium rates. Trump's ultimatum may have come too late: About a dozen Republicans representing swing districts or Democratic states had already publicly announced their opposition and will have a hard time flipping based on so baldly political an appeal.
There was more hope among conservatives in the Freedom Caucus, who secured at least a partial win in the agreement to repeal Obamacare's essential health amendment. Representative Mark Meadows of North Carolina, the group's chairman, emerged from the meeting saying he was still against the bill but that he could not speak for his members.
Still, the changes did not stifle the opposition of outside conservative groups who have vowed to punish Republicans who support the bill and protect those who vote against it. Nor did a revised cost estimate from the Congressional Budget Office provide lawmakers with any cover. Scoring changes announced Monday to the Medicaid and tax-credit portions of the bill, the CBO found that they would cost nearly $200 billion more without lowering premiums or stemming the expected loss of 24 million people from the insurance rolls over a decade. Lawmakers won't be able to see a final budget estimate before Friday's vote. In addition to the repeal of essential health benefits, the Trump-backed amendment will keep in place a tax increase on wealthy Americans for another six years to help finance more generous tax credits for older and lower-income people.
Whether those last-minute revisions can win a majority on Friday is unclear, setting up a moment of high drama at the Capitol. After years of promises and weeks of negotiations, Republicans are faced with a choice many of them don't want to make: Vote for a bill that doesn't fully repeal Obamacare and, according to a new poll, is even more unpopular than the law it'd replace. "I wish it were over," one exhausted lawmaker conceded with a sigh on Thursday afternoon.
If the vote fails, the end of the GOP's long campaign against the Affordable Care Act might come on Friday—whether the law's most conservative critics want to admit it or not.