Trump's Budget Proposal Cuts NIH Funding by 20 Percent
The question now is how closely congressional lawmakers, who've rallied around the National Institutes of Health in recent years, will follow the president's lead.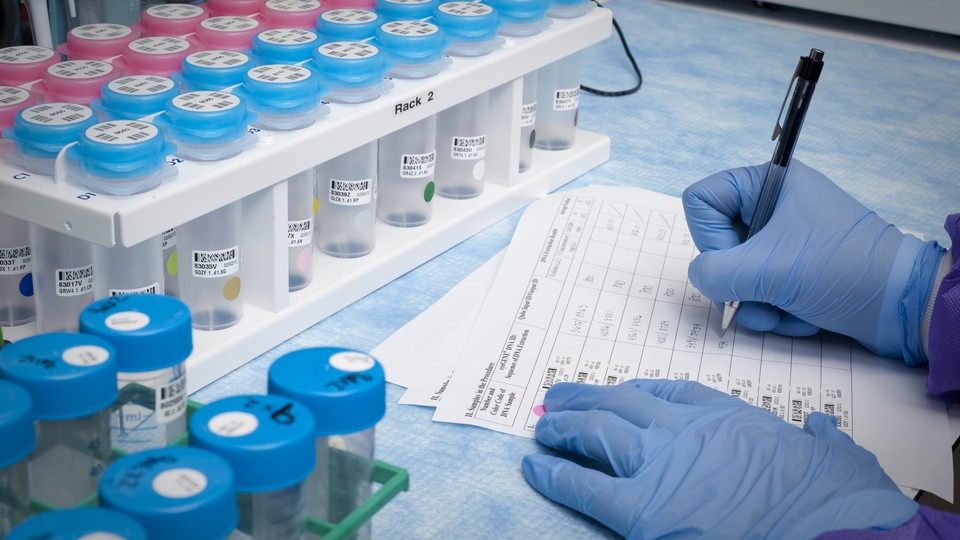 Updated at 11:20 a.m. ET
For the last two years, the National Institutes of Health has represented a rare point of agreement in Washington, with congressional Republicans leading a bipartisan effort to increase its funding.
But the agency, the world's engine of biomedical research, may now find itself in a less comfortable position. In a spending proposal released Thursday, the Trump administration cut roughly 20 percent of the NIH budget, or $5.8 billion. It's a significant departure from the $2 billion increase the agency recently saw—and it's sure to rattle researchers whose work, and livelihoods, depend on public money.
The numbers released Thursday constitute a budget blueprint, and the administration and both chambers of Congress will release their full budgets later this year. But as my colleague Russell Berman notes, the blueprint is still significant, as it shows where the White House's priorities lie and where they don't. This so-called "skinny budget" includes a $54 billion increase in defense spending and major cuts to discretionary domestic programs, like NIH. "The budget includes a major reorganization of NIH's institutes and centers," the administration's proposal reads, "to help focus resources on the highest priority research and training activities. … The budget also reduces administrative costs and rebalance federal contributions to research funding."
The agency, which distributes funding to some 300,000 scientists worldwide, has seen its funding wax and wane over the last 20-odd years. In the late 1990s and early 2000s, Congress doubled its funding each year, infusing the agency with cash. But for years afterward, the budgets stayed stagnant. Funding advocates explain that NIH didn't lose its bipartisan support—other issues, like national defense, simply became more pressing. This hurt the agency's ability to fund scientists' research grants and labs' ability to retain young researchers, and made planning for multi-year projects extremely difficult.
Scientists and NIH officials alike were encouraged by the recent enthusiasm around NIH. In an interview last year, agency Director Francis Collins said he hoped Congress would begin "a trend to get us back on a stable, predictable, upward trajectory." At the time, lawmakers seemed mostly on board with that plan, as the Republican chairs of the relevant funding panels both supported future budget bumps. Congress hasn't settled on funding for the 2017 fiscal year, but legislators planned for another NIH increase of up to $2 billion.
The question now is how closely congressional Republicans will conform to the president's proposal as they craft their own budgets, and how strongly the president's staff will push for this particular cut. In a statement, Representative Tom Cole, who chairs the House funding panel with jurisdiction over NIH, said Congress will take the budget proposal "into consideration," but that "ultimately" Congress will decide "what will get cut and what will be increased." According to STAT News, Cole wants a $2 billion increase for NIH in 2018. Asked for comment, Cole's Senate counterpart, Roy Blunt of Missouri, noted that "there are many concerns with non-defense discretionary cuts" in the budget blueprint. "The president's budget is the first step in the appropriations process."
It's true that there are many more steps to go before final numbers are settled. But for NIH, the president's proposal will nevertheless be unsettling news.