The White House Is Still Standing by Trump's Wiretap Accusation
Just before the administration's daily press briefing, the FBI director told Congress he has "no information" to support the president's claims.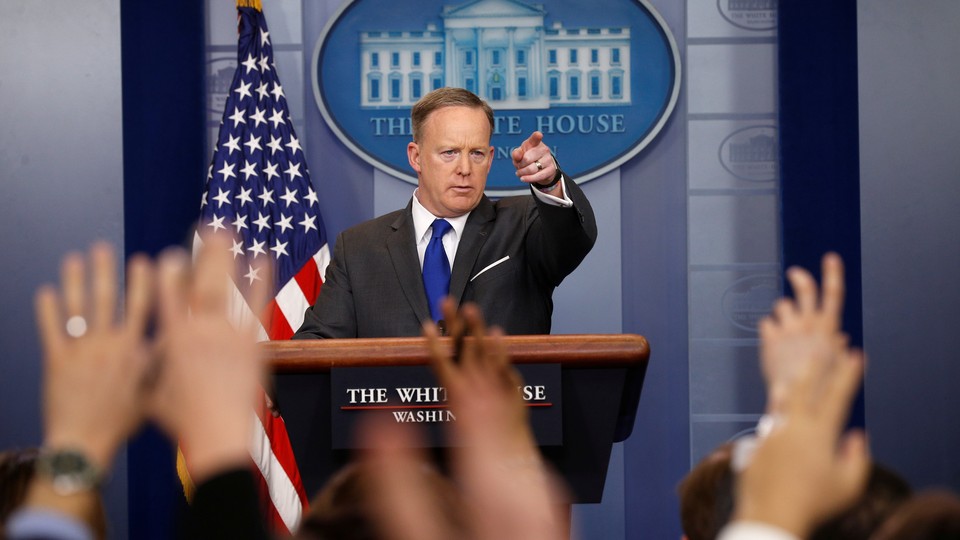 Updated at 5:34 p.m. ET
White House Press Secretary Sean Spicer indicated on Monday that President Trump is sticking with his allegations that former President Obama wiretapped Trump Tower, even after FBI Director James Comey insisted earlier in the day that he himself has "no information" to support that claim.
During a House Intelligence Committee hearing, Ranking Member Adam Schiff asked Comey if Trump's accusations were true. He referred to a March 4 tweet in which the president said, without providing evidence, that he "just found out that Obama had my 'wires tapped' in Trump tower just before the victory." Comey replied that he has "no information that supports those tweets, and we have looked carefully inside the FBI."
A spokesman for Obama has called the claims false, and House Intelligence Committee Chairman Devin Nunes added during the hearing that there was "not a physical wiretap of Trump Tower."
Later in the afternoon, Spicer was asked by a reporter if Trump was "prepared to withdraw that accusation and apologize" to Obama, given Comey's testimony. Spicer said no, and suggested that more information could still come to light. "We started a hearing. It's still ongoing," he said. "I think there's a lot of areas that still need to be covered. There's a lot of information that still needs to be discussed."
Yet while Spicer suggested it's too early to say with certainty whether Trump's wiretapping claims lack evidence, he also seemed to imply that speculation over another matter—potential links between the Trump campaign and Russia—has gone on for too long.
In his testimony, Comey publicly confirmed for the first time that the agency is examining Russia's involvement in last year's election. "The FBI," Comey said, "is investigating the Russian government's efforts to interfere in the 2016 presidential election," including "the nature of any links between individuals associated with the Trump campaign and the Russian government, and whether there was any coordination between the campaign and Russia's efforts."
During the briefing, though, Spicer dismissed the idea that there might have been collusion. "There's a point at which you continue to search for something that everyone who has been briefed hasn't seen or found," Spicer said. "There is no evidence, according to the people that have been briefed, of any collusion or activity that leads them to believe that that exists. I think that is an important point that gets overlooked over and over again," he said. "You can continue to look for something, but continuing to look for something that doesn't exist doesn't matter."
As Spicer noted during his press conference, some former Obama administration officials, including former National Intelligence Director James Clapper and former acting CIA Director Michael Morell, have also publicly remarked on the lack of proof that collusion took place. Nunes, too, recently said he'd seen no evidence over the course of his committee's investigation into the matter. Both the House and Senate intelligence committees are examining Russian involvement in the election, including potential ties to the Trump campaign.
But some congressional Democrats are pushing a different narrative, arguing it's too early to say definitively that there hasn't been collusion—and suggesting there very well may have been.  Schiff, for one, told Chuck Todd on Meet the Press Sunday that "there is circumstantial evidence of collusion" and "direct evidence, I think, of deception."
For now, the investigation continues. Asked during the hearing if it's still early for the inquiry, Comey said he doesn't know "how much longer it will take," but that "this investigation began in late July, so for a counterintelligence investigation that's a fairly short period of time."