Trump: When the President Says It, That Means It's True
The commander in chief embraces a peculiar worldview in which bogus claims are retroactively justified and evidence simply conjured into existence.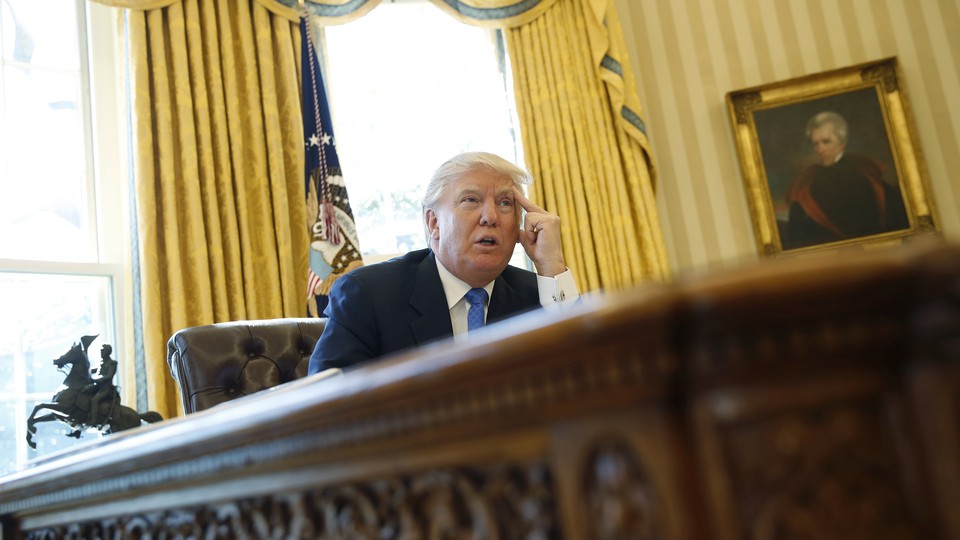 President Trump remains peculiarly fixated on the cover of Time magazine. He has claimed in the past that he holds the record for most covers, but in an interview with Michael Scherer for this week's magazine, the president asked if he was the all-time leader. Scherer had to break the bad news to him: Richard M. Nixon still held the lead—though he added, "He was in office for longer, so give yourself time." "Ok, good. I'm sure I'll win," Trump replied.
The exchange is full of intrigue. Neither man noted that though Nixon was elected to two terms, his presidency was foreshortened by paranoia and lawbreaking. Nor did they note the increasingly frequent comparisons between Nixon's terminal scandal and Trump's own difficulties. But in the course of an interview about Trump's extremely distant relationship with the truth—from obvious lies to head-scratching speculation—the president offered Nixonian maxim of his own.
"I can't be doing so badly, because I'm president, and you're not," he said.
Nixon famously, and incorrectly, told David Frost, "When the president does it, that means that it is not illegal." Trump is offering an even more absurd thesis: When the president says it, that means it's true.
It's Trump's excuse throughout the piece. Time and again, Scherer asks Trump about statements that he has made without evidence, and time and again, Trump insists that something that happened later retroactively justifies the claims he has made, effectively arguing that lies have been alchemically transformed into truths after the fact. Time's cover, the president was surely sad to discover, is not his face but the words, "Is Truth Dead?" over a somber black background.
The problem is that later events don't make things any less false, and in many cases, Trump is also lying about the ex post facto justifications.
Trump says, for example, that after he claimed there was chaos in Sweden, there were riots. "Sweden. I make the statement, everyone goes crazy. The next day they have a massive riot, and death, and problems," Trump told Time. He is off on the details—the riot was two days later—but he is also misleading. His original statement was, "You look at what's happening last night in Sweden. Sweden, who would believe this?" There was still no riot the night before. Even his own standards of retroactive justification, he's only in the vague vicinity of truth.
The same pattern has gone for his claim that Barack Obama "wiretapped" him at Trump Tower. Trump made an outlandish, inflammatory claim with no evidence, and has now sought to prove it after the fact. "I have articles saying it happened," he told Time, but there are no reputable reports justifying his claims, only thinly sourced conspiracy theories. Republicans in Congress and intelligence officials have debunked those reports, and Fox News suspended the legal analyst who made a claim on which Trump was relying. Nonetheless, Trump cited the analyst again in his interview.
Trump also claims that information revealed by House Intelligence Committee Chairman Devin Nunes vindicates his claim. That claim, too, falls apart upon the slightest scrutiny: First, Nunes still says there was no wiretap; second, Nunes's revelation is too vague and sketchy to prove anything; and third, Nunes said that Trump was unaware of the information, showing again that Trump had made his claim without any proof. That's not bold truthtelling—that's misleading the American people.
At other times, Trump simply claims he's been proven right when that has not happened. He continues to claim, falsely, that Muslims celebrated in Jersey City on 9/11. Pressed on that, he told Scherer, "Well if you look at the reporter, he wrote the story in The Washington Post." The reporter, Serge Kovaleski, did not write a story saying what Trump says he did.
The president seems to believe that by saying something, he can conjure it into existence. "I'm a very instinctual person, but my instinct turns out to be right," he said. Trump has lied about millions of people voting unlawfully in the 2016 election. "I think I will be proved right about that too," he said. "We'll see after the committee. I have people say it was more than that. We will see after we have. But there will be, we are forming a committee." Despite speaking of a committee, there doesn't actually appear to be any committee looking into the fraud allegations.
His relationship with the press remains vexed. On the one hand, he calls outlets fake and misleading; on the other, he happily points to press reports, real or imagined, to justify what he cannot prove. That includes the Jersey City claim and the wiretap claim. It also includes Trump's allegation that Ted Cruz's father was involved in the Kennedy assassination.
"Well, that was in a newspaper," Trump said. "No, no, I like Ted Cruz, he's a friend of mine. But that was in the newspaper. I wasn't, I didn't say that. I was referring to a newspaper."
But the "newspaper" in question was the National Enquirer, a tabloid that seldom makes any pretense at accuracy, and even then, Trump "referring" to the paper doesn't change the fact that he said it.
This reaches to the heart of the problem. Having spent his career in business and entertainment, where he could shoot off his mouth with relatively minor consequences, and despite envying the bully pulpit of the presidency for decades and bragging that he is the president, he cannot understand the difference in importance between what a TV personality says and what the president of the United States says publicly. "Is there anything different about making these kinds of predictions without having the factual evidence as president?" Scherer asked. But Trump deflected the question, which he cannot address because he refuses to accept its premise.
My colleague James Fallows wrote Tuesday  that eventually, Trump will require the public to trust him on a matter of urgent national security, and he will not receive the benefit of the doubt. What Trump's Time interview suggests is not simply that he is unworried about eroding public faith in his ability to be truthful. Perhaps that is not because of a blithe ignorance of this looming danger, but because the president is incapable of telling truth and falsehood apart.