What Trump's 2005 Tax Returns Reveal
The president paid roughly $38 million in taxes on $150 million in income that year, the journalist David Cay Johnston reported on Tuesday.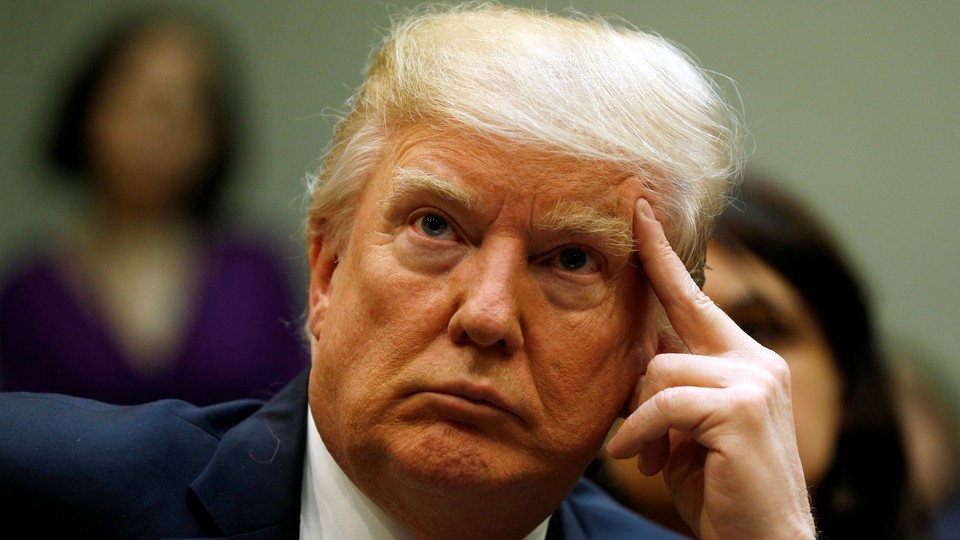 What's in Donald Trump's tax returns?
The simple question has simmered under many of the president's controversies, ranging from his personal wealth (Is he actually as rich as he claims? Does he pay taxes on it?) to his Russia policies (Does he owe money to Kremlin-linked banks?).
On the Tuesday night broadcast of her eponymous show, MSNBC's Rachel Maddow revealed his most recent returns yet: the president's 1040 form from 2005. The document shows him paying roughly $38 million in taxes on $150 million in income that year. She credited David Cay Johnston, a Pulitzer Prize-winning journalist and Daily Beast columnist, with obtaining the documents through an anonymous source in his mailbox.
Fueling the speculation was Trump's break with tradition during the presidential campaign, when he became the first candidate since the Watergate era to not release his personal tax returns. A recent poll found that 74 percent of Americans want him to release them, but Trump frequently cited an ongoing IRS audit as his reason to not make them public. (The IRS said that's not an impediment to their release.) Those evasions transformed the documents into something of a holy grail for journalists and his political opponents, shrouded in mystery and laden with sinister connotations.
The Trump administration fired back before Maddow's show even aired. "You know you are desperate for ratings when you are willing to violate the law to push a story about two pages of tax returns from over a decade ago," the White House said in a statement. "The dishonest media can continue to make this part of their agenda, while the President will focus on his, which includes tax reform that will benefit all Americans."
The White House's ire notwithstanding, the 2005 return isn't really a bombshell. The two pages show tax information one would expect for someone with Trump's wealth and businesses. He paid roughly $5.3 million under regular federal income tax guidelines—a pittance for someone with his reported fortune—but also paid $31 million in what's known as the "alternative minimum tax," bringing his federal payment that year to about 25 percent of his income.
Trump's tax plan released during his campaign vowed to eliminate "the Alternative Minimum Tax (AMT) while providing the lowest tax rate since before World War II." One thing the return does reveal is that, at least in 2005, that change might have lowered Trump's effective tax rate from 25 percent to just 4 percent.
The Wall Street Journal previously reported that Trump granted a conservation easement in 2005 that could have wiped out as much as $39.1 million in taxable income—a step likely timed to offset gains that year. The form released on Tuesday shows more than $103 million in deductible losses, perhaps including the $14.6 million portion of that easement that could have been deducted that year, or losses reported on his 1995 forms and carried forward. It also shows that Trump checked the box for $3 of his taxes to be funneled into the presidential election campaign fund—in a year when fewer than one in 10 filers did the same.
The biggest questions around Trump's taxes—the sources of his income, the nature of his investments, and the deductions he's claimed among them—aren't answered on these two sheets of paper released on Tuesday night. If answers to those questions exist in Trump's tax returns, they're spelled out on the schedules, forms, and supplemental materials that would have been filed along with the two pages released on Tuesday. And unless someone chooses to mail the rest of those materials to a journalist like Johnston, or Trump decides or is compelled to release them on his own, those questions will persist.