Congress Battles Over Sessions as Trump Expresses Confidence
The president told reporters on Thursday he has "total" confidence in his attorney general, who faces controversy over his Russia contacts.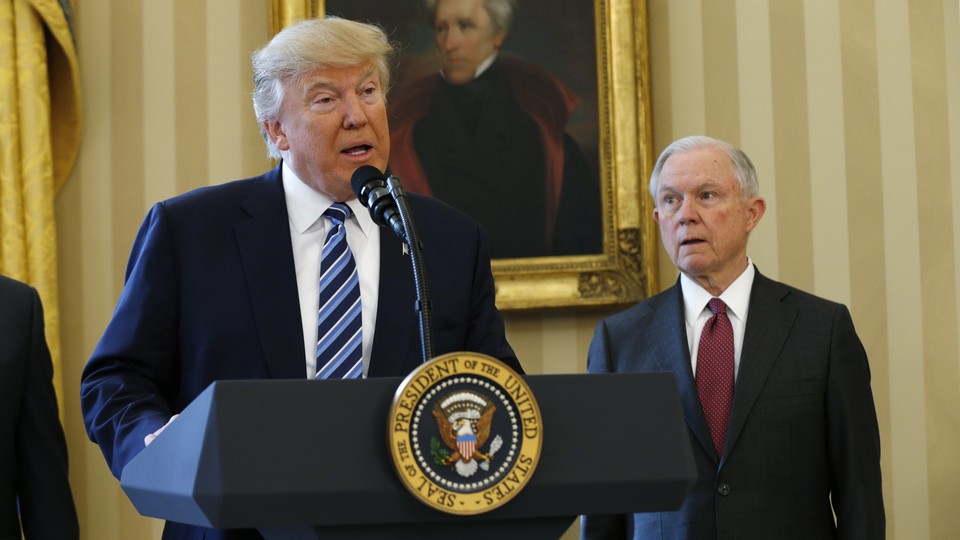 Shortly after President Trump expressed "total" confidence in his attorney general, Jeff Sessions announced he would recuse himself "from any existing or future investigations of any matters related in any way to the campaigns for president of the United States." That statement came as Sessions faces criticism from Democratic lawmakers following reports that he did not disclose contacts he had with the Russian ambassador during his confirmation hearing last month.
Earlier on Thursday, Trump told reporters he did not think Sessions, a former campaign adviser, needed to step aside, his opinion standing in stark contrast to that of several top congressional Republicans. They had called for Sessions to recuse himself from the reported federal investigation into potential ties between Trump associates and Russian officials during the 2016 presidential campaign. Meanwhile, a chorus of congressional Democrats has called on him to resign from his post. A Washington Post report published Wednesday evening set off the controversy, by detailing two encounters between Sessions and Russian ambassador Sergey Kislyak last year.
Trump has publicly stood by his attorney general, who previously served as an Alabama senator. According to a report from the White House press pool, when Trump was asked if he still has "confidence in the attorney general," he replied: "Total." Pressed on whether Sessions should recuse himself, Trump said, "I don't think so." The president added that he "wasn't aware of" Sessions's contact with the ambassador "at all," but added that he believes Sessions "probably" testified truthfully.
Sessions, for his part, has denied wrongdoing. The attorney general and his spokespeople have argued that the answers he provided during his confirmation hearing were truthful because he was asked about contacts between Russian officials and the Trump campaign. His communications with the ambassador, his spokeswoman Sarah Isgur Flores said, had been in his capacity as a U.S. senator and member of the Armed Services Committee.
In a statement released on Wednesday, Sessions claimed to have "never met with any Russian officials to discuss issues of the campaign." He added that he has "no idea what this allegation is about," and called it "false." "There was absolutely nothing misleading about his answer," Flores told the Post.
During a press conference on Thursday, Sessions said: "Let me be clear, I never had meetings with Russian operatives or Russian intermediaries during the Trump campaign." He also released a statement noting that "during the course of the last several weeks, I have met with the relevant senior career department officials to discuss whether I should recuse myself from any matters arising from the campaigns for president of the United States." Having finished those meetings, Sessions "decided to recuse" himself.
During Sessions's January confirmation hearing, Democratic Senator Al Franken asked Sessions what he would do "if there is any evidence that anyone affiliated with the Trump campaign communicated with the Russian government" during the 2016 election. Sessions replied that although he had been called a Trump campaign surrogate, he did "not have communications with the Russians." Democrats have argued that exchange amounts to lying under oath, while some Republicans have defended Sessions. Senator Ted Cruz told MSNBC that while Sessions "should have been more clear" during his confirmation hearing, "at the end of the day, I don't think there's any there there." The Texas Republican added: "The notion that there was something somehow wrong with a senior senator on the Armed Services Committee meeting with a foreign ambassador, I think that's a nothingburger."
The Post's report states that Sessions had a "private conversation" with the Russian ambassador in his Senate office in September and spoke with the ambassador after an event in July. The AP confirmed that "Sessions had two conversations with the Russian ambassador to the United States during the presidential campaign season last year" in its own report.
The controversy surrounding Sessions comes less than a month after Trump's National Security Adviser Michael Flynn resigned, after it was revealed that he had misled the administration about his own contacts with the Russian ambassador.
In January, the U.S. intelligence community concluded that Russian President Vladimir Putin directed a campaign aimed at interfering with the 2016 presidential election, which sought to undercut Democratic candidate Hillary Clinton and sow doubt regarding the credibility of the American democratic process. A report released that month by the Office of the Director of National Intelligence asserted that during that time "Putin and the Russian government developed a clear preference for President-elect Trump."