Republicans Can't Find the Votes for Their Health-Care Bill
Party leaders postponed a House vote Thursday after President Trump and Speaker Paul Ryan failed to win enough support.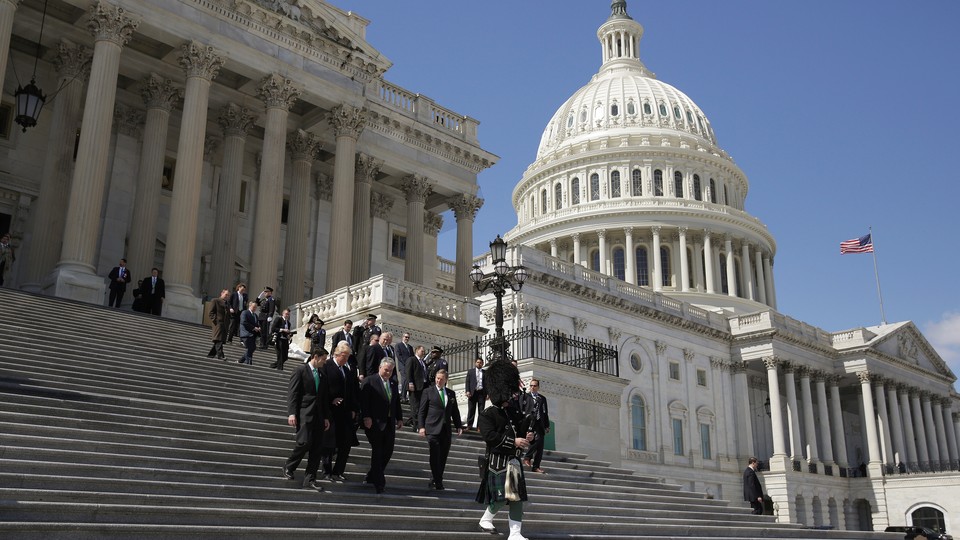 Updated on March 23 at 4:28 p.m. ET
Lacking the majority needed to pass their bill to replace the Affordable Care Act, House Republican leaders have postponed a planned Thursday vote, imperiling President Trump's first major legislative priority.
The move was an indication that a series of meetings Trump and Speaker Paul Ryan had with reluctant members in the party's conservative and centrist wings had failed to achieve a consensus. Members of the House Freedom Caucus left a meeting with the president early in the afternoon saying there was "no deal" as they pushed Ryan to move the bill further to the right. And for Trump and Ryan, the delay dashed their hope of voting to dismantle the law on the seventh anniversary of its signing by former President Barack Obama.
GOP leaders summoned all 237 Republicans to a 7 p.m. meeting in the Capitol to discuss possible changes to the American Health Care Act, and lawmakers said the party still hoped to hold procedural votes on the bill on Thursday night, with final passage on Friday. But even that plan was tentative, and tensions within the Republican conference were rising as the chances grew that the GOP would whiff on its longstanding promise to repeal and replace Obamacare.
"The days of talking are over. It's time to vote," said Representative Bradley Byrne of Alabama, a strong supporter of the GOP plan. "The longer we wait, the worse our chances get."
Leadership officials were increasingly frustrated with the Freedom Caucus, which withheld its support even after winning Trump's support for a change that would strip out Obamacare's requirement that insurance plans cover maternity care, mental-health treatment, preventive services, and a host of other "essential health benefits" defined in the law. One leadership aide questioned whether Representative Mark Meadows of North Carolina, the group's leader, could deliver its roughly three dozen votes after personally promising the president he would. A Meadows aide said the Freedom Caucus was pushing for even broader changes that would repeal the insurance regulations forbidding discrimination based on preexisting conditions and lifetime-coverage limits. But that is a non-starter for many House Republicans, and party leaders believe a bill that broad could not pass.
Members like Byrne wanted the leaders to simply put the bill up for a vote, gambling that many of the rank-and-file lawmakers who have withheld their support wouldn't dare let it go down in defeat in such dramatic fashion. "As a Republican, you've got one choice," he said. "You either are going to vote with Donald Trump to repeal and replace Obamacare, or you're going to vote with Nancy Pelosi to defeat the only bill to repeal and replace Obamacare. If you're a Republican, that's a pretty simple choice."
While the Freedom Caucus bargained for more conservative provisions, more moderate Republicans were peeling off the bill. Representatives Jaime Herrera Beutler of Washington state and Mark Amodei of Nevada declared their opposition on Thursday, and Trump planned to meet at the White House with the Tuesday Group, a coalition of moderates.
The announcement of the delay appeared to catch even the president unaware. Moments after the news broke, Trump told a group of truckers at the White House that the vote would still be held on Thursday. "We'll see what happens," he said. "It's going to be a very close vote." Earlier in the day, Press Secretary Sean Spicer was guaranteeing a victory. "It's gonna pass. So that's it," he told reporters.
Thursday's push came after Ryan spent more than two hours Wednesday night meeting with more than a dozen members of the Tuesday Group and lawmakers representing swing districts. The pow-wow was inconclusive. The Republicans slipped out of the Capitol without speaking to reporters, and immediately after he left, Representative Charlie Dent of Pennsylvania, a co-chairman of the Tuesday Group, instructed his staff to release a statement formally opposing the leadership's bill.
"I believe this bill, in its current form, will lead to the loss of coverage and make insurance unaffordable for too many Americans, particularly for low-to-moderate income and older individuals," Dent said. "We have an important opportunity to enact reforms that will result in real health-care transformation—bringing down costs and improving health outcomes. This legislation misses the mark."
The GOP bill, which would replace the ACA's subsidies with less generous tax credits while repealing its insurance mandates, has run into opposition from across the political spectrum. Aside from the Chamber of Commerce, most industry groups have lined up against it. And despite the president's hearty support, conservative activists and the billionaire Koch brothers say it falls far too short of a full repeal and have vowed to punish Republicans who support it.
Perhaps the biggest challenge for Republicans is that the bill as written appears to lack any defined constituency in their districts. A Quinnipiac University poll released on Thursday found just 17 percent of respondents supported the American Health Care Act based on what they had heard about it, and opponents outnumbered those in favor by a three-to-one margin. That would make the plan far more unpopular than Obamacare was even at its lowest point. But it jibes with what conservative critics in Congress have reported: For every call they receive in support of the bill, hundreds of constituents are urging them to vote it down. "The people back home are not sold on what we're doing yet," Representative Pete Sessions of Texas, chairman of the House Rules Committee, said Wednesday on CNN.
Late Thursday afternoon, the Congressional Budget Office released a revised estimate of the GOP bill's cost after amendments were added earlier in the week. The nonpartisan scorekeeper found that the changes to Medicaid and tax policy would cost nearly $200 billion more over a decade than the original bill, but they would have little effect on insurance coverage or premiums. The CBO is still estimating that 24 million fewer people would have health insurance by 2026 and that average premiums would rise in the first couple years after the passage of the bill before falling by about 10 percent over a decade.
Depending on how many lawmakers vote, Republicans can lose no more than 21 or 22 votes on their side and still achieve a majority. Democrats will vote en masse against the bill. Public whip counts put the defections at well over that number, but party leaders can still cross the threshold if they flip the group of conservative opponents led by Meadows. The bill would still need to pass the Senate, which would be an even more Herculean task for GOP leaders, considering they have a narrow, 52-48 seat majority and several Republicans have also declared the House plan unacceptable.
In a scene reminiscent of the fiscal showdowns of the Obama years, lawmakers spent most of Wednesday and Thursday waiting in their offices awaiting news of a deal. One member of the Freedom Caucus, Representative David Schweikert of Arizona, even wandered over to Ryan's office in the Capitol Wednesday night to ask the assembled reporters what they heard. When they told him there was no news, he began pitching them on his own plan to fix the nation's health-care system, which the leadership had ignored. On Thursday, another lawmaker could be overheard complaining that she would have to miss a trip to Disney World if the vote was delayed a day.
Sidelined from negotiations, all Democrats could do was watch, wait, and try to stoke more public support for a law that is finally gaining in popularity just as it sits on the precipice of repeal. Nancy Pelosi, the former House speaker whose success shepherding Obamacare to passage ultimately helped relegate her to minority leader, mocked Trump and Ryan for stumbling in their headlong rush to schedule a vote before they knew their bill could pass. "Rookie's error, Donald Trump," she told reporters Thursday morning. "Rookie's error for bringing this up on a day when clearly you weren't ready."
A day earlier, former Vice President Joe Biden returned to the Capitol to appear with Pelosi and other Democratic leaders at a rally heralding the Affordable Care Act and denouncing the GOP attempts to eviscerate it. "This is not going to pass," he predicted. And on Thursday, former President Obama issued a rare public statement to commemorate the law that bears his name.
"The reality is clear: America is stronger because of the Affordable Care Act," he said. The statement continued:
There will always be work to do to reduce costs, stabilize markets, improve quality, and help the millions of Americans who remain uninsured in states that have so far refused to expand Medicaid. I've always said we should build on this law, just as Americans of both parties worked to improve Social Security, Medicare, and Medicaid over the years. So if Republicans are serious about lowering costs while expanding coverage to those who need it, and if they're prepared to work with Democrats and objective evaluators in finding solutions that accomplish those goals—that's something we all should welcome. But we should start from the baseline that any changes will make our health-care system better, not worse for hardworking Americans. That should always be our priority.
For Republicans, Obama's statement might serve only to remind them of what they are trying to do—repeal and replace the ACA in accordance with their repeated promises to voters. The current president, meanwhile, continued to tout the bill—though almost entirely without specifics. "Call your local representative or senator: Let them know you're behind our plan," Trump said in a video posted on Twitter Thursday morning.
He said nothing about what was actually in the Republican bill, and as party leaders spent the day searching for last-minute votes, its fate looked increasingly uncertain.