The Contacts Between Trump Associates and Russia: A Timeline
A comprehensive guide to reported encounters between the president's aides and Putin's government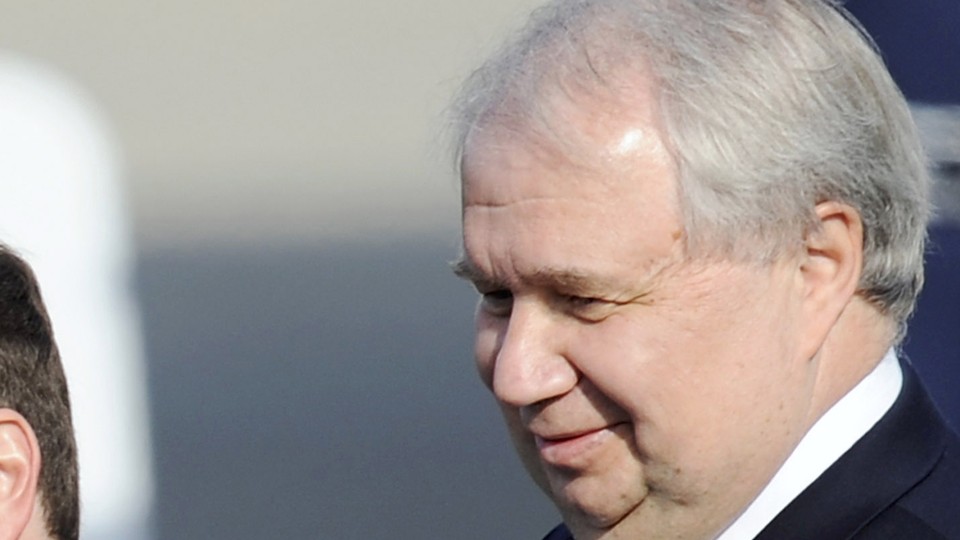 It's a diplomat's job to meet people, and Sergey Kislyak, the Russian ambassador to the United States, seems to be good at it.
Moscow's longtime representative in Washington is now at the center of an American political firestorm for his meetings with top Trump campaign officials during the course of the 2016 presidential election. It's not unusual for foreign diplomats to mix with American officials and political operatives—in fact, it's among their chief responsibilities. But these encounters came amid what the intelligence community has described as an unprecedented Russian cyberwarfare campaign to undermine both Hillary Clinton's presidential campaign and the American electoral system.
Kislyak's meetings have already had profound political consequences for the nascent Trump administration. President Trump fired Michael Flynn, his national security adviser, last month for misleading the White House about his contacts with the Russian diplomat during the transition. Two weeks later, Attorney General Jeff Sessions recused himself from overseeing the federal investigation into Russian interference after reports of his meetings with Kislyak surfaced—meetings that Sessions had not informed the Senate Judiciary Committee about during his confirmation.
To understand who met whom, when they met each other, and the context surrounding their meetings, here's a timeline of the encounters between Trump associates and Kislyak—the trivial, the not-so-trivial, and more.
February 1: The Iowa caucuses are held, marking the official start of the 2016 presidential primary season. Hillary Clinton wins the Democratic caucus, while Donald Trump takes second place in the Republican contest.
February 28: Jeff Sessions, then a U.S. senator from Alabama and now the attorney general, formally endorses Trump for president. He becomes a high-profile surrogate during the Republican primaries, and the campaign subsequently names him chair of Trump's national-security advisory committee on March 3.
April 27: Trump briefly meets Kislyak in a pre-event reception line shortly before Trump delivers a major foreign-policy speech at an event hosted by the Center for the National Interest in Washington. Kislyak was among a group of ambassadors invited by the center to attend the event. Sessions was also in attendance, although there's no evidence he met Kislyak at the reception.
"The line moved quickly and any conversations with Mr. Trump in that setting were inherently brief and could not be private," the center said in a March 8, 2017, statement. "Our recollection is that the interaction between Mr. Trump and Ambassador Kislyak was limited to the polite exchange of pleasantries appropriate on such occasions."
May 4: Trump becomes the presumptive Republican nominee for president after Texas Senator Ted Cruz and Ohio Governor John Kasich withdraw from the race.
June 6: Clinton secures enough delegates to become the presumptive Democratic nominee for president.
June 14: The Democratic National Committee publicly reveals that Russian hackers had broken into the party's servers and accessed emails and opposition research.
July 7: Carter Page, a national-security adviser for the Trump campaign, speaks at a graduation ceremony at the New Economy School in Moscow. During the speech, Page criticized the U.S. and other Western powers for "[impeding] potential progress through their often hypocritical focus on ideas such as democratization, inequality, corruption and regime change." Politico later reported that Corey Lewandowski, the Trump campaign manager at the time, signed off on the trip as long as Page didn't make it as an official campaign representative.
July 18: Sessions briefly speaks with Kislyak at a Heritage Foundation event on the first day of the Republican National Convention in Cleveland, Ohio. According to the Washington Post, the meeting occurred when Sessions met with Kislyak and a small group of other foreign dignitaries after delivering remarks.
At the same event, Kislyak also separately meets and speaks with Page and J.D. Gordon, two national-security advisers to the Trump campaign. Gordon told USA Today it was an "informal conversation," while Page said he had "no substantive discussions" with the ambassador.
July 21: Trump formally accepts the Republican nomination for president on the last day of the convention.
July 23: Wikileaks publishes 22,000 emails stolen from the Democratic National Committee on the eve of the Democratic National Convention in Philadelphia, Pennsylvania. DNC chair Debbie Wasserman Schultz resigns after some of the emails appear to show her favoring Clinton over Vermont Senator Bernie Sanders, reopening political wounds between the two factions.
July 27: In what would be his last press conference before Election Day, Trump urges Russian intelligence agencies to find emails Clinton deleted from the private server she used during her tenure as secretary of state. "Russia, if you're listening, I hope you're able to find the 30,000 emails that are missing," he said. "I think you will probably be rewarded mightily by our press." In a subsequent tweet, he also calls on Russia to share any Clinton emails it finds with the FBI.
July 28: Clinton formally accepts the Democratic nomination for president.
September 8: Sessions privately meets Kislyak at Sessions' Senate office in the presence of his Senate staff. In a letter to the Senate Judiciary Committee on March 6, 2017, Sessions told lawmakers he "[does] not recall any discussions with the Russian Ambassador, or any other representative of the Russian government, regarding the political campaign on these occasions or any other occasion."
October 7: U.S. intelligence officials publicly accuse the Russian government of trying to interfere in the 2016 election by hacking the Democratic National Committee and other American political organizations. Later that afternoon, the Washington Post publishes tapes from a 2005 Access Hollywood appearance in which Trump brags about committing sexual assault. A few hours after the Post story goes online, Wikileaks publishes thousands of hacked emails from Clinton campaign manager John Podesta's email account.
October 28: FBI Director James Comey sends a letter to members of Congress informing lawmakers the agency is reviewing emails related to Clinton's use of a private server. He subsequently announces the agency will take no new action against Clinton on November 6.
November 8: Trump defeats Clinton in the general election.
November 17: Trump names Michael Flynn to be his national security adviser.
November 18: Trump announces he'll nominate Sessions to be attorney general.
Early December: Flynn and Jared Kushner, Trump's son-in-law, privately meet with Kislyak at Trump Tower in New York City. White House spokeswoman Hope Hicks told the New York Times in March 2017 that the meeting lasted 20 minutes and that its purpose was to "establish a line of communication" between the Russian government and the new administration.
December 9: President Obama orders U.S. intelligence agencies to provide him with a report on Russian interference during the election by January 20.
December 29: The Obama administration expels 35 Russian diplomats from the United States and announces new sanctions against the Russian government for its role in the DNC and Podesta hacks. That same day, Flynn speaks with Kislyak multiple times by phone. Their conversations are reportedly discovered by U.S. intelligence officials monitoring the ambassador's calls, and become part of the broader federal investigation into the Russian government's contacts with the Trump campaign.
December 30: Russian President Vladimir Putin says his country would not retaliate against the U.S. sanctions, claiming Russia "will not stoop to the level of irresponsible 'kitchen' diplomacy." Shortly after the announcement, Trump tweets, "Great move on delay (by V. Putin) - I always knew he was very smart!"
January 6: In a 26-page report released by Director of National Intelligence James Clapper, the U.S. intelligence community concludes the Russian government carried out cyberattacks and leaked stolen documents to harm Clinton's candidacy and undermine confidence in the American democratic system.
January 11: Five days after being briefed by U.S. intelligence officials, Trump tells reporters, "As for the hacking, I think it was Russian," his first assignment of blame to Moscow after months of equivocation.
January 20: President Trump is sworn in as the 45th president of the United States. Kislyak, along with other members of the diplomatic corps, is in attendance.