Trump Threatens a 'Fight' Against the Freedom Caucus
On Thursday, the president appeared to suggest that members of the conservative hardline group in Congress should face primary challenges if they defy him.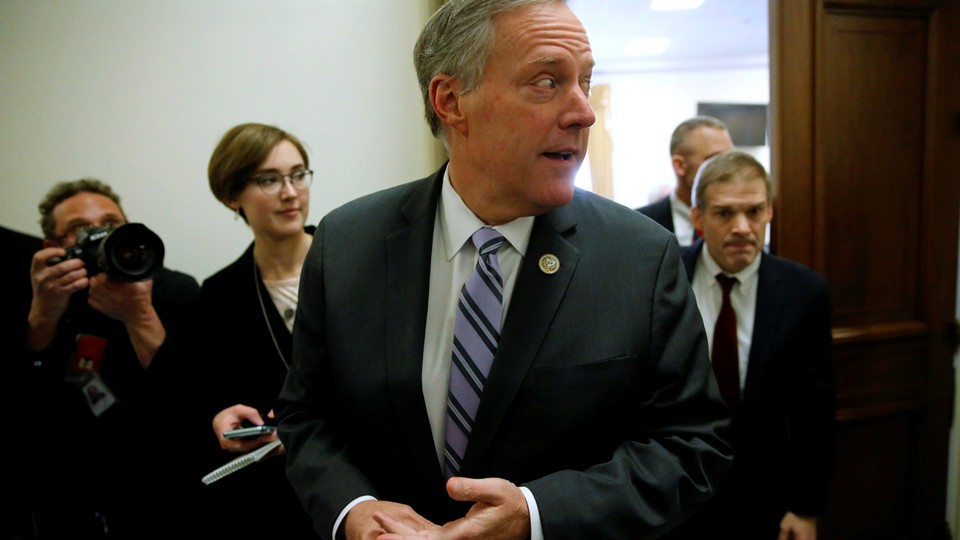 Updated on March 30, 2017 at 5:57 p.m.
Donald Trump is escalating his attacks on hardline conservatives in Congress in for a fight that could deepen the rifts within the Republican Party that already threaten to hobble the president's agenda.
On Thursday, Trump tweeted: "The Freedom Caucus will hurt the entire Republican agenda if they don't get on the team, & fast." He added: "We must fight them, & Dems, in 2018!"
It is highly unusual for a president to call for a fight against members of his own party. The president has not publicly said he would support any primary challenges to members of the House Freedom Caucus in the upcoming midterm elections. But if nothing else, the incident signals that the so-called GOP "civil war" is far from over, even if Trump's election did hand the Republican Party control of Congress and the White House.
Intraparty divides have risen to the surface in the aftermath of the election and appear poised to jeopardize Trump's priorities. The difficulty of finding common ground between competing factions within the GOP was clear last week when House Speaker Paul Ryan announced there would not be a vote on a Republican health care bill, which represented the legislative culmination of the GOP's years- long protest against Obamacare, after failing to amass adequate support from conservatives and moderates.
After the health care effort unraveled, Trump quickly started to pin the blame on the Freedom Caucus. Over the weekend, he painted the hardline conservative group as an ally to Democrats, tweeting: "Democrats are smiling in D.C. that the Freedom Caucus, with the help of Club for Growth and Heritage, have saved Planned Parenthood & Ocare!" On Thursday, Trump's line of attack was similar as he went after both Democrats and the Freedom Caucus at the same time.
Later in the day, the president started singling out individual Republican members of the caucus in a series of tweets urging them to support his health care push.
Trump may believe that putting public pressure on the Freedom Caucus, and Democrats, will help him win leverage for legislative battles ahead. In the wake of the health-care bill's collapse, the administration has signaled that it intends to pursue tax reform, and an infrastructure spending deal. But the president's public attacks on conservatives and Democrats may actually make it harder for him to find congressional support for his legislative wishlist.
To start, Trump does not seem to be giving conservatives in Congress much of a reason to work with him. The president may back hardline conservatives into a corner where they feel they have no choice but to oppose him so long as he continues to publicly attack them.
That scenario appears to have played out on a small-scale during the recent health-care debate. Trump reportedly went after GOP Representative Mark Meadows, the current chair of the Freedom Caucus, during a closed-door meeting over the group's resistance to the legislation, threatening to "come after" the congressman "big time." In a post-mortem of the legislation's defeat, Politico's Tim Alberta explains how that strategy backfired. "That was the biggest mistake the president could have made," a Freedom caucus member told Alberta. "Mark desperately wanted to get to yes, and Trump made it impossible for him. If he flipped after that he would look incredibly weak."
The House Freedom Caucus is, after all, made up of members who have built a reputation for themselves as anti-establishment agitators. Members of the group might be particularly careful to avoid any appearance that they're caving to Trump's demands as a result. In a sign of defiance, Representative Justin Amash, a member of the caucus, responded to president's tweet on Thursday by suggesting that Trump may have already sold out to the establishment.
If Trump can gin up grassroots opposition against the House Freedom Caucus that would put pressure on its members to fall in line. But one reason to doubt the possibility of any serious primary challenges is the fact that, as David Daley recently argued in The Washington Post, "gerrymandering efforts have made Meadows and the rest of his Freedom Caucus electorally invincible." Politico also reported that Meadows was "hailed as [an] anti-Obamacare hero"by constituents in his congressional district for his role in the healthcare debate.
The Trump vs.  Freedom Caucus fight is a reminder that anti-establishment sentiment alone doesn't necessarily provide a foundation for agreement on ideological principles or a policy agenda. Trump ran on a populist message that Washington is broken, and Freedom Caucus conservatives rail against Washington power brokers, but that doesn't mean the president and the Freedom Caucus see eye-to-eye on policy. What happens next may provide clues as to which strain of ideology has more support within the Republican Party.
Trump may decide to turn to Democrats for help if he alienates conservatives. Former House Speaker John Boehner pursued that strategy to a certain extent, looking to members of the other party to help pass legislation when he could not win support from hardline conservatives. Ultimately, however, the speaker resigned his post amid escalating intransigence from House conservatives. For its part, the administration has suggested Trump might work with Democrats after the collapse of the health care bill. "I think it's time to potentially get a few moderate Democrats on board," White House chief of staff Reince Priebus told Fox News Sunday.
But congressional Democrats have few incentives to work with Trump either given his rock-bottom approval ratings among Democratic voters. Democratic lawmakers will likely feel even less compelled to consider the possibility of cooperation if Trump keeps up his attacks on them.
Even so, the mere possibility that the White House might consider negotiating with Democrats appears to have already exacerbated tensions within the GOP. In an interview to air on Thursday, House Speaker Paul Ryan reportedly expressed opposition to the idea of Trump working with members of the opposing political party.
"I don't want that to happen," Ryan said, according to Reuters. Republican Senator Bob Corker appeared to take issue with those comments earlier on Thursday when he tweeted: "We have come a long way in our country when the speaker of one party urges a president NOT to work with the other party to solve a problem."