'A Loss Is Not Acceptable, Folks'
President Trump warns House Republicans they could lose their majority in 2018 if they don't pass the leadership's health-care bill on Thursday.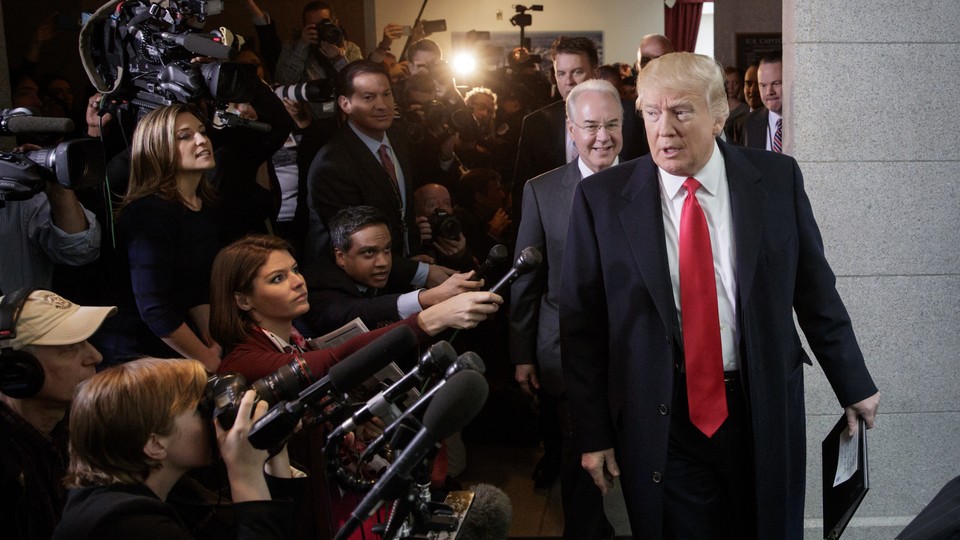 Updated on March 21 at 5:15 p.m. ET
President Trump tried negotiating with conservatives on health care.
He brought them to the White House and treated them to a night of bowling. He listened to their concerns about Speaker Paul Ryan's American Health Care Act. With his customary fanfare, Trump even made the House leadership—despite their initial protests—rewrite key portions of their bill to appease the right. The revised version cuts Obamacare's taxes sooner, allows states to make the able-bodied poor work for Medicaid, and ensures that people can't use its new tax credits to pay for abortions.
On Tuesday, however, Trump ditched the policy sweet talk and turned to political brass tacks: He came to Capitol Hill and warned fence-sitting House Republicans to support his bill, or else voters will sweep them out of power.
"Many of you came in on the pledge to repeal and replace Obamacare. I honestly think many of you will lose your seats in 2018 if you don't get this done," the president told lawmakers inside a private party meeting, according to a Republican in the room. Predicting that Democrats would retake the House in 2018 if Republicans "blow it" on health care, Trump then singled out the bill's loudest critics: Representative Mark Meadows and the House Freedom Caucus. The president asked Meadows to stand up and urged him to get on board. "Because honestly," Trump told them, "a loss is not acceptable, folks."
Trump's hard sell sets up the highest of stakes for the House vote on Thursday: Defeat after such a direct plea would be a humiliating loss for the president, jeopardizing not only the GOP's pledge to repeal the Affordable Care Act but other key elements of his domestic agenda as well. As Trump has lamented, his hopes for enacting a comprehensive tax-reform bill rest on the passage of healthcare legislation.
Republican leaders loved the president's message, knowing that only he has the standing among the party base to threaten recalcitrant members who fear Trump's bully pulpit. "The president just came here and knocked the ball out of the park," Ryan gushed. "He knocked the cover off the ball."
Yet the speaker, in a press conference after the meeting, also acknowledged how much he stands to lose if the bill goes down:
The president was very clear. He laid it on the lines for everybody. We made a promise. Now is the time to keep our promise. If we don't keep our promise, it will be very hard to manage this.
One of the bill's authors, Chairman Greg Walden of the House Energy and Commerce Committee, was more blunt: "This is a make-or-break vote. I'm not aware of any Plan B," he told the radio host Hugh Hewitt.
Did Trump's pitch work? Not with Meadows, who told reporters after the meeting that he still opposed the bill and that the leadership lacked the votes to pass it.
Nor did the changes Trump negotiated with Republican leaders appease a pair of key conservative activist groups. Moments after he left the Capitol, the Club for Growth announced it would buy $500,000 worth of ads in the districts of 10 swing Republicans to urge them to oppose "RyanCare." Soon after, Heritage Action declared it would penalize Republicans who vote for the legislation on its annual scorecard. Industry groups representing hospitals, doctors, and many insurers remain opposed despite the changes, as does the AARP.
With Democratic support out of the question, Republican leaders can lose up to 21 votes on their side and still pass the AHCA with a bare majority of 216 votes. Unofficial whip lists have identified as many as 17 GOP lawmakers publicly opposed to the bill, with dozens more undecided. The leadership did flip several votes in the last few days. After changes to the legislation were announced, one group of four members announced their support. Other vote counts claimed there was already enough to defeat the bill without further changes.
In a sign that Trump was not as persuasive as he needed to be, conservative lawmakers began reiterating their opposition as Tuesday wore on. Representative Thomas Massie of Kentucky said he was still a 'no' vote, as did Representative Mark Sanford of South Carolina. Another member of the Freedom Caucus, Representative Rod Blum of Iowa, declared his opposition on Twitter and said the bill doesn't do enough to lower premiums. "We're rushing this thing," Sanford said in a video posted by the conservative group FreedomWorks. He said conservatives were pushing the leadership to repeal the provisions of Obamacare listing the "essential health benefits" that insurance plans cover. Party leaders have said doing so would jeopardize the bill in the Senate, where budget reconciliation rules limit the changes Republican can make while passing a bill with fewer than a filibuster-proof 60 votes.
Trump and Ryan also agreed to sweeteners for moderates, including a change to Medicaid funding in New York that won the support of nearly every Republican from the president's home state. The Empire Earmark (or Tammany Haul, depending on your preferred nickname) would bar federal reimbursements for Medicaid funds raised by counties north outside New York City, a $2.3 billion carveout aimed at members representing upstate.
New York Governor Andrew Cuomo immediately denounced the provision as "a deathtrap" that would blow a hole in the state's budget. "The cut is so severe that the majority of hospitals, nursing homes and assisted living facilities located in Upstate New York and on Long Island would be devastated," he said in a statement. "How a county executive could believe their county could prosper while losing hundreds if not thousands of jobs and seeing the decimation of their health care system is beyond me."
As tenuous as the bill's standing is in the House, it faces an even rockier path in the Senate, where both conservatives and moderates have lined up against the plan. Senator Rand Paul of Kentucky has waged an all-out campaign in opposition, hoping that defeat in the House will force Trump and Republican leaders to start over with a straight repeal of Obamacare.
Trump isn't worried about the Senate yet. As he told a crowd in Kentucky on Monday night, he just wants to get a bill passed there "in some form." The battle over the American Health Care Act right now is in the House, and despite Trump's impassioned plea, its passage, and the fate of the president's broader agenda, remain very uncertain indeed.