Trump's Unbalanced Homeland Security Budget
The president prioritized border security and immigration enforcement in his blueprint, but it risks coming at the expense of other equally important priorities.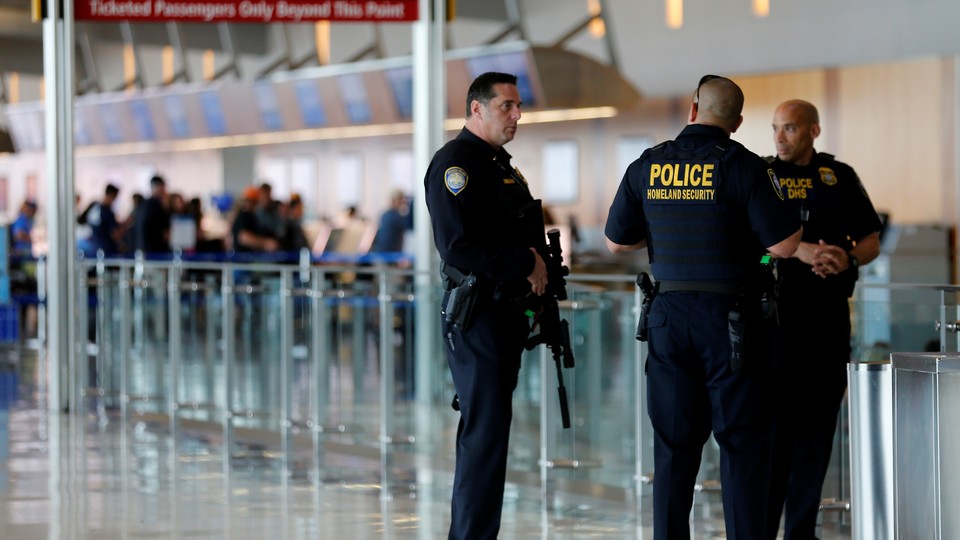 Last week, President Trump released the broad outlines of his budget blueprint for the Department of Homeland Security. Unsurprisingly, there is a strong focus on border security and interior immigration enforcement. As these discussions continue, however, the administration must also ensure these priorities do not come at the expense of other agencies that keep the American people safe.
Indeed, paying for border security and interior enforcement by cutting funds to the Transportation Security Administration and Federal Emergency Management Agency, and capping investments in agencies like the United States Secret Service and the United States Coast Guard is akin to double-locking your front door, but leaving your side door open—and your windows, and your garage door, and turning off your alarm.
Homeland Security secretaries have strongly advocated for a risk-based approach to national security. Threats to the United States are too varied, vulnerabilities too challenging, and potential consequences too damaging, to focus exclusively on one threat at the expense of all others. While border security and interior immigration enforcement are important priorities, they cannot come at the expense of terrorism prevention, narcotics and migrant interdiction at sea, and disaster preparedness.
The recently released budget blueprint, which requests a $54 billion increase in defense spending, makes dramatic reductions to vital agency budgets while flatlining others. For one, it calls for TSA to reduce its funding for efforts that include supporting state and local law enforcement officers at airport checkpoints, and conducting visible patrols in mass transit systems using bomb-sniffing dogs, bag searches, and other techniques at train and bus stations, ports, and other transportation hubs. This at a time when TSA just announced enhanced security measures. Just last year, Congress doubled the number of these teams, both in airports and in train stations. What's more, the blueprint relies on funding 75 percent of TSA's costs by raising airline passenger fees. We know from firsthand experience that such a budget device has little chance to be approved by Congress and will ultimately widen TSA's budget hole.
Under the proposed budget, FEMA would sustain cuts in funding for state, local, territorial, and tribal government efforts to prepare for disasters, counter radicalization in local communities, secure ports and waterways, and protect mass transit. One consequence of this is that major-city police departments around the country would see a dramatic reduction in critical grant funding that is used for everything from intelligence analysis to active-shooter training. "This funding is absolutely critical. It is the backbone of our entire counter-terrorism apparatus," said James P. O'Neill, the New York City police commissioner.
The budget blueprint also fails to provide the necessary increase in funds that the Coast Guard and Secret Service desperately need to more effectively execute their missions. While the budget blueprint calls for sizable increases in funding for ICE and CBP, it excludes the Coast Guard even though it also plays a pivotal role in patrolling and seizing illegal drugs being trafficked through the southern border. Last year alone, the Coast Guard confiscated 201 metric tons of cocaine and arrested 585 smugglers in the U.S. The Secret Service is still undergoing changes brought on by issues that arose in years past. As a result, the agency continues to be in desperate need of additional funding to address critical staffing shortfalls, adequately cover their protection of the current and former presidents, secure the White House, Mar-a-Lago and Trump Tower, and upgrade equipment that is critical to the mission.
Taken together, these cuts ignore both the actual threats and hazards that the nation has experienced since 9/11, as well as forward-looking homeland security risks. Almost every credible risk assessment points to the continued terrorist threat to aircraft and urban areas, something with which every leadership team at DHS has grappled. The persistent terrorist threat to mass transit is also particularly difficult to address. And an administration that decreases its investment in, and diminishes its focus on, emergency management runs the risk of large-scale calamity when disaster inevitably strikes.
Obviously, security experts can disagree over how funds can best be spent; debates have gone on for years about the best approach to do this. DHS has focused on optimizing the effectiveness of its activities to secure the aviation system against not only threats to aircraft but also to airports, and has worked with a range of partners and stakeholders to determine the best approach for securing mass transit, passenger, and freight rail. State, local, territorial, and tribal governments have debated how best to spend scarce federal grant funding on immediate needs like countering domestic radicalization and additional police presence in high-threat areas versus in investment in new counterterrorism and disaster response training, technology, and equipment. But no serious security expert has argued that the overall level of investment or effort in these areas should go down from their current levels.
The challenge of homeland security is to ensure a balanced, risk-informed approach to protecting the nation against a range of threats and hazards. Over-focus on any single threat vector, especially when it leads to degrading other mission responsibilities aimed at other threats and hazards, leads to vulnerabilities that expose the country to significant harm.
We do not suggest that the current focus on border security or interior immigration enforcement is not valid. Rather, while we welcome the attention and funding being placed on border security and interior immigration enforcement, it cannot come at the expense of our nation's overall security. The administration should take the same view of homeland security as it takes toward defense: increase budget where priorities demand that, take a risk-based approach to the threats and hazards facing the nation, and don't cannibalize one mission at the expense of the nation's security in order to focus on another.