Why Trump's Dismissal of Preet Bharara Matters
The move revives questions about the independence of federal prosecutors from political interference.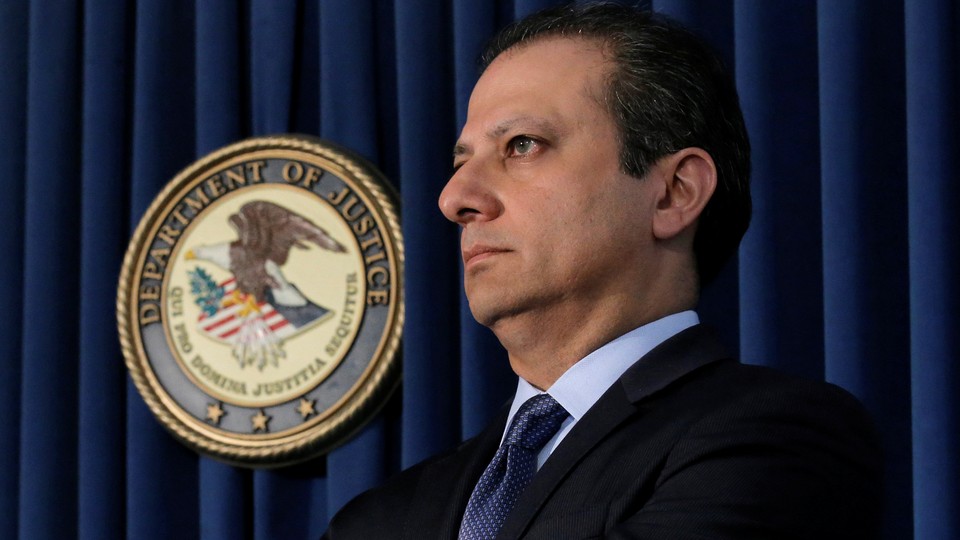 In late November 1968, less than a month after Richard Nixon won the presidency, U.S. Attorney Robert Morgenthau made a surprise announcement: He wasn't leaving his post.
John F. Kennedy had chosen Morgenthau to be the chief federal prosecutor for the southern district of New York in 1961, and U.S. attorneys traditionally resigned when a new president was elected. But Morgenthau said he had no intention of leaving, telling reporters he still had "vendettas to settle" in his campaigns against political corruption and tax-evading Swiss banks.
One year later, Morgenthau resigned after Attorney General John Mitchell told him, on behalf of the Nixon administration, to leave or be fired. He implicitly criticized the White House for abiding by the "customs and principles of the old politics," and appealed to the principle that law enforcement should be above politics.
"I hope that my fight for independence will make it easier for my successor to withstand the harsh, narrow partisan views on law enforcement currently in favor at the Department of Justice in Washington," he said as he departed.
Forty-eight years after Morgenthau's ouster, one of his successors has just met a similar fate. President Trump fired Preet Bharara, who carved out a national reputation with high-profile battles against corrupt legislators in Albany and insider trading on Wall Street, on Saturday after Bharara refused to offer his resignation as part of a broader removal of 46 Obama-era U.S. attorneys.
"By the way, now I know what the Moreland Commission must have felt like," Bharara tweeted on Sunday afternoon. It was a reference to the independent body set up to investigate New York Governor Andrew Cuomo in 2013 to investigate political corruption; he abruptly shut it down in early 2014 after passing modest ethics reforms.
Bharara then stepped in with an investigation of the circumstances in which the commission was disbanded. Over the next couple of years, Bharara's office indicted the leader of the state's assembly, of its senate, and of top aides to Cuomo—demonstrating, emphatically, that there actually was pervasive corruption in New York state government, but that the Moreland Commission had been disbanded too quickly to make it public. Now Bharara shares its fate—forced from office before he could bring inquiries he was reportedly pursuing to completion.
Trump had every right to demand the resignations. But the manner in which he removed half of the nation's chief federal prosecutors still raised eyebrows. During the transition in January, Trump had asked the attorneys, as well as certain high-ranking Justice Department personnel, to temporarily stay on after his inauguration on January 20. The request was a largely practical one: Each of the 93 U.S. attorneys represents the United States in civil lawsuits and serves as the top prosecutor in federal criminal trials within their jurisdictions.
Those roles can be sensitive and complex in nature, so it's not unreasonable to keep them in place until their successors can be named. Some U.S. attorneys soon stepped down nonetheless, leaving career civil-servant prosecutors in charge in the interim. But the Trump administration seems to have jumped the gun on replacing the rest: None of their designated successors have been named, and those ousted were reportedly caught off-guard by the requests to resign. CNN reported that one of the attorneys found out he was being ousted through social media; others didn't receive a call from Dana Boente, the acting deputy attorney general, until after the Justice Department made the announcement.
Forcing out the U.S. attorneys en masse on a Friday night may have been sloppy, but it isn't unprecedented. Bill Clinton, the first Democratic president in more than a decade at the time, sought a similar mass resignation from the Reagan and Bush-era U.S. attorneys in 1993. (Among those ousted at the time was Jeff Sessions, then serving as the U.S. attorney for the southern district of Alabama.) George W. Bush and Barack Obama also oversaw mass turnovers among the nation's chief federal prosecutors, albeit in a less dramatic fashion.
Trump and his predecessors acted well within their powers. All U.S. attorneys serve four-year terms "at the pleasure of the president," a legal term of art that distinguishes a relatively small group of federal political appointees who rotate in and out as presidents change from the far greater multitude of career civil servants. A series of anti-corruption reforms in the late 19th century ensured those federal workers are both nonpartisan and insulated by civil-service laws. But those protections don't extend to political appointees.
Of the 46 resignations sought, Trump has only declined to accept two of them: Boente, the U.S. attorney for the eastern district of Virginia and acting deputy attorney general, and Rod Rosenstein, the U.S. attorney for Maryland. Boente is currently serving as the acting second-in-command at the Justice Department, while Rosenstein is awaiting Senate confirmation to take that role permanently. The position has been vacant since Trump dramatically fired Sally Yates, an Obama holdover who refused to defend the president's controversial travel ban in court, on January 30.
Friday's firings occurred amid growing friction between a nascent Trump administration that's still struggling to assert control over the sprawling federal bureaucracy, and what the White House increasingly sees as a hostile cadre of Obama-era officials who are still in place until their replacements can be named. Hours before the ouster, White House Press Secretary Sean Spicer criticized "people that burrowed into government during eight years of the last administration" for pursuing their own agendas.
The greatest surprise in the ousters wasn't that they happened, but that Bharara was among them. He had reportedly been assured by both Trump and Attorney General Jeff Sessions in November that he could stay on as U.S. attorney in the new administration. Bharara, whose jurisdiction includes Trump Tower, was overseeing multiple high-profile cases at the time, including an investigation into New York City Mayor Bill de Blasio's campaign-finance practices. Bharara was also probing Fox News' response to a sexual-harassment scandal that led to the resignation of longtime CEO Roger Ailes.
Why Trump changed his mind is unclear. The Times reported that the president tried to call Bharara on Thursday only to be rebuffed, with Bharara citing Justice Department protocols barring contact between federal prosecutors and the White House. After the Justice Department asked for the 46 U.S. attorneys to resign on Friday, Bharara did not submit his resignation. Finally, on Saturday, Boente called Bharara and told him to leave.
"I did not resign," he then wrote on Twitter. "Moments ago I was fired."