Where Trump's Popularity Matters—and Where It Doesn't
The president's national approval rating is dismal, but his strong standing in Republican congressional districts is keeping the party's health-care bill afloat for now.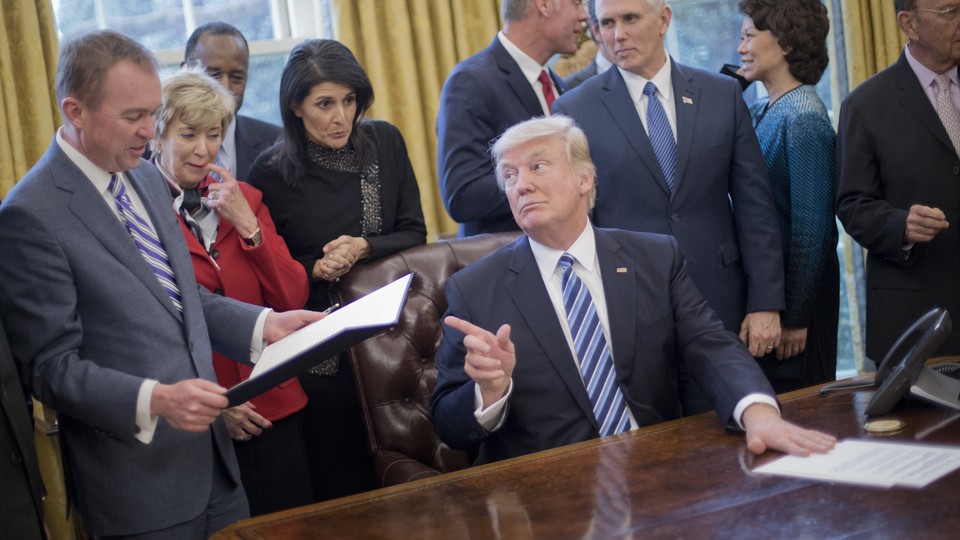 Donald Trump is not a popular president.
His national approval rating sunk to 39 percent in the latest Gallup survey, a historically poor showing for a commander in chief in his first 100 days. Most other polls haven't shown him near 50 percent since a brief period right around his inauguration in January.
Ordinarily, a dismal approval rating would cripple a president's ability to pass major legislation through Congress. But Trump didn't need national popularity —or even the most votes—to win the White House, and he may not need it to jawbone a large number of Republicans into backing a replacement for the Affordable Care Act.
Indeed, far from being a drag on the health-care bill that House GOP leaders unveiled last week, Trump is what's keeping it afloat. And that's because for the vast majority of Republican lawmakers in the House, Trump is popular where he needs to be: among Republican voters in Republican districts. "If you're a member of Congress, national numbers are meaningless," said Doug Heye, a Republican strategist and a former senior House leadership adviser. The president knows it, too. When, during a press conference last month, he dismissed the citizens who have jammed town-hall meetings in support of Obamacare, he seemed to dismiss the importance of Democratic and independent voters altogether. "They are not the Republican people that our representatives are representing," Trump said.
Since the rise of the Tea Party and congressional redistricting that has pushed Republican constituencies further to the right, GOP lawmakers have feared primary challenges as much or more than tough general-election contests. And the possibility that Trump backers could engineer primary fights over health care has only heightened that vulnerability.
That dynamic explains why the conservatives who have opposed Speaker Paul Ryan's proposal are running to the White House in the hopes that Trump will pressure the House leadership to accept changes to the bill—and then help sell it to their constituents. In the same vein, Ryan and his top lieutenants have leaned heavily on the president's support for their legislation to bring wavering members aboard. "You have a president of the United States who will sign it into law and can campaign in members' districts and put on a full charm offensive with Republicans," Heye said. "We don't know yet how powerful or effective that will be, but this is a space that Republicans have not had for years when they would fall short on votes."
Democrats have tried to stoke opposition from rank-and-file Republicans on policy grounds, seizing on Monday's findings from the Congressional Budget Office that poor and working-class voters in districts that Trump won will be hit hardest by the American Health Care Act. But despite the report, which one Republican senator described as an "eye-popper," it's not clear those arguments will win the day: Voters often cast ballots against their economic self-interest. "Trump's popularity is going to be a bigger driver of congressional behavior than the district-by-district effects of the health-care proposal," said Dave Wasserman, who analyzes House races for the Cook Political Report.
Yet while Trump's enduring support within the GOP base is necessary for the health-care bill to pass, it is not the only factor at play. Working in the House leadership's favor, for example, is the pressure Republicans feel to deliver on their individual campaign promises to repeal and replace Obamacare. The proposal faces more opposition in the Senate, where presidential popularity carries less weight among members elected to six-year terms. And in the House, the GOP margin at the beginning of 2017 was 23 seats—exactly the number of districts represented by Republicans that Hillary Clinton carried in November, according to Wasserman.
One of those belongs to Representative Darrell Issa in southern California, whose victory last fall was the narrowest of any member of Congress in the country. A former chairman of the House Oversight Committee, Issa has begun to distance himself from the president; he called for an independent investigator to examine the Trump campaign's ties to Russia, and he has withheld support from the health-care bill so far. The Los Angeles Times on Tuesday reported a possible reason for Issa's shift: His internal campaign polls, revealed in court documents, found that Trump's favorability ratings in part of his district had slipped between October and December.
Another Republican in a Clinton district is Ileana Ros-Lehtinen of Florida, who announced her opposition to the AHCA in a tweet Tuesday, saying it would leave too many people in her district uninsured.
For Representative Rob Wittman of Virginia, the political considerations of the House health-care bill extend beyond his own district, which both he and Trump carried easily in November. Wittman is reportedly considering a run for Senate next year, and Trump is just as unpopular across Virginia as he is nationally, according to a Quinnipiac University poll that pegged the president's approval rating there last month at 38 percent. Wittman is neither a conservative hardliner nor a moderate in the House GOP, but on Monday he came out against the leadership's health-care bill. "It is clear that this bill is not consistent with the repeal-and-replace principles for which I stand," he wrote on Facebook. "I do not think this bill will do what is necessary for the short- and long-term best interests of Virginians and therefore, I must oppose it."
Wittman's statement is indicative of the competing pressures Republicans are facing on the AHCA, and it's the kind you'd expect to see more of with a president backed by less than 40 percent of the public. So far, Trump's support among the GOP rank-and-file has withstood his national unpopularity, keeping alive a proposal that might have already collapsed in a less polarizing environment. Whether it's enough to get the bill to his desk, however, is far from clear.