The Senate's No-Drama Russia Investigation
Senators Richard Burr and Mark Warner promised a long, slow, even dull inquiry into election interference—an implicit rebuke to the House's ever-more-chaotic process.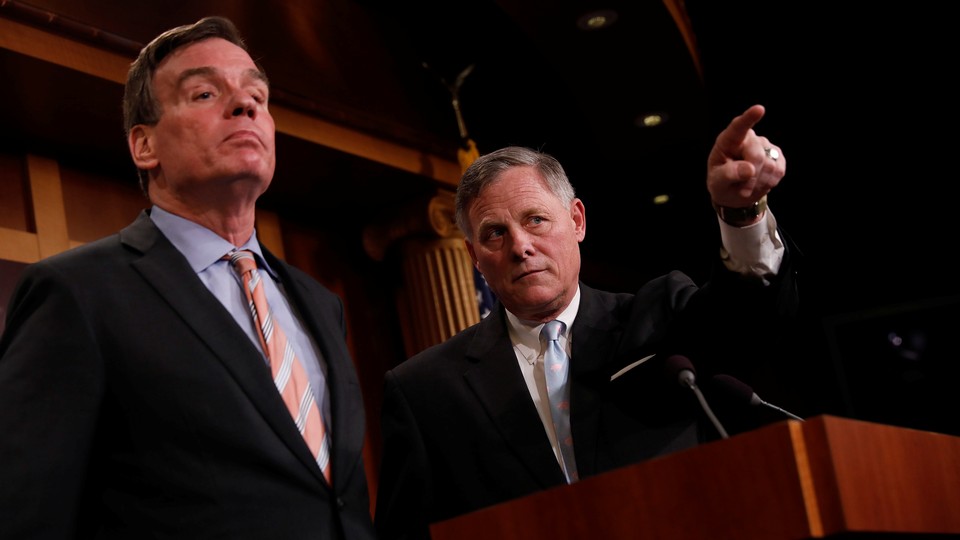 As Tolstoy would have written if he were a national-security reporter, all dysfunctional committees are dysfunctional in their own way, while all functional committees are frustratingly tight-lipped.
Or something like that. In any case, a Wednesday press conference by Senators Richard Burr and Mark Warner, the chairman and ranking Democrat on the Senate Intelligence Committee, presented a glaring contrast to the House's own intelligence committee, which seems to spin into greater chaos daily. The pair emphasized bipartisanship, process, and patience, offering little in the way of factual revelations while implicitly rebuking the House Intelligence Committee.
"It's not something that can be done quickly," Burr said. "Let me remind you, the last public investigation that we did was the Senate investigation into Benghazi … it took one year, and in comparison to the public hearings that happened in the House, our report and findings were out much quicker than what they were."
It was left to Warner to dramatize the stakes of the investigation. "It's important for us, at least, and I think all of us here, to remember to not lose sight about what the investigation is about," the Virginian said. "An outside foreign adversary effectively sought to hijack our most critical democratic process, the election of a president, and in that process, decided to favor one candidate over another."
Yet although Burr acknowledged his own vote for President Trump—and his endorsement of the president during the campaign—he pledged a thorough and impartial investigation. "Mark and I work hand in hand on this, and contrary to maybe popular belief, we're partners to see that this is completed and that we've got a product at the end of the day that we can have bipartisanship in supporting," he said.
The contrast to the House couldn't be clearer. On that side of the Capitol, the committee got out to a quick start, hosting a newsmaking hearing where FBI Director James Comey confirmed an investigation into collusion between Trump aides and Russia. But since then, the committee has spun out of control. Two days after that hearing, Chairman Devin Nunes announced a vague report of intelligence surveillance having swept up Trump transition-team members. Ranking Member Adam Schiff reacted angrily, then said that he had seen evidence that was "more than circumstantial" to support the idea of collusion. (Schiff, a former federal prosecutor, later specified that he felt the evidence he'd seen would be good enough for a grand jury but not a trial jury.)
Neither Nunes nor Schiff has provided evidence for their claims, which they may be unable to do because they are classified. Meanwhile, acrimony has led to the committee suspending its meetings, and Schiff and other Democrats have called on Nunes to recuse himself, as questions about whether he is coordinating with the White House or even acting as a Trump surrogate mount.
Burr and Warner, neither of whom is likely to win a charisma contest any time soon, had a message for observers of their panel: Don't expect that kind of excitement over here. They refused to answer questions about the House committee, but some of their answers seemed targeted.
"It would be crazy to try to draw conclusions from where we are in the investigation," Burr said. As for Nunes's claims, Burr said, "We're not asking the House to play any role in our investigation. We don't plan to play any role in their investigation."
Unlike Nunes, who has twice publicly rebuked the FBI for not being as fast to deliver documents as he'd like, Warner and Burr were careful to praise the intelligence community while still saying they'd like some things faster.
Still, the press conference was not entirely without new information. Burr said the committee was dealing with an "unprecedented" number of documents. Warner mentioned rumors of a group of more than 1,000 paid "trolls" working out of a Russian facility to influence the election. As the Senate investigation moves slowly forward, meanwhile, Burr noted that Russian meddling with elections did not end on November 9.
"I think it's safe by everybody's judgment that the Russians are actively involved in the French elections," the North Carolinian said. Russian President Vladimir Putin has also funded the far-right National Front. As to the central question in the inquiry, whether Trump himself was involved in any Russian interference, the senators said they couldn't say now but understood they were obligated to find out. Just don't expect an answer any time soon.