Jeff Sessions Faces Questions About His Contacts With Russia
Trump's attorney general talked twice with the Russian ambassador during the campaign. Can he still oversee investigations that reportedly include his own conduct?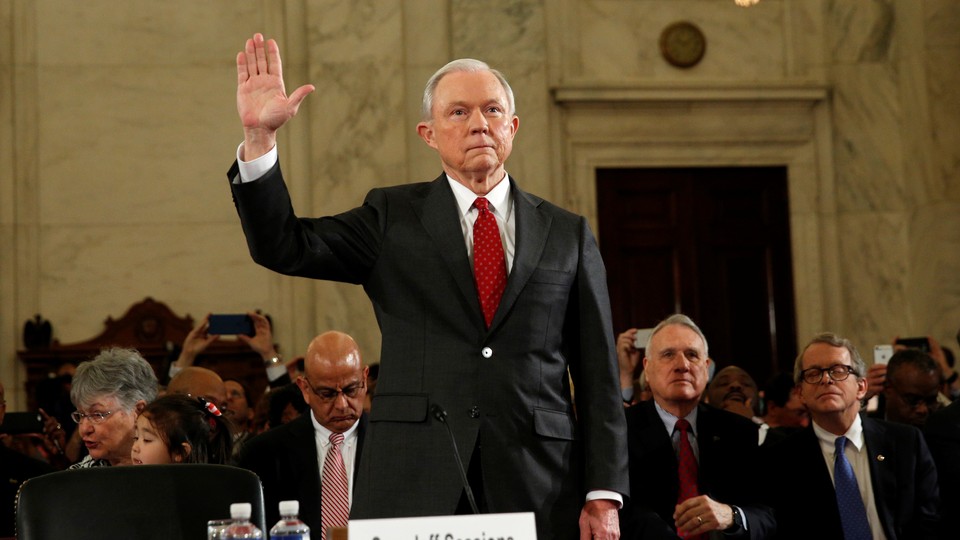 Questions about the contacts between the Trump campaign and Russian officials have now embroiled the nation's highest law-enforcement official.
Attorney General Jeff Sessions was twice asked by the Senate Judiciary Committee about contacts with Russian officials during his confirmation hearings in January, and on neither occasion, did he detail any contacts. But The Washington Post reported Wednesday night that Sessions, then an Alabama senator, had in fact spoken twice with Sergey Kislyak, the Russian ambassador to the United States, during the 2016 presidential election.
A questionnaire from Vermont Senator Patrick Leahy, a Democratic member of the Judiciary Committee, asked Sessions whether he had "been in contact with anyone connected to any part of the Russian government about the 2016 election, either before or after election day." Sessions answered "no."
Then, at Sessions's January 10 hearing before the entire committee, Minnesota Senator Al Franken asked him about his views on Russia's alleged meddling in the American presidential election, as well as reports that some Trump campaign associates had been in contact with top Russian officials during the campaign. Sessions replied that he was "not aware of any of those activities," and added, "I have been called a surrogate at a time or two in that campaign and I did not have communications with the Russians."
But the Post reported that Sessions met and spoke with Kislyak on two occasions: during a July think-tank event that included about 50 ambassadors during the Republican National Convention, and during a private meeting between the then-senator and the ambassador on September 8.
In a statement, Justice Department spokesperson Sarah Isgur Flores called it "the latest attack against the Trump Administration by partisan Democrats." Sessions, she said, "met with the ambassador in an official capacity as a member of the Senate Armed Services Committee, which is entirely consistent with his testimony."
Sessions himself later issued a statement: "I never met with any Russian officials to discuss issues of the campaign," it read. "I have no idea what this allegation is about. It is false."
Meeting with the ambassador of a foreign power is not unusual for a senator. Sessions, however, was also serving as the chairman of Trump's national security advisory committee and a key adviser to the campaign. The Post asked the other members of the Armed Services Committee whether they had met with Kislyak; none of the 19 who replied said that they had done so.
FBI investigators are reportedly probing the full extent of the Russian government's complicity into cyberthefts targeting the Democratic National Committee and top Hillary Clinton campaign officials, as well as the Trump campaign's contacts with the Russian government during the election. According to The Wall Street Journal, Sessions's contacts with Russian officials are among a broader set of Trump campaign interactions under investigation.
Wednesday's revelations also come as Sessions has declined to recuse himself from the ongoing investigation and appoint a special prosecutor in his place. As the nation's top law-enforcement official, Sessions would be in the awkward position of overseeing an investigation in which his own communications are under scrutiny. Multiple Democratic lawmakers have urged him to step aside, along with Representative Darrell Issa, the California Republican who pursued multiple investigations against the Obama administration as chair of the House Oversight Committee.
Those calls are now likely to grow louder. Shortly after the Post's story was published, South Carolina Senator Lindsey Graham, a Republican and frequent critic of the Russian government, told a CNN town hall that a special prosecutor would be warranted if the reports about Sessions' interactions were true.
"If there is something there, and it goes up the chain of investigation, it is clear to me that Jeff Sessions, who is my dear friend, cannot make this decision about Trump," Graham told the audience.
Sessions isn't the first Trump administration official whose interactions with Kislyak have met with public scrutiny. President Trump fired National Security Adviser Mike Flynn last month for lying to Vice President Mike Pence about his conversations with the Russian diplomat. After Pence defended Flynn in a series of high-profile interviews, multiple news outlets subsequently reported that Flynn had indeed spoken multiple times with Kislyak. At least one prominent Democratic legislator said Wednesday night Sessions should follow in Flynn's footsteps.
"When Senator Sessions testified under oath that 'I did not have communications with the Russians,' his statement was demonstrably false, yet he let it stand for weeks—and he continued to let it stand even as he watched the President tell the entire nation he didn't know anything about anyone advising his campaign talking to the Russians," Representative Elijah Cummings, a Maryland Democrat and the ranking member of the House Oversight Committee, said in a statement. "Attorney General Sessions should resign immediately, and there is no longer any question that we need a truly independent commission to investigate this issue."
House Minority Leader Nancy Pelosi quickly followed that with her own statement. "After lying under oath to Congress about his own communications with the Russians, the Attorney General must resign," she said.