The CBO Deals Paul Ryan's Health-Care Plan a Major Blow
The hotly anticipated Congressional Budget Office report on the Republican replacement for Obamacare found it would increase the number of uninsured Americans by 86 percent.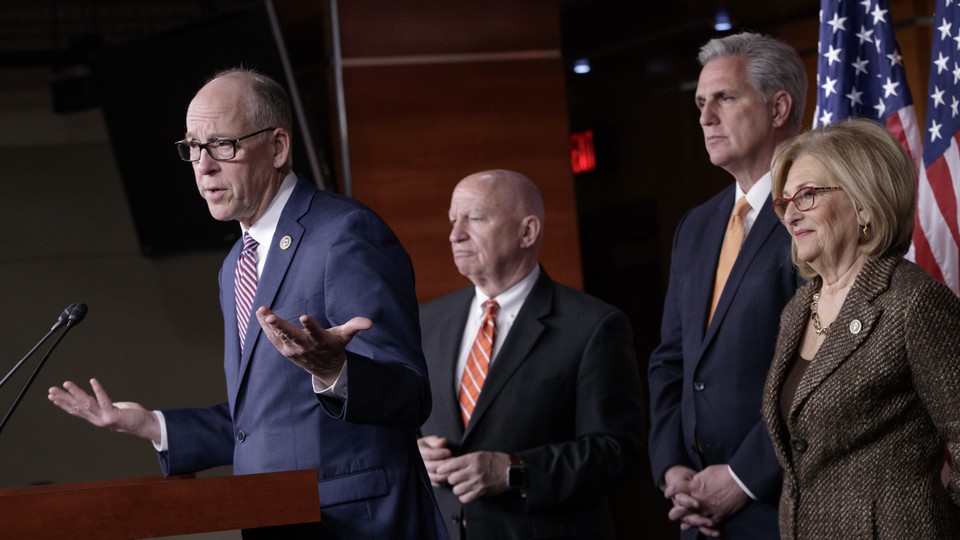 Updated on March 13, 2017 at 6:34 p.m. ET
The Republicans' effort to pass their proposed replacement for the Affordable Care Act just got a whole lot harder.
The Congressional Budget Office on Monday projected that the House leadership's American Health Care Act would result in 24 million Americans losing their health insurance while raising premiums for those covered on the individual market. Their bill would lower federal deficits by $337 billion over 10 years, largely as a result of cuts to Medicaid that would reduce its enrollment by 14 million, according to the estimate. Average premiums would rise by as much as 20 percent in 2018 and 2019 before falling in later years.
CBO is the official nonpartisan scorekeeper of legislation on Capitol Hill, and its projections on the impact of policy proposals can determine whether they have the political momentum to pass the House and Senate. But they are rarely a surprise, and both parties had telegraphed in recent days how they thought the score would turn out.
Democrats had criticized Republicans for advancing their legislation through two key committees without a cost projection from CBO. They were anticipating Monday's estimate like children who knew what present they were getting for Christmas, so confident were they that the CBO would validate their claim that the GOP bill would strip coverage from millions. Republicans, meanwhile, have been downplaying the CBO for days in an effort to take the sting out of its projection and prevent wavering members from withdrawing their support. The leadership proposal was already struggling in both chambers amid criticism from conservatives that the bill does not move far enough away from Obamacare policies. If rank-and-file lawmakers react poorly to the estimates, it could be a fatal blow.
Of particular concern for GOP backers of the American Health Care Act is the CBO's projection for its immediate impact. If enacted soon, an estimated 14 million people would drop their insurance next year because the proposal repeals the tax penalties associated with the individual mandate, the CBO forecasts. If people are not required to buy insurance, in other words, many will stop doing so. Millions more would join the ranks of the uninsured after 2020, when the bill would roll back the expansion of Medicaid under the Affordable Care Act. Conservatives have called for repealing the expansion sooner, which would likely result in more people dropping coverage in the first years after enactment.
Republicans have assailed the increase in premiums in some markets under Obamacare, but the CBO offered a mixed review of their proposal on that count. Premiums would, on average, drop by 10 percent for people on the individual market over the next decade, but not before they rose sharply in the first two years. That short-term pain could make for a difficult sell for Republican lawmakers up for reelection in 2018, who would have to preach patience to their constituents who face higher insurance bills. And after years of criticizing Democrats for cutting $700 billion from Medicare to pay for the Affordable Care Act, Republicans would have to defend a proposal that not only maintains those cuts but chops another $880 billion from Medicaid, according to the CBO. Those cuts offset the repeal of nearly $900 billion in tax increases on wealthy people and businesses in Obamacare.
The Republican bill could not increase the deficit in order to pass muster under the budget reconciliation rules they want to use to pass it. And the CBO found that the proposal would slash the budget gap by $337 billion over a decade, as the cuts to Medicaid and insurance subsidies more than make up for the bill's tax cuts.
With the new projection, congressional Republicans are sure to face more accusations that the bill breaks President Trump's promise of "insurance for everybody" and the party's explicit vow that its replacement would "decrease premiums." Monday's report prompted a split reaction from House Speaker Paul Ryan and Tom Price, his former congressional ally who is now secretary of health and human services. Ryan highlighted the findings favorable to Republicans and embraced the report overall. "I'm excited by this analysis," he said Monday evening on Fox News, pointing to the longterm drop in premiums and CBO's forecast that the individual health insurance market would stabilize over time if the bill became law. "It actually exceeded my expectations."
Price, however, denounced the findings.
"We disagree strenuously with the report that was put out," he told reporters outside the White House. "We believe our plan will cover more individuals at a lower cost and give them the choices that they want for the coverage that they want for themselves and for their family." Price in particular disputed the forecast that 14 million people would go uninsured next year, a figure that he noted was greater than the number of people currently enrolled in Obamacare exchanges. "It's just not believable," he said. "We think that CBO simply has it wrong."
Ryan and other GOP leaders had already backed away from Trump's pledge, promoting universal "access" to care instead of insurance for all. In recent days, they said they could not hope to replicate Obamacare's coverage expansion—estimated at more than 20 million people—because their bill does not require everybody to buy insurance. "The one thing I'm certain will happen is CBO will say, 'Well, gosh, not as many people will get coverage,'" Ryan said Sunday on Face the Nation. "You know why? Because this isn't a government mandate. This is not the government makes you buy what we say you should buy, and therefore the government thinks you're all going to buy it. So there's no way we can—you can compete with on paper a government mandate with coverage."
Sean Spicer, the White House press secretary, said last week, "If you're looking at the CBO for accuracy, you're looking in the wrong place."
And on Sunday, Mick Mulvaney, a longtime CBO critic who heads Trump's Office of Management and Budget, questioned why the agency would be scoring the health-care bill in the first place. "I love the folks at the CBO. They work really hard," he said on ABC's This Week. "They do, but sometimes we ask them to do stuff they're not capable of doing, and estimating the impact of a bill of this size probably isn't the best use of their time."
In fact, analyzing the potential impact of major legislation is a core function of the office, which was created in 1974 and is now led by a director appointed by GOP leaders in 2015, Keith Hall. Republicans are correct, however, that the CBO's record of accuracy is spotty. It projected in 2010 that the Affordable Care Act would reduce the ranks of the uninsured by 30 million, when in fact about 22 million have newly gained coverage because of the law. Democrats point out that a big reason why those numbers were off is that the Supreme Court ruled in 2012 that states could choose not to expand Medicaid, prompting many Republican-led states to opt out.
While disputing most of the CBO report, Mulvaney gave credence to its projection that the GOP bill would ultimately result in lower premiums. "If you look for something that CBO actually got right in this report, it's that premiums would come down in cost," he said as he stood alongside Price outside the White House.
Republicans noted that the estimate does not account for the rest of the GOP's "three-pronged" approach to replacing Obamacare, which calls for the Trump administration to roll back regulations administratively and then for Republicans to try to entice Democrats to help pass follow-on legislation requiring 60 votes in the Senate. As for the projected spike in the number of uninsured Americans, Ryan simply reiterated in a statement his assurances of "a stable transition so that no one has the rug pulled out from them."
As expected, Democrats pounced on the report to accuse Trump and his GOP allies in Congress of breaking their promises on health care. "The CBO score shows just how empty the president's promises, that everyone will be covered and costs will go down, have been," said Charles Schumer of New York, the Senate minority leader. "This should be a looming stop sign for the Republicans' repeal effort." Schumer and Nancy Pelosi, the House minority leader, joined together to call on the GOP to pull its bill as a result of the CBO estimate. "It's really the only decent thing to do," Pelosi said.
In questioning the CBO projection on health care, Republicans are at least consistent. They disputed the agency's estimate in 2010 that the Affordable Care Act would reduce the deficit by about $1 trillion and dramatically expand insurance coverage. "Their job is to score what is placed in front of them. And what has been placed in front of them is a bill that is full of gimmicks and smoke and mirrors," Ryan said during a bipartisan summit then-President Barack Obama convened in February 2010. Democrats were enraged at the GOP's criticism back then, accusing them, in effect, of trying to play a baseball game without an umpire. "Quite honestly, if we can't work with CBO numbers, we're lost. We're lost," Representative Xavier Becerra replied to Ryan at the time. "Because then we really will get into a food fight."
It's hard to argue that the last seven years have resembled anything other than a political food fight on health care, and Monday's CBO estimate was meeting skepticism from Republicans even before it came out. Democrats, too, have disputed scores they don't like, although their attacks on the office's credibility have not matched those of the GOP. "People are always criticizing the CBO. They are a nonpartisan entity that exists in a partisan environment," said Douglas Holtz Eakin, a Republican former CBO director who has praised the GOP health-care bill. "They do high-quality work. Are they right all the time? No, but it's certainly a serious effort."
The question for Republican leaders is just how seriously their members will take the CBO's latest projection. It may not sink their health-care bill, but it almost certainly won't aid its passage.