It's Never Trump's Fault
Speaking after the collapse of the Republican health-care bill, the president assigned blame to plenty of parties but cast himself as a mere bystander.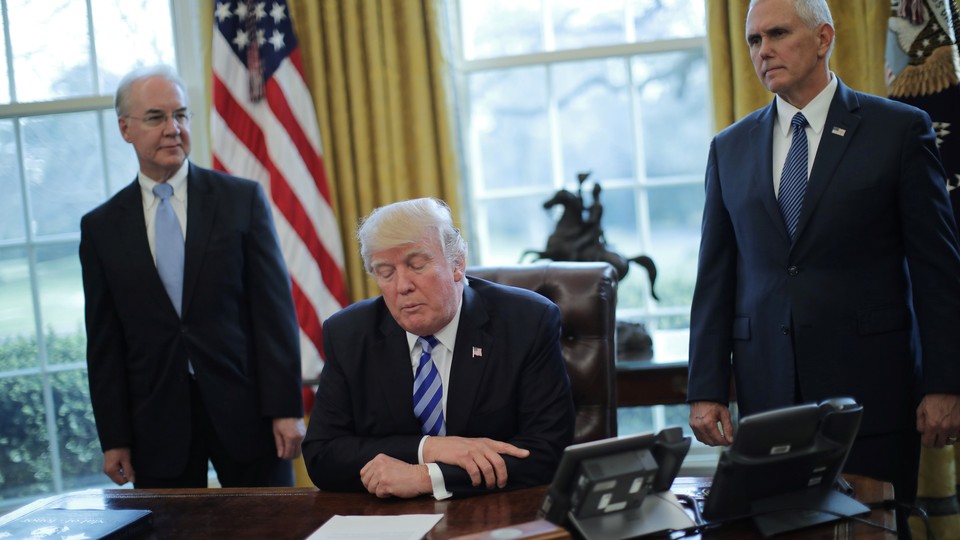 Speaking in the Oval Office Friday afternoon, President Trump surveyed the wreckage of the Obamacare repeal effort and issued a crisp, definitive verdict: I didn't do it.
The president said he didn't blame Speaker Paul Ryan, though he had plenty of implied criticism for the speaker. "I like Speaker Ryan. He worked very hard," Trump said, but he added: "I'm not going to speak badly about anybody within the Republican Party. Certainly there's a big history. I really think Paul worked hard." He added ruefully that the GOP could have taken up tax-reform first, instead of Obamacare—the reverse of Ryan's desired sequence. "Now we're going to go for tax reform, which I've always liked," he said.
As for the House Freedom Caucus, the bloc of conservatives from which many of the apparent "no" votes on the Republican plan were to come, Trump said, "I'm not betrayed. They're friends of mine. I'm disappointed because we could've had it. So I'm disappointed. I'm a little surprised, I could tell you."
The greatest blame for the bill's failure fell on Democrats, Trump said.
"This really would've worked out better if we could've had Democrat support. Remember we had no Democrat support," Trump said. Later, he added, "But when you get no votes from the other side, meaning the Democrats, it's really a difficult situation."
He said Democrats should come up with their own bill. "I think the losers are Nancy Pelosi and Chuck Schumer, because they own Obamacare," he said, referring to the House and Senate Democratic leaders. "They 100 percent own it."
Trump was very clear about who was not to blame: himself. "I worked as a team player," the president of the United States said, demoting himself to bit-player status. He wanted to do tax reform first, after all, and it was still early. "I've been in office, what, 64 days? I've never said repeal and replace Obamacare within 64 days. I have a long time. I want to have a great health-care bill and plan and we will."
Strictly speaking, it is true that Trump didn't promise to repeal Obamacare on day 64 of his administration. What he told voters, over and over during the campaign, was that he'd do it immediately. On some occasions he or top allies even promised to do it on day 1. Now he and his allies are planning to drop the bill for the foreseeable future.
It is surely not wrong that there is lots of blame to go around. Congressional Republicans had years to devise a plan, and couldn't come up with one that would win a majority in the House, despite a 44-seat advantage. The House bill was an unpopular one, disliked by conservatives and moderates in that chamber; almost certainly dead on arrival in the Senate; and deeply unpopular with voters. Even before the vote was canceled, unnamed White House officials were telling reporters that the plan was to pin the blame on Ryan.
But aside from their role in passing the Affordable Care Act seven years ago, Democrats are perhaps the one faction with the least blame for Friday's fiasco. As much as they might have wished to claim credit, the opposition party was nearly a non-factor in the wrangling. There was never any intention to design a replacement plan that would attract Democratic votes, in part because of the huge Republican margin in the chamber. The Democrats surely owned Obamacare before, but given GOP control of the House, Senate, and White House, Friday seems to mark the day that Republicans came into ownership.
Trump's quick disavowal of any role in the collapse fits with an emerging pattern: The president never takes the blame for anything that goes wrong. What about his claim that President Obama "wiretapped" him?
"All we did was quote a certain very talented legal mind who was the one responsible for saying that on television. I didn't make an opinion on it," Trump said during a press conference with German Chancellor Angela Merkel last week. "That was a statement made by a very talented lawyer on Fox. And so you shouldn't be talking to me, you should be talking to Fox."
How about his claim, during the presidential campaign, that Ted Cruz's father was involved in the Kennedy assassination?
"Well, that was in a newspaper," he told Time's Michael Scherer this week. (The National Enquirer, to be specific.) "No, no, I like Ted Cruz, he's a friend of mine. But that was in the newspaper. I wasn't, I didn't say that. I was referring to a newspaper."
The ruling by a federal court in Washington state against Trump's Muslim travel ban? The work of a "so-called judge," Trump tweeted, and even he preemptively dumped the blame for any future terror attack on the courts for a decision that "essentially takes law-enforcement away from our country."
Trump's approach to the presidency thus far has rejected the mantra of his predecessor Harry S Truman, who famously placed a sign on his desk indicating that he was the final decisionmaker: "The buck stops here." Trump, by contrast, is quick to pass the buck.
Assuming the public accepts it, this choice has both upsides and downsides. On the one hand, it means that Trump is never to blame for anything. On the other, if he's so irrelevant, why should anyone pay attention to him or take his proposals and ideas seriously?