The Atlantic Politics & Policy Daily: All the Nunes That's Fit to Print
Two White House officials reportedly provided House Intelligence Committee Chairman Devin Nunes with intelligence information about Trump campaign officials.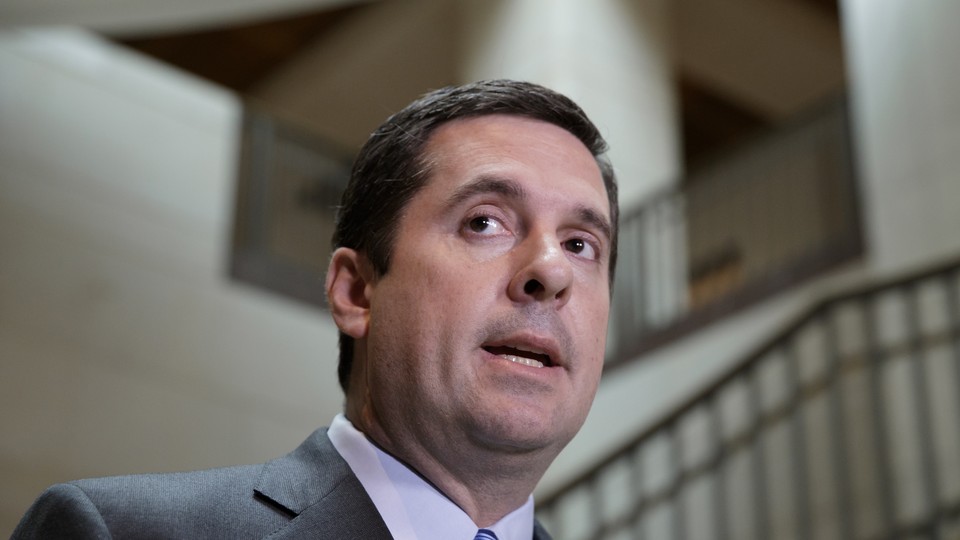 Today in 5 Lines
The New York Times reported that two White House officials provided House Intelligence Committee Chairman Devin Nunes with intelligence information about Trump campaign officials. In a tweet, President Trump warned the House Freedom Caucus that they will "hurt the entire Republican agenda if they don't get on the team," and vowed to "fight them" in the 2018 midterm elections. North Carolina Governor Roy Cooper signed legislation repealing H.B. 2, the so-called "bathroom bill" that barred transgender people from using bathrooms corresponding with their gender identities. Vice President Mike Pence broke a tie-vote in the Senate, advancing legislation that would allow states to block federal family-planning funds to abortion providers. The White House confirmed that Trump will meet with Chinese President Xi Jinping at Trump's Mar-a-lago resort in Florida next week.
---
Today on The Atlantic
The Bathroom Bill Resurfaces: Last year, North Carolina Republicans passed H.B. 2, a law that barred transgender people from using the bathroom consistent with their gender identities. Since then, however, the state has tried to find ways to reverse it. Could a new bill be the solution lawmakers have been searching for, or is it a sham? (David A. Graham)

The Culture Wars: A Wednesday Washington Post article cited a 2002 comment from Vice President Mike Pence about his refusal to be alone with any woman other than his wife. The waves of mixed reaction to the report highlight "how radically notions of gender divide American culture." (Emma Green)

Plan B: Increasing Democratic resistance against Neil Gorsuch means he may not secure the votes he needs to be confirmed. If faced with this challenge, Republicans could change the rules and invoke the "nuclear option." (Russell Berman)
Follow stories throughout the day with our Politics & Policy portal.
---
Snapshot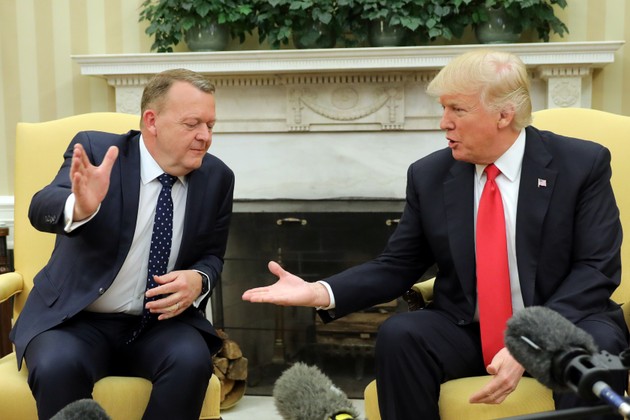 ---
What We're Reading
Delayed Announcement?: Newsweek reports that FBI Director James Comey wanted to inform the public about Russia's intent to interfere in the presidential election as early as summer 2016, "but Obama administration officials blocked him from doing so." (Josh Saul and Max Kutner)
A New Repeal and Replace: President Trump's newest executive order directs the Environmental Protection Agency to rewrite the Clean Power Plan, and here, Catrina Rorke writes, Republicans have an opportunity: "With bicameral majorities, conservatives can find their voice and develop authentic, principled solutions to addressing the challenge of climate change." (The American Conservative)
Buy American, Hire American: Donald Trump pledged to buy U.S. products and create jobs for American citizens. But U.S. trade law may require him to buy non-American materials for the construction of a wall on the U.S.-Mexico border. (T. Christian Miller, ProPublica)
Unpacking the Order: Emily Hammond, an environmental-law expert with George Washington University, annotated Trump's climate executive order to provide analysis and context—provision by provision. (Vox)
Where You Lead: China is the world's largest emitter of greenhouse gases, followed by the United States. Trump's retreat from his predecessor's efforts to curb climate change could position China to take the lead. (Edward Wong, The New York Times)
---
Visualized
Will the Dems Filibuster Trump's Supreme Court Nominee?: The New York Times compiled a list of the Democratic senators who support a filibuster as well as those who are undecided.
The Quest to Find James Comey's Twitter Account: On Wednesday, FBI Director James Comey conceded he's on Twitter. So, Gizmodo's Ashley Feinberg decided to go searching for his account.
---
Question of the Week
Republicans' plan to repeal and replace Obamacare flopped last week, but President Trump is ready to move to the next item on his agenda—tax reform. What would you like to see the Trump administration focus on and why?
Send your answers to hello@theatlantic.com and our favorites will be featured in Friday's Politics & Policy Daily.
-Written by Elaine Godfrey (@elainejgodfrey) and Candice Norwood (@cjnorwoodwrites)