The Atlantic Politics & Policy Daily: A Miner Victory for Trump
The president signed an executive order that will begin rolling back Obama-era rules curbing greenhouse-gas emissions.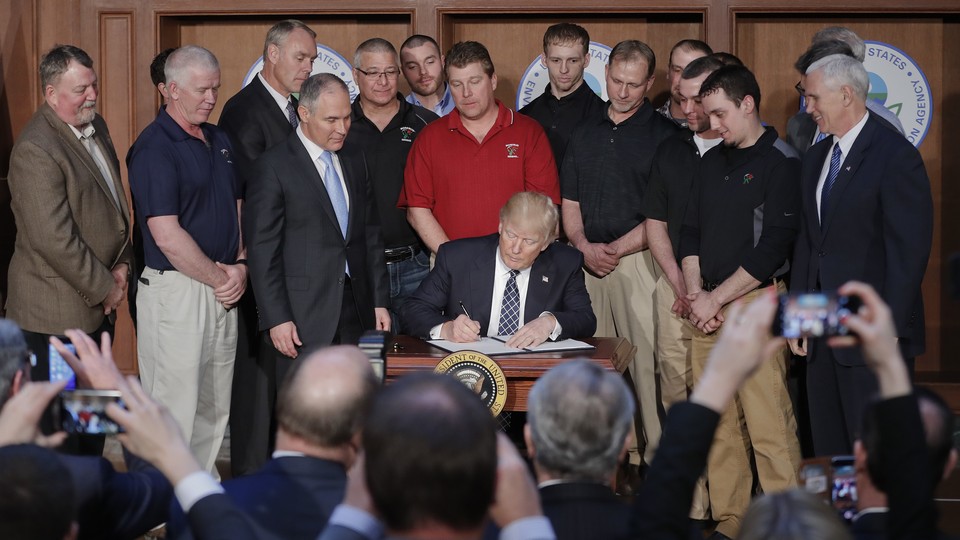 Today in 5 Lines
President Trump signed an executive order that would dramatically change major Obama-era rules aimed at preparing for climate change and curbing greenhouse-gas emissions. The Washington Post reported that the Trump administration attempted to block former acting Attorney General Sally Yates from testifying before the House Intelligence Committee on alleged ties between the Trump campaign and Russian officials. White House Press Secretary Sean Spicer later denied the report. House Speaker Paul Ryan said House Intelligence Committee Chairman Devin Nunes should continue to lead the investigation, after some lawmakers called for Nunes to recuse himself. Ryan also told reporters that House Republicans would continue working on legislation to repeal and replace the Affordable Care Act, but didn't offer a timeline.
---
Today on The Atlantic
Trump's Climate Executive Order: Robinson Meyer analyzes the new executive order, which aims to roll back many of the rules and guidelines implemented by President Obama to slow the pace of climate change. "It is exactly as bad as environmental advocates feared—with one exception."

It's All Downhill: Donald Trump appears ready to move on from the GOP health-care bill failure to his tax-reform plan. If he thought health-care reform was "so complicated," then the next items on the Republican agenda—like raising the debt ceiling—will be even more difficult. (Russell Berman)

The Business of Government: Jared Kushner is set to run the Office of American Innovation, which will reportedly be staffed by former business executives. While an admirable idea, writes Elaine Kamarck, real government reform will come from people "with in-depth knowledge of the government itself."
Follow stories throughout the day with our Politics & Policy portal.
---
Snapshot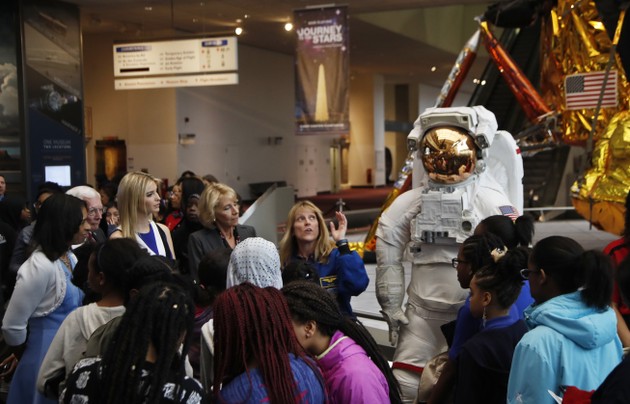 ---
What We're Reading
Full Disclosure: Democrats have requested a list of everyone who visits President Trump's Mar-a-Lago club in Florida, but that list doesn't exist: Trump's private clubs don't "keep tabs on the identity of guests who come and go on a routine basis, even while the president is in residence." (Darren Samuelsohn, Politico)
It Wasn't Low Turnout: Many analysts blamed Hillary Clinton's 2016 election loss on low voter turnout among Democratic voters, but The New York Times' Nate Cohn writes, "Instead, it's clear that large numbers of white, working-class voters shifted from the Democrats to Mr. Trump."
Meet the Religious Left: Though not as powerful as religious conservatives, the religious progressive movement "is now slowly coming together as a force in U.S. politics." Can the group translate its frustration into votes? (Scott Malone, Reuters)
Teaming Up: When it comes to pushing the rest of his agenda, Trump could consider partnering with moderate Democrats who are up for reelection in Trump-supporting states. Here's how President Ronald Reagan's bipartisan efforts in the 1980s might serve as a source of inspiration for Trump moving forward. (John Cassidy, The New Yorker)
The Kremlin's Playbook: Mike Mariani takes a look at the Trump administration's seemingly "indecipherable swirl of contradictions, conflicting reports, and apparent hypocrisies." Is Trump drawing from Russian President Vladimir Putin's propaganda model? (Vanity Fair)
---
Visualized
Growing Up Trump: Last week, Donald Trump's childhood home in Queens, New York, sold for a cool $2.14 million. This video offers a virtual tour of the house. (Sarah Maslin Nir, The New York Times)
---
Question of the Week
Republicans' plan to repeal and replace Obamacare flopped last week, but President Trump is ready to move to the next item on his agenda—tax reform. What would you like to see the Trump administration focus on and why?
Send your answers to hello@theatlantic.com and our favorites will be featured in Friday's Politics & Policy Daily.
-Written by Elaine Godfrey (@elainejgodfrey) and Candice Norwood (@cjnorwoodwrites)