The Atlantic Politics & Policy Daily: Nunes-theless, He Persisted
House Intelligence Committee Chairman Devin Nunes held a news conference on information obtained by his committee.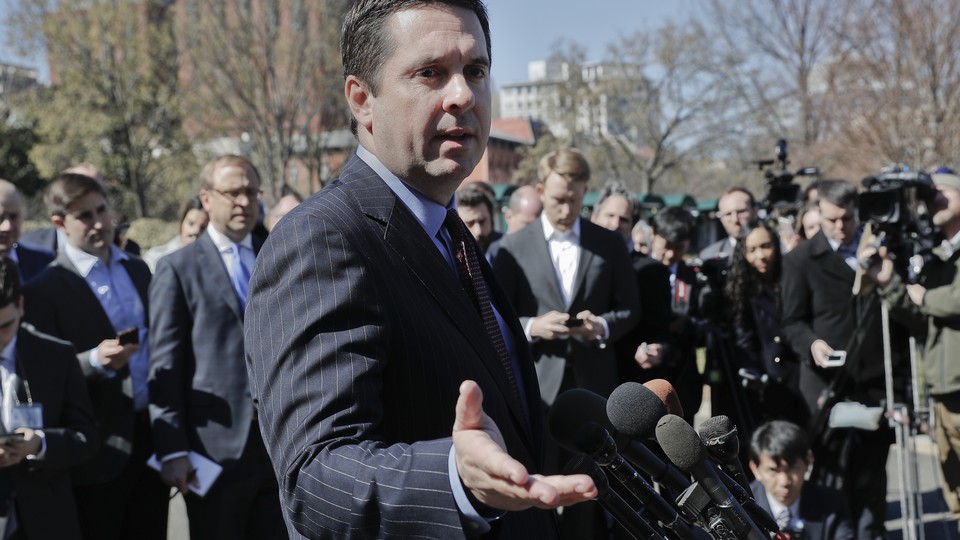 Today in 5 Lines
At a news conference, House Intelligence Committee Chairman Devin Nunes said that the identities and communications of Trump transition officials might have been inappropriately revealed in intelligence reports after being collected as part of "legal" and "incidental" foreign intelligence surveillance operations. The Associated Press reports that Donald Trump's former campaign manager, Paul Manafort, worked on behalf of a Russian billionaire "to advance the interests of Russian President Vladimir Putin a decade ago." After meeting with Trump at the White House to discuss the Obamacare replacement bill, a spokeswoman for the House Freedom Caucus said more than 25 members are still opposed to the legislation. White House Press Secretary Sean Spicer said the administration is "optimistic" that the bill will pass the House. Metropolitan Police confirmed four people were killed, including the alleged attacker, and several more were injured in an attack near U.K.'s Parliament.
---
Today on The Atlantic
Netflix for Doctors: "Some hardcore conservatives do have pretty radical health-care ideas—they're just not anything like the American Health Care Act" proposed by House Republicans. The Heritage Foundation's Ed Haislmaier shares what he would like to see instead. (Olga Khazan)

The Salesman in Chief: When it comes to health-care policy, Donald Trump "doesn't know his ear from his elbow," Michelle Cottle writes. He is, however, a committed salesman for the Republican bill, and he has no problem making life uncomfortable for his challengers.

Day Three: During Wednesday's confirmation hearing for Supreme Court nominee Neil Gorsuch, Democratic senators adopted a new approach in an effort to pin down his position on abortion rights and campaign finance: "warning Gorsuch about what they see as the consequences of his decisions." Here is his response. (Matt Ford)
Follow stories throughout the day with our Politics & Policy portal.
---
Snapshot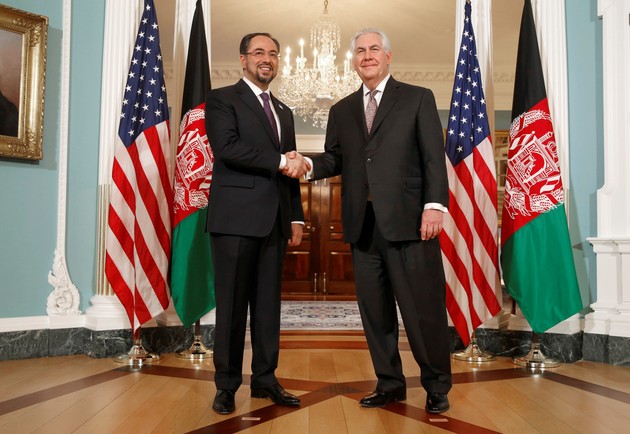 ---
What We're Reading
Clinging to His Claims: The president continues to defend his allegation that former President Obama wiretapped Trump Tower. There are several reasons for this, The New York Times reports, including White House aides' "nearly paralytic inability to tell Mr. Trump that he has erred or gone too far on Twitter." (Glenn Thrush and Maggie Haberman)
Mitch McConnell's Mission: The GOP's new health-care bill looks to be "dead-on-arrival" in the Senate if it passes the House. But Senate leaders say they'll push it toward a vote immediately—before the opposition has time to organize against it. (Burgess Everett and Jennifer Haberkorn, Politico)
Nowhere to Turn: FBI officials from Muslim-majority countries have noted an increased culture of suspicion and hostility within the organization coinciding with Trump's rise. "I would not advise anyone to work for the FBI under these circumstances," said "Sam" Barodi, a former bureau analyst. "It is cancer." (Spencer Ackerman, Guardian US)
Elephant in the Room: Henry Gass unpacks a legal doctrine heavily criticized by Neil Gorsuch known as Chevron deference, which gives federal agencies the power to interpret regulations. Could Gorsuch's opposition to the doctrine lessen Trump's executive authority? (Christian Science Monitor)
No Easy Task: Republicans have the majority, but they are being forced to protect the Trump administration amid new questions concerning Russian meddling in the 2016 election. The spectacle highlights an obvious lesson, writes Jonah Goldberg: "Offense is easier than defense." (National Review)
---
Visualized
Americans and Climate Change: These maps show that most people think climate change is happening and will harm U.S. citizens. But most aren't worried it will harm them personally. (Nadja Popovich, John Schwartz, and Tatiana Schlossberg, The New York Times)
---
Question of the Week
Monday marked the beginning of what will probably be Judge Neil Gorsuch's toughest job interview: his Supreme Court confirmation hearings. If you were on the Senate Judiciary Committee, what would you ask Gorsuch?
Send your answers to hello@theatlantic.com, and our favorites will be featured in Friday's Politics & Policy Daily.
-Written by Elaine Godfrey (@elainejgodfrey) and Candice Norwood (@cjnorwoodwrites)