The Atlantic Politics & Policy Daily: FBI Not Russian to Judgment
FBI Director James Comey testified at a House Intelligence Committee hearing on Russian interference in the 2016 presidential election.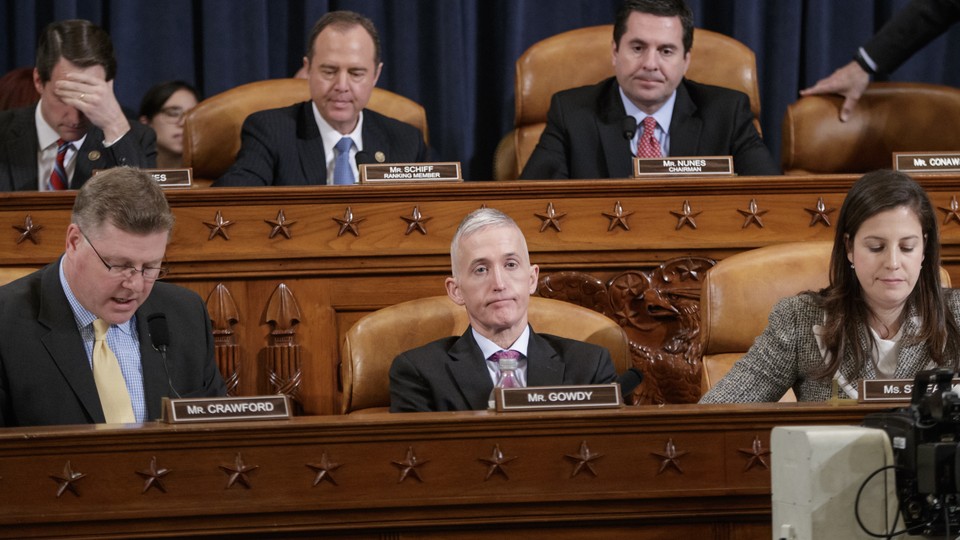 Today in 5 Lines
During a House Intelligence Committee hearing, FBI Director James Comey confirmed that the agency is investigating possible links between Trump campaign associates and the Russian government as part of a broader inquiry into Russia's interference in the 2016 presidential election. Comey also said the FBI has found "no information" to support Trump's claims that former President Obama wiretapped Trump Tower. White House Press Secretary Sean Spicer suggested that Trump is standing by his allegations. Judge Neil Gorsuch, Trump's Supreme Court nominee, delivered his opening statement before the Senate Judiciary Committee during the first day of his Senate confirmation hearing. Trump will host a rally in Louisville, Kentucky, at 7:30 p.m. ET, where he is expected to tout the House Republicans' health-care plan to repeal and replace the Affordable Care Act.
---
Today on The Atlantic
The Mastermind: Kellyanne Conway is best known as Donald Trump's high-profile spokeswoman. But, Molly Ball writes, it was Conway's theory—that Republicans could win a presidential election with an anti-immigration message—that helped put Trump in the White House.

Holding Back: Why haven't congressional Democrats taken a hard-line approach on Neil Gorsuch? Here's one possible explanation: Survey data shows that liberal voters are less concerned with the Supreme Court vacancy than conservatives. (Clare Foran)

Transgender in the CIA: Using the pseudonym "Jenny Hall," a U.S. intelligence official discusses why her experience transitioning from a man to a woman while working for the CIA makes her a better officer. "I have been to war and changed genders," she writes, "I don't fear the next mission."
Follow stories throughout the day with our Politics & Policy portal.
---
Snapshot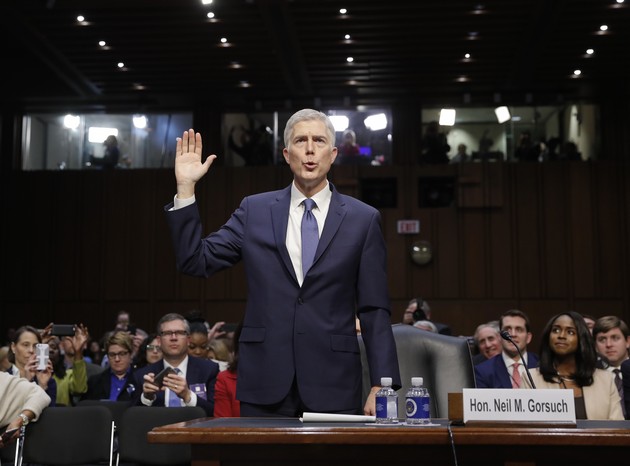 ---
What We're Reading
Trump's Little Birds: The Washington Post reports that the administration has installed a number of senior aides in every Cabinet agency and tasked them "with monitoring the secretaries' loyalty." (Lisa Rein and Juliet Eilperin)
'The Case Against Gorsuch': Trump's Supreme Court nominee has a religion problem, writes Slate's Dahlia Lithwick, but it "has nothing to do with the prospective justice's personal faith as an Episcopalian and everything to do with his willingness to let people of faith impose their views on others."
Battle of the New Yorkers: Since the presidential election, Senate Minority Leader Chuck Schumer has taken it upon himself to organize Senate Democrats in opposition to Donald Trump. Here's how he's doing it—and how he keeps it all in perspective. (Elizabeth Kolbert, The New Yorker)
Trail of Blood: "As policing has militarized to fight a faltering war on drugs, few tactics have proved as dangerous as the use of forcible-entry raids to serve narcotics search warrants." Kevin Sack takes an inside look at these missions. (The New York Times)
Where's Ivanka?: A self-professed feminist and Democratic fundraiser, Ivanka Trump gave some liberals hope that she would be a voice of reason in the White House. By remaining silent on her father's policies, however, she "appears to have put family loyalty to her father above her own political views." (Barbara Demick, The Los Angeles Times)
---
Visualized
The SCOTUS Line-Up: Check out these graphics to see how Neil Gorsuch would compare to past and present Supreme Court justices if confirmed by the Senate. (Joel Eastwood, Jessia Ma, Stephanie Stamm, The Wall Street Journal)
---
Question of the Week
Monday marked the beginning of what will probably be Judge Neil Gorsuch's toughest job interview: his Supreme Court confirmation hearings. If you were on the Senate Judiciary Committee, what would you ask Gorsuch?
Send your answers to hello@theatlantic.com, and our favorites will be featured in Friday's Politics & Policy Daily.
-Written by Elaine Godfrey (@elainejgodfrey) and Candice Norwood (@cjnorwoodwrites)