The Atlantic Politics & Policy Daily: The Skinny on the 'Skinny Budget'
President Trump's budget blueprint would increase defense spending and significantly decrease domestic spending across federal agencies.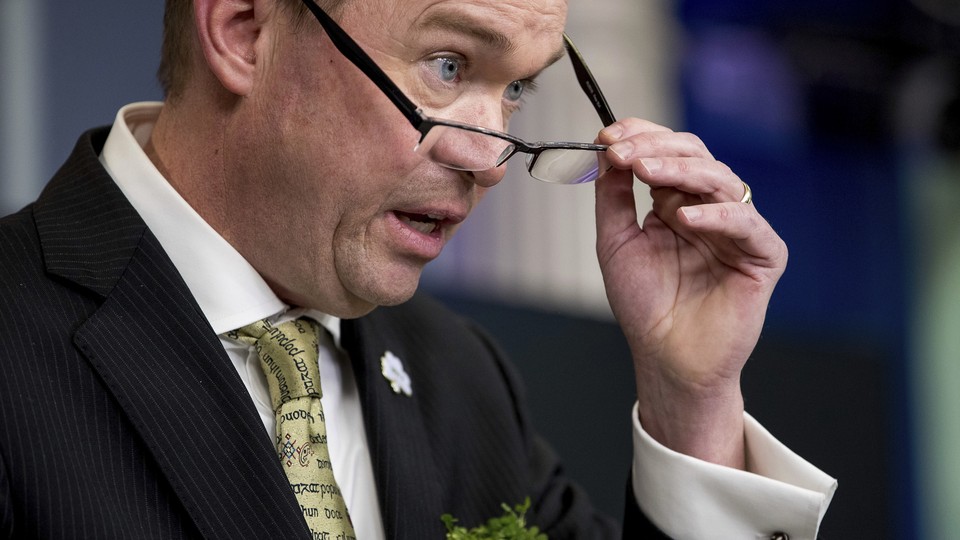 Today in 5 Lines
President Trump's budget blueprint, released Thursday, would increase defense spending by $54 billion and significantly cut discretionary domestic spending across federal agencies. "We went back and pulled lines from speeches, interviews and turned his words, his policies into numbers," Office of Management and Budget Director Mick Mulvaney told MSNBC in an interview. Senate Intelligence Committee leaders said they have not seen any evidence to substantiate Trump's allegations that former President Obama wiretapped Trump Tower. Former National Security Adviser Michael Flynn was paid nearly $34,000 for a 2015 speaking engagement in Moscow, according to newly released documents. White House Press Secretary Sean Spicer said that the administration plans to appeal rulings from two federal judges that temporarily blocked the president's revised travel ban from taking effect.
---
Today on The Atlantic
On the Chopping Block: President Trump's budget proposal includes deep cuts to domestic spending programs, but it also completely defunds several independent bodies, like the National Endowment for the Arts. Here are the 19 agencies Trump wants to eliminate. (Elaine Godfrey)

Foot in Mouth: The president's revised travel ban is receiving legal pushback. David A. Graham writes that by publicly affirming similarities between the two orders, Trump's aides have helped his legal challengers build their case.

Shoot to Kill: "Six years ago, in the first act of a budgetary drama, a group of aggrieved legislators hung a daft gun over the mantle," writes Annie Lowrey. That gun is the fiscal tool called sequestration. Here's how it could kill Trump's budget proposal.
Follow stories throughout the day with our Politics & Policy portal.
---
Snapshot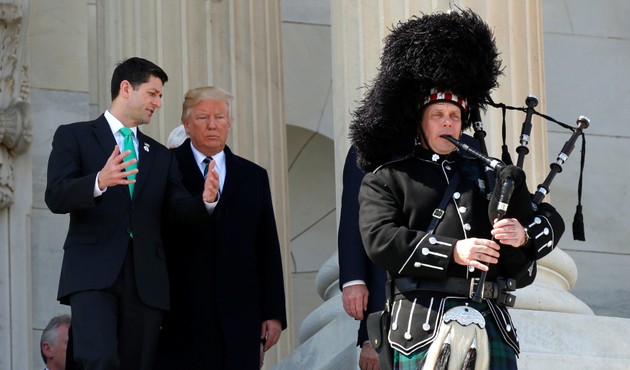 ---
What We're Reading
All Roads Lead to the Supreme Court: Two federal judges have blocked Donald Trump's new travel ban, which was supposed to take effect on Thursday. What happens now? Here are the administration's options. (Matt Zapotosky, The Washington Post)
Republican vs. Republican: Speaker Paul Ryan and Arkansas Senator Tom Cotton are both "low-tax, strong-on-defense, small-government conservatives." But Ryan is one of the fiercest defenders of the new health-care bill, while Cotton has emerged as one of its biggest critics. (Burgess Everett and Rachael Bade, Politico)
More to the Story: Trump's former National Security Adviser Michael Flynn "was paid tens of thousands of dollars by Russian companies shortly before he became a formal adviser to the then-candidate," according to documents obtained by a congressional oversight committee. The Wall Street Journal unpacks new insights revealed by the files. (Shane Harris, Paul Sonne, and Carol E. Lee)
'Lessons of Obamacare': Sarah Kliff and Ezra Klein share the lessons they learned about health-care reform based on conversations with President Obama, dozens of elected officials, and government staffers who assisted with the design and implementation of the Affordable Care Act. (Vox)
A Briefing Divided: White House press briefings are made up of correspondents from mainstream outlets, as well as reporters from lesser-known outlets who are sometimes called "floaters." These journalists were typically viewed as a "harmless distraction"— that is until recently, when Press Secretary Sean Spicer started prioritizing them. (Andrew Marantz, The New Yorker)
---
Visualized
Is Trump's Budget History-Making?: The Atlantic's Andrew McGill gives Trump's budget blueprint some historical context—using these 17 charts.
---
Question of the Week
In the week leading up to Super Bowl 51, we asked you to imagine that Capitol Hill had a football team—and suggest potential team names. Since this week marks the beginning of March Madness, we want to know: If you had to pick a lawmaker to coach your team and take it to the Final Four, who would you pick—and why?
Send your answers to hello@theatlantic.com, and our favorites will be featured in Friday's Politics & Policy Daily.
-Written by Elaine Godfrey (@elainejgodfrey) and Candice Norwood (@cjnorwoodwrites)