The Atlantic Politics & Policy Daily: Amash in Tears
Representative Justin Amash cried after missing his first vote since arriving to Congress in 2011.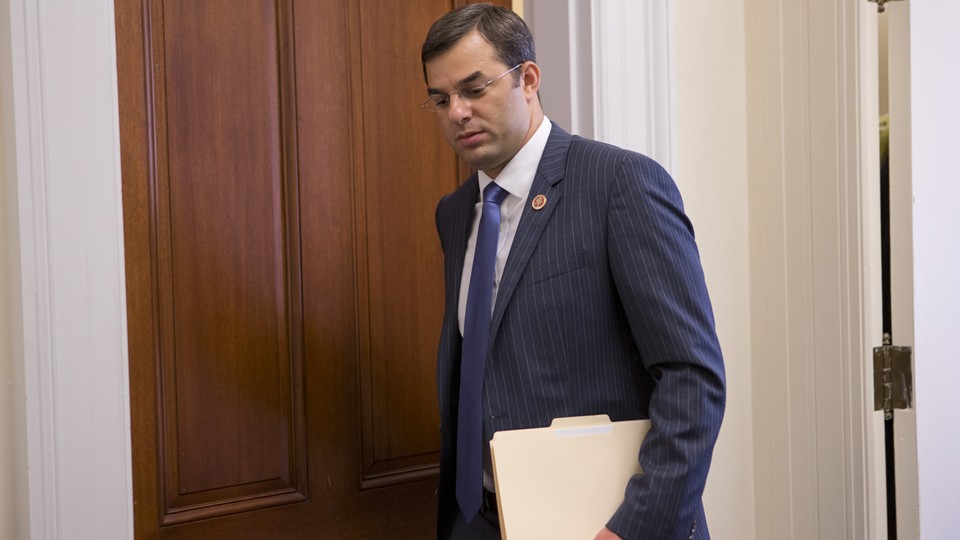 Today in 5 Lines
The White House suggested Donald Trump may not have known that Michael Flynn had lobbied for Turkey, although Flynn's lawyers had notified the transition team ahead of the inauguration. A spokeswoman for the Department of Justice said Attorney General Jeff Sessions asked for the resignations of 46 attorneys appointed by former President Obama "in order to ensure a uniform transition." The Labor Department reported that the U.S. economy added 235,000 jobs in February, and the unemployment rate fell from 4.8 percent to 4.7 percent. When asked about Trump's previous claims that federal jobs reports were "phony," White House Press Secretary Sean Spicer said the jobs numbers "may have been phony in the past" but are "very real now." Representative Justin Amash "broke down in tears" after he missed a roll-call vote, his first missed vote since arriving to Congress in 2011.
---
Today on The Atlantic
Keep Your Friends Close: Newsmax CEO Chris Ruddy has become one of Donald Trump's most visible unofficial spokesmen, highlighting the "unusual degree to which Trump relies on informal outside advisers and on familiar faces from his former life." Rosie Gray recounts the history of their 20-year relationship.

Too Good to Last?: Wages are rising, unemployment is low, and consumer confidence is high. "Things are bound to fall apart soon," writes Annie Lowrey. History shows that expansions tend to take a downward turn after six to 10 years. Will the Trump administration face a recession?

Under Attack: Many Americans believe religious bias exists in the U.S., according to a new Public Religion Research Institute poll, but they have wildly different interpretations of that bias. While most respondents named Muslims as the most marginalized religious group, white evangelicals generally believe Christians face more discrimination. (Emma Green)
Follow stories throughout the day with our Politics & Policy portal.
---
Snapshot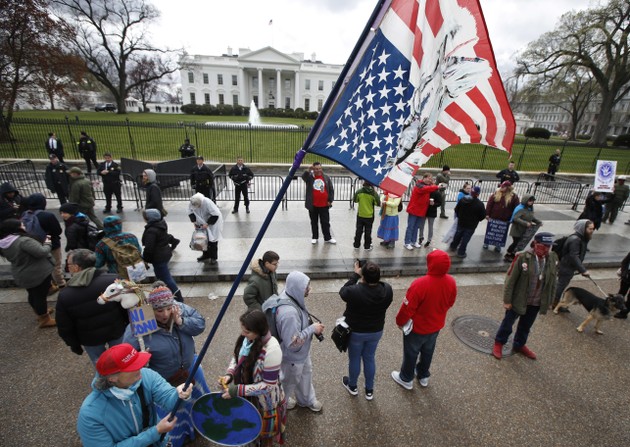 ---
What We're Reading
Better Than Nothing?: David Harsanyi argues that, while House Republicans' new health-care legislation might be "Obamacare Lite," it also might be "the best this crop of legislators is going to do." (National Review)
'There Really Was a Liberal Bubble': Many political journalists and analysts were surprised by Donald Trump's victory in the 2016 presidential election, and Nate Silver thinks that surprise could be due to a failure of the "wisdom of the crowds." Here's what he means. (FiveThirtyEight)
Bernie Weighs In: During an interview with The Guardian, Senator Bernie Sanders discusses the early days of the Trump administration, and his fight to help Democrats cater to the needs of racial and ethnic minorities in addition to those of working-class voters. (Ed Pilkington)
The Trump Transition: Four transgender people who came out after the 2016 election share their fears of living under the new administration. "My only concern was whether or not I could continue if I could no longer afford therapy and hormones," K Richardson said. "I can't go back. I'd rather die." (Katelyn Burns, Esquire)
A Bright Spot: Peter Coy spoke with three "apolitical economists" about whether Trump deserves credit for the strong jobs report released Friday. Two of them believe post-election confidence led to the boost, while one attributes it to February's mild weather that likely led to added jobs. (Bloomberg)
---
Visualized
A Complex Web: These seven charts illustrate all of the proven and suggested links between Trump associates and Russian officials. (Michael Crowley, Politico)
---
Question of the Week
On Wednesday, a Northern Virginia school district shut down for the day after a number of staff members asked for the day off to participate in "A Day Without a Woman," a protest to highlight the contributions of women to society. A few weeks ago, a number of restaurants and fast-food chains closed down for "A Day Without Immigrants" to spotlight immigrant contributions in the United States.
So this week, we asked you to fill in the blank with a group of people that deserves to be commemorated. Head on over to our Notes section to read our favorite responses, but here's a teaser:
Brooke Ackerly proposed a "Day Without Caregivers":
Schools would have no after-care and closed daycares would mean many workers would stay home. By doing our own care work, we would all appreciate how much work it is, how lovely it is to be present for each other, and how hard it is to be present for each other.
And reader Andrew Vernon suggested a "Day Without Petroleum Products":
This would be especially shocking for those on the left and in Congress who like to make the domestic oil and gas industry their perpetual whipping boy—modern healthcare, manufacturing, cheap/safe food, sanitation, all manner of things depend on plastics and petrochemicals.  A similar argument could be made for the financial services industry—both are backbone industries upon which the economy runs.
Thanks for responding, and stay tuned for next week's Question of the Week contest.
-Written by Elaine Godfrey (@elainejgodfrey) and Candice Norwood (@cjnorwoodwrites)