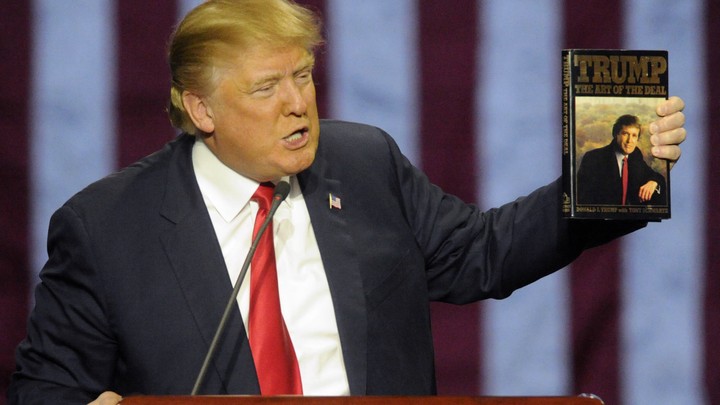 Today in 5 Lines
During a private meeting with House Republicans, President Trump reportedly told lawmakers that they could lose their seats in 2018 if they don't back the GOP health-care bill. Senate Majority Leader Mitch McConnell issued a similar warning, telling reporters "the American people would be deeply disappointed" if Republican dissenters keep the bill from passing the House on Thursday. Members of the Senate Judiciary Committee questioned Trump's Supreme Court nominee, Neil Gorsuch. Trump signed a bill authorizing $19.5 billion to fund NASA programs. The Department of Homeland Security banned passengers on U.S.-bound flights from 10 airports in the Middle East and North Africa from carrying electronics larger than a cellphone into the main cabin.
---
Today on The Atlantic
Blast From the Past: Spring 2017 under President Trump is reminiscent of another time in U.S. history—spring 1993 under former President Clinton. Then, like now, the president faced a deluge of leaked reports "of chaos, confusion, and infighting." Can the Trump administration learn from the Clinton administration? (David A. Graham)

A Marred Victory: Neil Gorsuch's "potential rise to the Supreme Court" underscores the broken confirmation process that prevented former President Obama from exercising his constitutional right to fill the vacancy. (Garrett Epps)

A Message From @POTUS: "In 2017, the president's habit of spreading misinformation on Twitter is being fact-checked, nearly in real time, by members of Congress." Adrienne LaFrance recaps one such example from Monday's House Intelligence Committee hearing.
Follow stories throughout the day with our Politics & Policy portal.
---
Snapshot
---
What We're Reading
Digging a Hole: The New York Times reports that Trump's obsessive need to fight back against the Russian allegations is making it hard for Republicans to stay on message—and "making an uncertain situation worse." (Glenn Thrush and Maggie Haberman)
The School of Trumpism: Jon Baskin traveled to the Claremont Colleges in search of the "West Coast Straussians," a group of political philosophers who have become the vanguards of the Trump administration. (The Chronicle of Higher Education)
Ivanka in the White House: The president's daughter previously said she would have no formal role in the Trump administration, but now, she's getting an office in the West Wing. Experts say the "unprecedented arrangement" raises serious ethical questions. (Annie Karni, Politico)
Plucky in Kentucky: During a rally in Louisville, Kentucky, President Trump aimed to drum up support for the Republicans' health-care proposal, but "one of the biggest cheers of the night" came when he promised to revive the state's coal industry. (Deborah Yetter, Courier-Journal)
Meet the Schlapps: Matt and Mercedes Schlapp are establishment conservatives —"experienced political operatives with gold-plated résumés"—whose early support of Trump earned them roles as unofficial advisers. Now, they are prepared to be his unofficial ambassadors to "The Swamp." (Ben Terris, The Washington Post)
---
Visualized
The Coal Industry Is Sick—and It's Terminal': Coal production and coal jobs have steadily declined over the past few years, and automation is now more of a threat to the industry than regulation. These charts illustrate the industry's "death spiral." (Shane Savitsky, Axios)
---
Question of the Week
Monday marked the beginning of what will probably be Judge Neil Gorsuch's toughest job interview: his Supreme Court confirmation hearings. If you were on the Senate Judiciary Committee, what would you ask Gorsuch?
Send your answers to hello@theatlantic.com, and our favorites will be featured in Friday's Politics & Policy Daily.
-Written by Elaine Godfrey (@elainejgodfrey) and Candice Norwood (@cjnorwoodwrites)
We want to hear what you think about this article. Submit a letter to the editor or write to letters@theatlantic.com.
Elaine Godfrey
is a staff writer at
The Atlantic
, where she covers politics.