The Atlantic Politics & Policy Daily: Tap o' the Morning!
The president defended his claims that former President Obama wiretapped Trump Tower.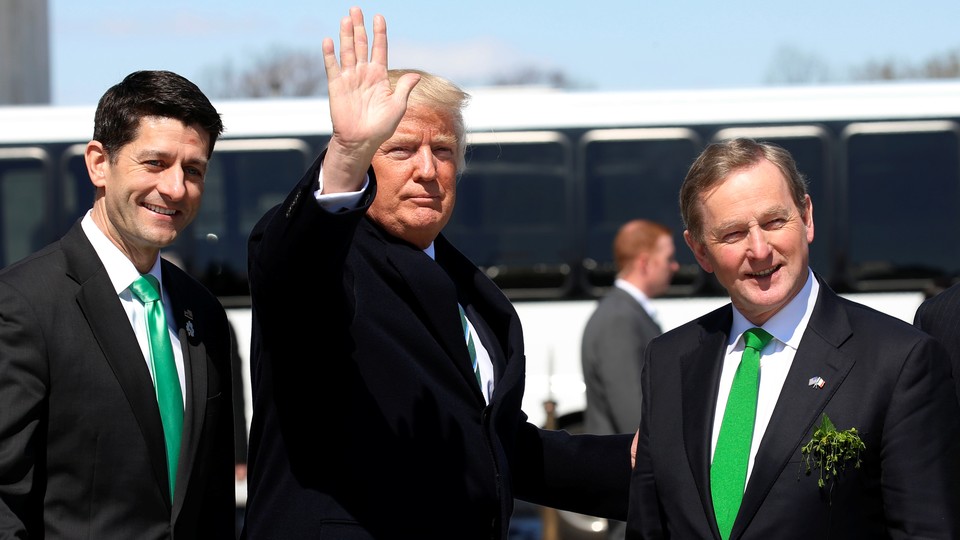 Today in 5 Lines
During a joint news conference with German Chancellor Angela Merkel, President Trump stuck by his claim that former President Obama wiretapped Trump Tower, citing "a certain very talented legal mind" he had seen on Fox News. Fox News anchor Shep Smith said later that the network "cannot confirm Judge Napolitano's commentary" and "knows of no evidence of any kind" to support Trump's claims. Secretary of State Rex Tillerson, speaking in Seoul, said that "all options are on the table" if North Korea continues to escalate its nuclear-weapons program, signaling that the administration would consider military action. House Majority Leader Kevin McCarthy said the House will vote on the Republican health-care bill next week. Trump said he was "100 percent behind" the American Health Care Act, after meeting with the Republican Study Committee to discuss the legislation.
---
Today on The Atlantic
Trust Fall: Bob Woodson, a community organizer and civil-rights veteran, thought he'd finally found a loyal ally when he began advising Paul Ryan on policy issues related to poverty in 2012. But that faith is being put to the test in the wake of Ryan's new health-care bill. (McKay Coppins)

Taking a Gamble: A new report confirms long-held skepticism of a government supported-program designed to derail people "at risk" of engaging in terrorism. Now that the Trump administration is considering a replacement, however, civil-liberties groups "may not like what comes next." (Emma Green)

Spy v. Spy: Marcy Wheeler writes that the indictment of Russian hackers for the Yahoo cyber attack disclosed in September highlights the advantages U.S. hackers have over their Russian counterparts, "thanks to the fact that so many of the world's tech companies are located in the United States."
Follow stories throughout the day with our Politics & Policy portal.
---
Snapshot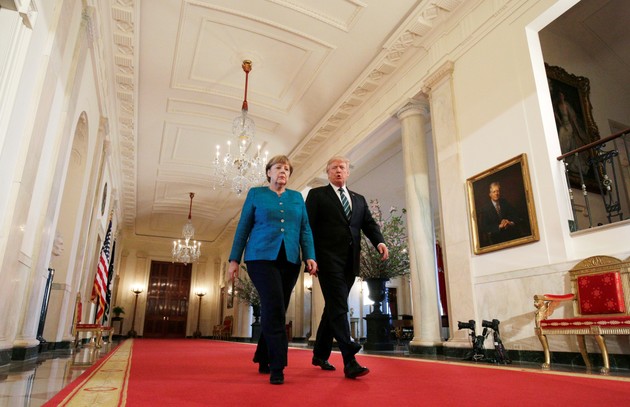 ---
What We're Reading
Who's Responsible?: Almost a decade after the recession, the United States—and much of the world—is experiencing an economic upturn. Populist politicians are taking credit for the rebound, but they shouldn't. Here's why. (The Economist)
Trust in Trump: In Tennessee, some insurance premiums have skyrocketed under the Affordable Care Act, and the lack of competition among insurance companies has left residents with few choices. But these Tennesseans are optimistic that President Trump will fix their health-care problems. (Jenna Johnson, The Washington Post)
Survival Mode: In a Denver hotel, 30 centrist Democrats quietly held a meeting to plot a path forward for their fractured party and avoid "total annihilation" in red states. "You can't get the majorities back without independent and centrist Democrats," said former Alaska Senator Mark Begich. "You just can't." (Alex Roarty, McClatchy)
The Waiting Game: With Donald Trump's second travel ban blocked, immigrants from the six countries listed in the order still face a number of challenges to maintain their legal status inside the United States. Others hoping to reunite with loved ones wonder if they will see their families again. (Amber Jamieson, Guardian US)
A Moment in Time: Meet Robert Mercer, "a reclusive Long Island hedge-fund manager, who has become a major force behind the Trump Presidency." Jane Mayer unpacks how—and why—Mercer took advantage of America's populist insurgency. (The New Yorker)
---
Visualized
Unprecedented: The Atlantic's Jeremy Venook explains how Donald Trump's foreign business connections could be used "as bargaining chips to influence his policymaking." (Leah Varjacques)
---
Question of the Week
This week, in honor of March Madness, we asked: If you had to pick a lawmaker to coach your team and take it to the Final Four, who would you pick—and why? Check out our favorite responses in our Notes section, but here's a sample:
For reader Adela Garcia, Massachusetts Senator Elizabeth Warren is the obvious choice:
Can't you just see her on the court cheering on her players? She'd be a dynamo! And she'd defend her team like a mother tigress. No ref would dare to argue with her if she knew she was right. She would, no doubt, get ejected from many games because she'd be warned, but, nevertheless, she'd persist!
And reader Dirk Bloemendaal would choose Michigan Representative Bill Huizenga:
Because he's got the spine, imagination and drive to get 'er done. He's also Dutch-American, which means he's hard-headed, a great coach to those alongside him, and knows his people well.
-Written by Elaine Godfrey (@elainejgodfrey) and Candice Norwood (@cjnorwoodwrites)