The Atlantic Politics & Policy Daily: Somewhere John Boehner Is Sipping Merlot
The U.S. House is postponing its vote on the Republican plan to repeal and replace the Affordable Care Act.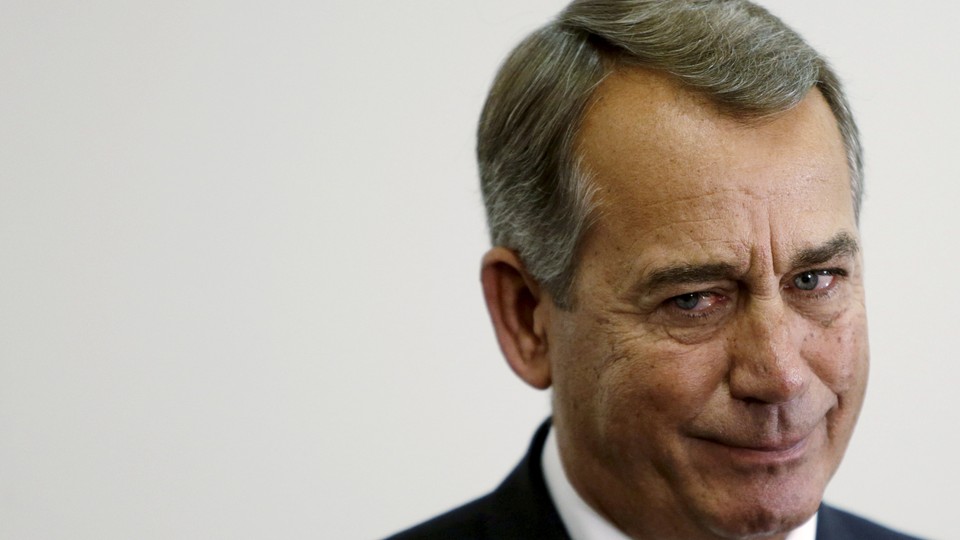 Today in 5 Lines
The U.S. House canceled tonight's vote on the Republican plan to repeal and replace the Affordable Care Act, after the White House and the conservative House Freedom Caucus failed to reach a deal on the legislation. Senate Minority Leader Chuck Schumer announced that Democrats will try to filibuster President Trump's Supreme Court nominee, Neil Gorsuch, saying the judge "was unable to sufficiently convince me that he'd be an independent check" on the White House. U.K. Prime Minister Theresa May said Khalid Masood, the perpetrator of an attack Wednesday in London that killed three people, was British-born and known to the country's intelligence services. ISIS has claimed responsibility. The U.S. Senate voted to repeal a set of rules requiring internet providers to get users' permission before selling their browsing history and location data.
---
Today on The Atlantic
What Are Work Requirements For?: Politicians have long debated "the practical and moral utility of requiring people to work in order to receive government benefits." Now, a last-minute provision added to the GOP health-care bill would impose these requirements on Medicaid enrollees. (Vann R. Newkirk II)

Facts Are Stubborn: In a new interview with Time, Donald Trump "flaunted his elastic relationship with truth," writes Yoni Appelbaum. The president has the freedom to surround himself with people and information that support his beliefs, but "sooner or later, the truth catches up."

Reconfiguring the Republicans: Trump wants to make the GOP a "worker's party" for blue-collar Americans of all races. This goal, however, would require him to attract more support from working-class minority voters. Can he do that? (Ronald Brownstein)
Follow stories throughout the day with our Politics & Policy portal.
---
Snapshot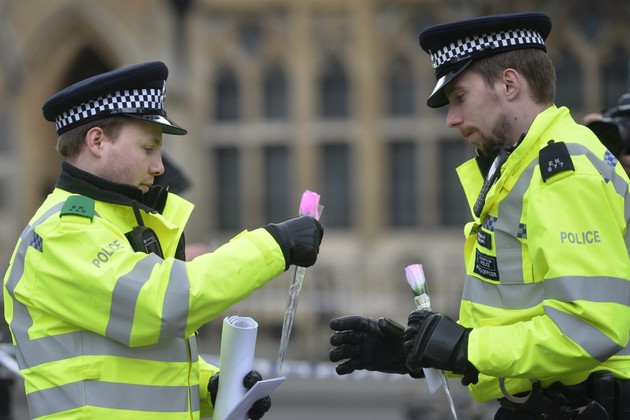 ---
What We're Reading
More on Trump and Russia: On Wednesday night, CNN reported that the FBI has information suggesting Trump associates "communicated with suspected Russian operatives to possibly coordinate the release of information damaging to Hillary Clinton's campaign." On Thursday, the White House dismissed the story.
A President's Self-Evaluation: In his Time interview, Trump brushed aside criticism that he doesn't always adhere to facts and evidence: "I'm a very instinctual person, but my instinct turns out to be right." (Michael Scherer)
When a 'City's Students Vanish': On February 15, U.S. Immigration and Customs Enforcement agents raided a section of Las Cruces, New Mexico, a city near the U.S.-Mexico border. The next day, 2,100 of the public school district's students missed class. (Jonathan Blitzer, The New Yorker)
A Rock and a Hard Place: Rich Lowry offers a gloomy forecast for Republicans in Congress: If the new health-care bill becomes law, they'll spend years working to fix it. But if it doesn't, "the rest of President Donald Trump's legislative agenda may sink with it." (Politico)
The Real Immigration Issue: The Trump administration's efforts to curb immigration with a border wall are "anachronistic," according to several economists from the University of California, San Diego. Demographic trends already show slowed immigration, they argue, which will affect the future availability of low-skill labor. (Craig Torres, Bloomberg)
---
Visualized
All in Favor?: These charts show how many House Republicans support the party's health-care bill—and who's leaning toward "no." (The New York Times)
---
Question of the Week
Monday marked the beginning of what will probably be Judge Neil Gorsuch's toughest job interview: his Supreme Court confirmation hearings. If you were on the Senate Judiciary Committee, what would you ask Gorsuch?
Send your answers to hello@theatlantic.com, and our favorites will be featured in Friday's Politics & Policy Daily.
-Written by Elaine Godfrey (@elainejgodfrey) and Candice Norwood (@cjnorwoodwrites)